Riva Blu, Leeds – Restaurant Review
By Kirsty Reid
This summer will (hopefully) see me cross off Italy from my bucket list. Until then, though, I'm happy to settle for a taste of the country, courtesy of Riva Blu.
Located on Park Row in the heart of Leeds, the Italian bar and restaurant was formerly home to Gino's. The celebrity chef left big boots to fill, but with a five-star TripAdvisor rating, Riva Blu is clearly doing something right.
With a new summer menu that combines 'the glamour of the Amalfi Coast with the edgy back streets of Naples', my interest was piqued and I made a reservation…
With nautical-inspired décor and effortless charm, Riva Blu is as stylish as it is welcoming.
Suited and booted, Dario greets us with a smile before showing us to our table.
Aquamarine seating and lemon trees are a nod to the Med, while servers are equally as vibrant in bold geometric shirts.
Home to an open kitchen and cocktail bar, the restaurant also boasts a small alfresco terrace – ideal for anyone wanting to dine all'aperto (in the open air).
Having decided it's not quite warm enough to sit kerbside, we're content indoors, where floor-to-ceiling windows create a light and airy ambience.
At Riva Blu, dining is all about la dolce vita (the sweet life) – and service with a smile helps greatly with this.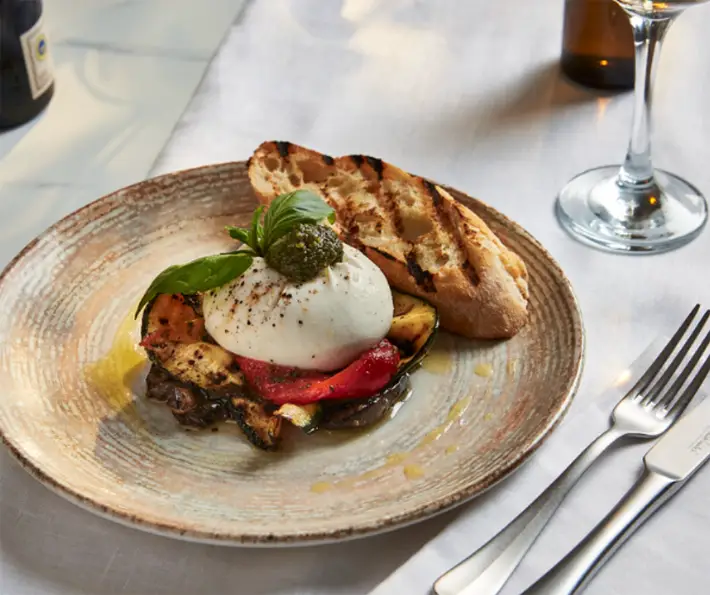 "Fast and friendly"
Fortunately for us, we had the ever-so-friendly Mario providing said service.
With so many dishes to choose from, it's reassuring to know Mario is on hand to offer recommendations and tell us more about each recipe.
Sipping on a refreshing Fever-Tree lemonade (£3), I mull over the food menu. While Mum delights in the range of mocktails on offer and opts for a No-jito (£6.75).
Now, drink-envy isn't something I've experienced before, but there is a first time for everything… The No-jito's refreshing blend of apple, strawberries, watermelon, soda, lime and mint was like summer in a glass.
Service here is fast and friendly throughout. And it's not long before our starters are with us.
I've settled on the Arancini (£9.50) and have no regrets. Stuffed with smoked provola, the crispy truffle risotto balls are incredibly moreish. Thankfully, the dish is perfectly-portioned, so I don't over-indulge before the main event.
Mum's Bruschetta Al Pomodoro (£8.25) looks equally as delicious. Vine-ripened plum tomatoes, garlic, oregano and fresh basil are served on crunchy toasted ciabatta.
With the open kitchen offering a glimpse of the wood-fired pizza oven, we are both keen to sample the goods.
I opt for the Piccante (£16), a deliciously spicy choice. Atop a San Marzano tomato base sits layers of salami, 'nduja, pepper and melt-in-your-mouth mozzarella. A sprinkling of parsley and chilli completes the taste sensation.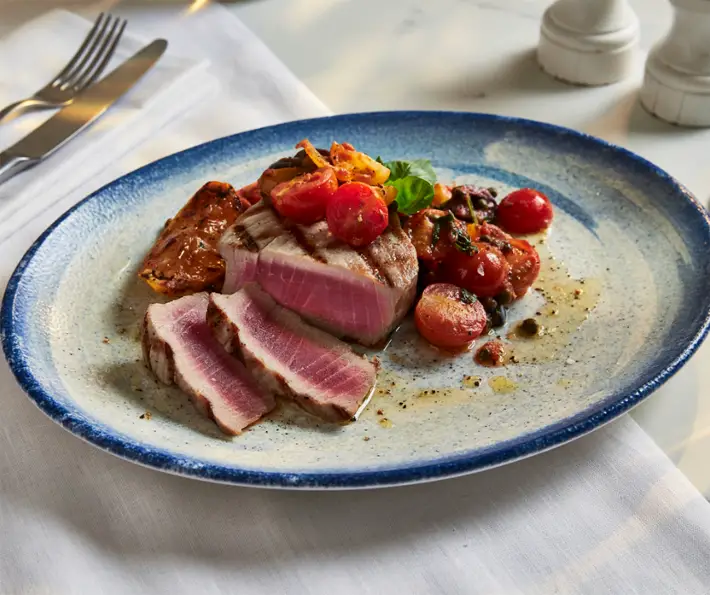 "Tantalise the taste buds"
Mum keeps it classic with a Margherita (£14), loaded with creamy mozzarella, tomato and fresh basil. Bellissimo!
Made in-house by Riva Blu's master baker, Davide Argentino, the 'biga' dough bases are super-light and crisp, while the crusts are puffed to perfection. Clearly 'biga' is better when it comes to pizza.
With eight mouth-watering desserts and ample choice of sorbets and gelato, there is plenty to tantilise the taste buds. I'd love to say yes to a third course, but I'm well and truly satisfied (read: stuffed) from the first two courses, so I settle on a pot of English breakfast tea (£3).
Mum, however, plumps for the Tora Alla Nutella (£8.50), along with another No-jito (£6.75). The rich chocolate and hazelnut cheesecake hits the spot for Mum, who devours the decadent dessert – though not before I sample a spoonful…
I'm pleasantly surprised by the cheesecake's light, mousse-like texture. And serious regret opting out of dessert.
So, you want authentic Italian cuisine without the airfare, Riva Blu is the place to go. I'll be making another reservation soon – right after my trip to Italy…
Riva Blu, 11-12 Park Row, Leeds, LS1 5HD
Opening Hours:
MON-WED: 12-10PM
THURS-SAT: 12-11PM
SUN: 12-10PM