Wellocks Luxury Brunch Recipe Box – Review
By @Roger Crow
Brunch. Just the name is synonymous with leisurely mid-mornings in cafes, reading the papers or people-watching as the world goes by.
Of course things have been rather different over the past year or more, but while we might not be able to interact as much as we'd like to, thankfully we can still live like royalty in the comfort of our own homes. And on a rain-lashed Saturday morning, Wellocks Luxury Brunch turns out to be culinary nirvana.
You get a lot for your money, and a key selling point is six of the most beautifully packaged eggs you'll ever see. The delightfully named Cacklebean eggs are from Cackleberry Farm, deep in the Cotswolds; they must be serious contenders for The National Egg & Poultry Awards. I have to take a few snaps for the 'gram, because the packaging alone is a work of art.
The yolks are little orbs of sunshine, and the taste is delicious, especially when I craft one of my random recipes.
The Isle of Wight cherry vine tomatoes also look terrific, but as I have a thing about eating tomatoes in their original form (don't ask), I blitz them in my beloved blender with a shallot and olive oil, and make a load of salsa, which is phenomenal.
Every element is spot on, from the picture-perfect button mushrooms, and splendid bread (Jacksons of Yorkshire champion bloomer), to the delicious tube of Estate Dairy butter, which I use for frying the mushrooms, eggs and salsa.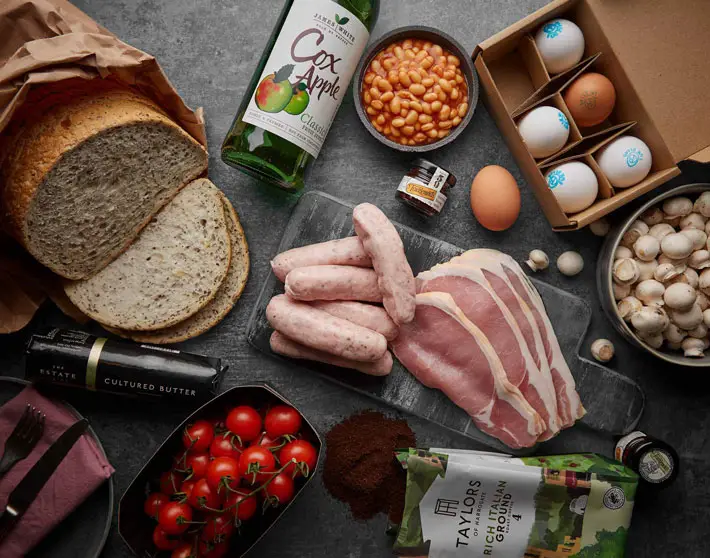 "Worthy of any posh restaurant"
The best scrambled eggs ever? Well, that's debatable, but they come pretty close. And there's also a spicy Bloody Mary mix with sticks of perfect celery. To make that café/restaurant effect complete, there's also a couple of little jars of brown sauce.
I set to work oven-cooking R&J Yorkshire's Finest traditional thick pork sausages. As bangers go, they're worthy of any posh restaurant, as is the R&J Yorkshire's Finest prime back bacon.
Okay, I'm drooling as I write this, so that's a pretty good indication of how good the contents are.
Obviously as we emerge from the on/off lockdown, brunch in actual cafes and restaurants will be a thing again, and like Barbra Streisand, we can go back to the way we were. But if 'the C word' has taught us anything it's that we can make the most of our kitchens, and craft dishes as wondrous as anything in the high street, as long as we have the best quality ingredients. And Wellocks definitely deliver the right stuff.
Rounded off with a can of good old Heinz baked beans, and a generous helping of Taylors roast & ground rich Italian coffee, I'm happier than Homer Simpson at an all-you-can-eat five star buffet.
It's a terrific idea; the produce is superb, and on a rainy morning when the thought of traipsing up the shops is too horrendous to consider, this is perfect for my temporary hermetic lifestyle.
Okay, I might have to hit the treadmill a little harder, but it's worth every extra step.
If there's a better home delivery brunch service out there, I'll be amazed.
Wellocks At Home: Luxury Brunch Selection
Serves: 3-4 people
Price: £29.00
Full details can be found here: wellocksathome.co.uk