Venice Cooking School: An Italian Culinary Adventure – Review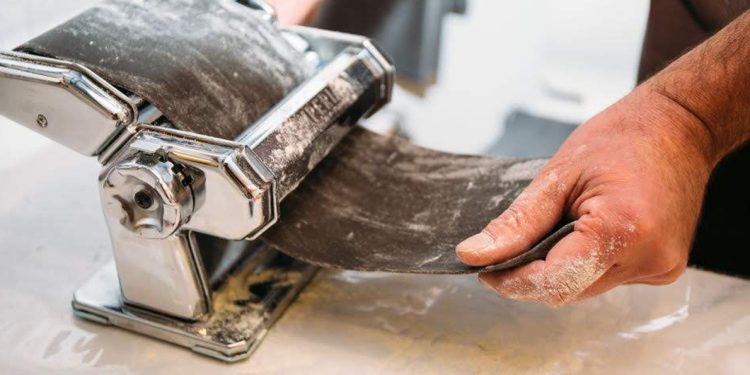 By Roger Crow, June 2022
The last time I took part in a cooking class it was by a picturesque waterway, and as much fun as those few hours in York were, nothing prepares you for the thrill of crafting a meal in Venice.
I'm at the end of a week cruising round the Med, which is one of those phrases that instantly loses friends on social media. But if the last two years has taught me anything it's 'seize the day' and do all those things we didn't get a chance to because of you know what.
After a breakneck taxi trip from our hotel near Venice airport, and a couple of stops via water taxi, we're greeted at our stop by Lorenzo Molin, who looks like he's just stepped from the set of a TV show about charming Italian chefs. (Imagine if James May had the charisma of Al Pacino and you get the idea).
A few years ago, Lorenzo decided slaving away in a restaurant kitchen was not for him, so he decided to set up his own business – in his own kitchen. It's small, but a veritable TARDIS compared to mine. There's a cool staircase which looks like modern art leading to the first floor, an art print of Iggy Pop, a bike on the wall, and a fish-shaped photo collage of previous amateur chefs who've all had the same experience.
Together with a few friends and a family, we drink wine, listen to cool eighties tunes and get down to business.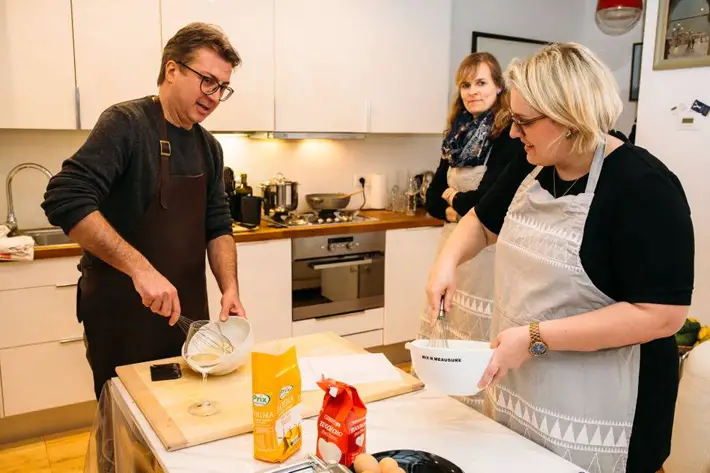 "Work of art"
First up is tiramisu. No Italian meal would be complete without it, so while my friend Maddy gets to work separating eggs and making a meringue, I'm busy soaking lady fingers in instant coffee. Chances are you know the drill. Break them in half, dunk the biscuits in liquid coffee and place in your glass container. Layer with the mascarpone and meringue mixture with Marsala wine, and after a couple of layers, cover in cling film, write your name on the top and stick in the fridge. Simple.
Lorenzo is the perfect guide, and it helps that we're a similar age, so we trade photos of Iggy and Debbie Harry from recent gigs while egg plant/aubergine is peeled, sliced lengthways and deep fried in vegetable oil. Layered in grease-proof paper, and set aside for later, members of our team set to work making the perfect tomato sauce. Blitzed tomatoes are then run through a fancy strainer; sausage meat is removed from its casing and along with finely sliced carrots and veg are fried to makes the perfect ragu.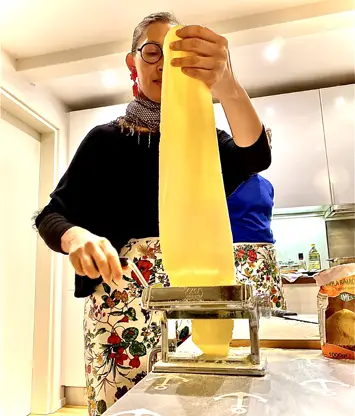 The pasta is also a work of art thanks to 00, a finely ground Italian flour, with one egg per 100 grams. In this case seven eggs, scrambled in a well of flour.
It's a shame we don't see water taxis floating by the window, but at least there's nothing to sidetrack us from making the ideal Italian meal.
"Heaven on a plate"
Once the dough is kneaded and divided into 10 equally weighed portions, each of us takes it in turns feeding it through the pasta-rolling device. I had one for Christmas many years ago, but made such a bad pasta that it went in the cupboard. All I needed was some solid instructions, and there's no shortage of those here.
Each pass through the machine, the dial is added up a notch from zero to six and the pasta floured with semolina on both sides, so eventually a long, thin strip is ready.
Rolled from each end in flattish loops, the result is then sliced in increments and the trick is to slide a knife under the pasta and lift to reveal individual strands. Removed by hand and curled into a nest, they are then placed on a tray until ready to cook in boiling water. Or you can just leave them to dry and use within a few days.
The egg plant parmigiana is layered in a dish with mozzarella, tomato sauce and salt then baked in the oven for around 25 mins.
By the time the cooked pasta with sausage meat and vegetables is served, it's like heaven on a plate. Pasta, if prepared correctly by yourself, can of course be far tastier than anything you'll sample in a five-star restaurant because of the hands-on factor. Like anything in life, you get out what you put in, and in this case it's the fun of communal cooking, which is always a delight, unless you're prepping food with a knife-obsessed nutcase, in which case, good luck.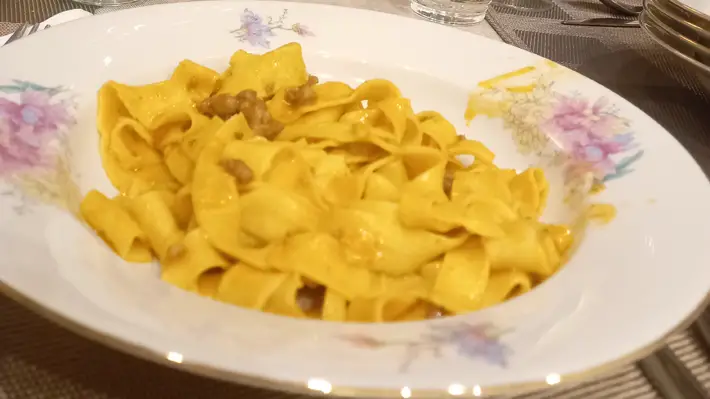 "Splendid"
I basically inhale the pasta, sample some of the egg plant parmigiana, which is delicious, but I'm saving room for that dessert, and the tiramisu does not disappoint. It's that sublime mix of caffeine, booze, creamy cheese and biscuit which deserves the translated phrase "pick me up". I've never felt depressed after demolishing one, but please scoff responsibly.
The night flies by and it's only when we say our farewells and leave through the front door that we're reminded of the location. On a warm June night, the elation of cooking a great meal with a splendid dessert is well worth the price of admission.
I suggested Lorenzo should have his own show, as he could clearly give Gino D'Acampo a run for his money, but he just laughs it off.
TV's loss is definitely Venice's gain.
Whether you're a repeat visitor to the area in search of something different, or like me a first-timer celebrating a friend's birthday, a lesson at the Venice Cooking School should really float your gondola.
The cost is around £103 per person; duration is approx 3 hours 30, and the class is for a party of 10.
For more info visit veniccookingschool.it or email info@venicecookingschool.it