Simply Red – Live Review – Scarborough Open Air Theatre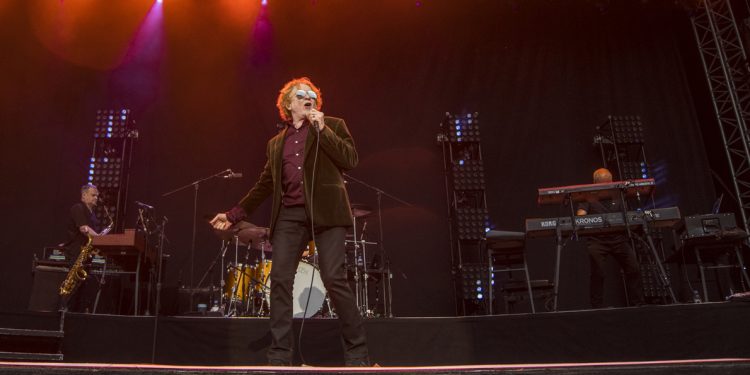 By Roger Crow, July 2022
At the end of the hottest week ever recorded in Blighty, some people turned a golden brown and others? Simply red.
Not that there's much trace of that heatwave in Scarborough where a light rain falls on a Friday evening.
Like many I've been a fan of Mick Hucknall and his band for decades, stretching back to that breakthrough single when we first heard THAT voice.
'Holding Back the Years' should have been sung by a guy twice his age, not some fresh-faced kid in an Ecky Thump hat. (It's a Goodies reference – ask your folks… okay your grandparents then).
Mick's voice has of course been one of the greatest assets to the music industry in decades. But how much of it was studio trickery? Could he really be that good live?
To be honest, we could have made the 50-mile trip to one of my favourite venues and he could have sounded like a karaoke singer, it wouldn't have mattered. Like some bands I grew up with, Simply Red were near the top of my must-see list, so when the chance came to see them live, it was a no-brainer.
Following support act Cassidy Janson, who finishes her set as we arrive, there's enough time to scoff a hot dog and settle into our seats before the main event.
And then, around 8.30pm, most of Simply Red arrive on stage to rapturous applause and whoops.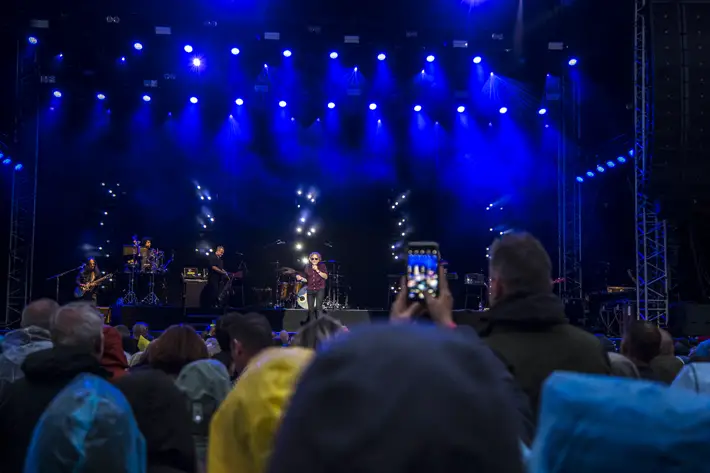 "Phenomenal"
"Look at you nowwwww" sings the rest of the band, who turn out to be tighter than a 2019 tee-shirt after lockdown. A sea of fans are on board for the arrival of Sir Hucknall (it's only a matter of time). That track from 1985 album Picture Book seems like a thousand years ago, and yet completely feels like 2022. So many of their tunes are timeless, which is probably why their shelf life seems limitless.
When Mick arrives on stage, the crowd goes wild, and some seated punters are already on their feet, dancing after perhaps a little too much pre-loading.
And then he starts singing and my brain starts wondering how on Earth it's possible that someone can produce vocals like that. It was those two classics, 'Holding Back the Years', and 'Money's Too Tight to Mention', that made me sit up and take notice all those years ago. And yes, those classics do make an appearance, as do all the favourites.
"Wonderful to be back up north again. Great to see you tonight. Thanks for coming along," enthuses Mick. "Well I'm pretending the sun is shining in this 40 degree heat we're having. Ohh sweltering today isn't it?", he quips before launching into 'She's Got it Bad' from the gazillion-selling album, Stars.
The backdrop to the band is a simple digital graphic equaliser effect. Nothing too complex, but it works a treat.
"Anyway, 1988… take it away folks. See if you know this one," asks Mick.
'A New Flame' live is phenomenal, not least because of that voice; I'm slack of jaw as one of my favourite songs plays out. There's not a bad note, fluffed lyric or disappointing moment in the whole set. Hucknall works the crowd beautifully, but then again, decades of fine-tuning his craft have paid dividends. And when the crowd sings along, it's a beautiful moment, as it is with all of those classics.
"Sing it up there," Mick beckons to us in the stands. We don't need much encouragement.
'Your Mirror' takes me back to 1992 when I paid £20 for the CD of Stars, and played it on a loop, like countless other fans. Not quite sure where the last 30 years have gone, but it's a terrific rendition of a beautiful song.
When Holding Back the Years begins, it's pure time travel. Many of us are back in the mid-eighties, singing along to one of the most soulful songs ever crafted.
To try and distract us from the light drizzle, Mick suggests we're on a Jamaican beach, drinking a can of local lager, and then he's off into Night Nurse territory. Apt, as by the end of the night many of us have that tickle in our throats that comes from singing fantastic tracks at the top of our voice.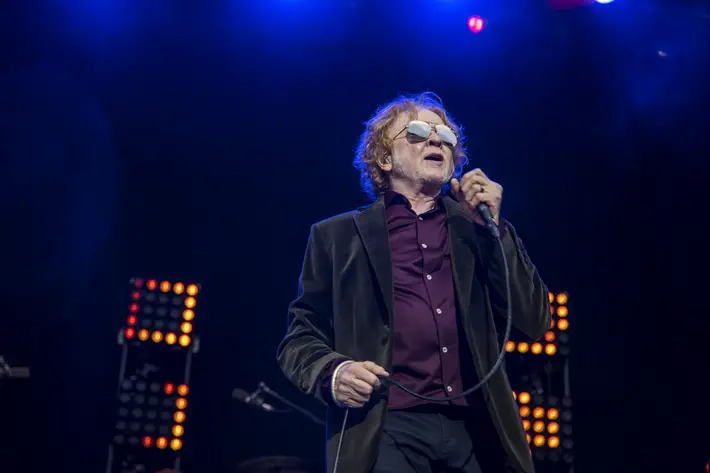 "Richness"
Obviously not every track is a favourite, but there's so much good stuff on offer, I'm buzzing for most of the set.
'It's Only Love' is a classic obviously, but I do think Mr Hucknall could sing 'My Old Man's a Dustman', and he'd give it a richness and depth denied in the original version.
When Mick beckons upward to the twilight sky, it takes a second for the penny to drop. But then we are treated to 'Stars', and blimey. What an experience.
As is 'Sunrise', especially that segue into Hall and Oates' masterpiece 'I Can't Go For That'.
'Something Got Me Started' is another personal favourite from back in the day, and that doesn't disappoint either.
Hucknall's banter is splendid, especially when he recalls working with Barry White. It doesn't matter that there are thousands of us present. There's the same experience of chatting to a fascinating stranger in a pub.
By the time the encore treats us to a few more classics, there's that personal question of 'Would we see them again?'. Unlike one recent band at the same venue, which I adore but felt distant, there's no hesitation with Simply Red. If you've never seen them live, make it one of life's priorities.
Cheers Mick and company for turning back the years and being not just stars but supernovas on a rainy, overcast night. Outstanding.
images: Cuffe & Taylor
Want to wear an enamel badge of your favourite music artist – and customise it to look the way you want it to look? Custom badge pins are the way to go. You can engrave the name of any band or musician on your pin badge to express your love for them in a totally personal and unique way. Not only that, but you can also offer them to fans or loved ones as souvenirs.