Videodrome (1983) – Film Review
Director: David Cronenberg
Cast: Debbie Harry, Sonja Smits, James Woods
Certificate: 18
By Sarah Morgan
Earlier this year, film fans were thrilled when rumours began to spread that two directing Davids – Cronenberg and Lynch – would be launching new movies at the Cannes film festival.
The pair are arguably the most gifted cinematic visionaries of the past half a century, so imagine the disappointment when only half of the story turned out to be true. Lynch did not have anything good to go, but at least Cronenberg did – Crimes of the Future, which competed for but didn't win the Palme d'Or, despite receiving a six-minute standing ovation following its screening.
The movie marked Cronenberg's return to the sci-fi/horror world for the first time since 1999's eXistenZ; like his previous entries in the genre, it unsettles rather than terrifies, turning the stomach via depictions of mutilated and/or violated human bodies.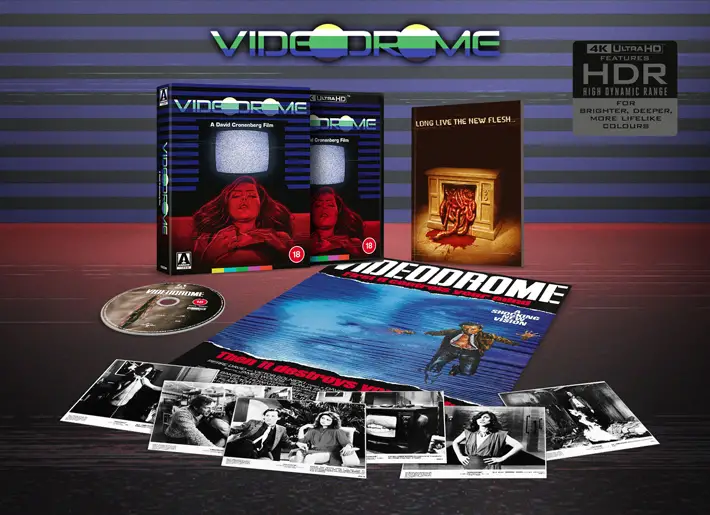 "Lives long in the memory"
If you've seen it but are unfamiliar with the larger Cronenberg oeuvre, or are a fan and want to be reminded of his past glories, then the Ultra HD release of 1983's Videodrome is somewhat timely.
And if you haven't had the 'pleasure' before, chances are you've seen images from it – the sight of James Woods inserting a betamax tape (if you're old enough to remember those, God bless you!) into a wound in his abdomen is impossible to forget; a fleshy gun emerging from a TV screen lives long in the memory too.
These days, Woods' controversial views, often expressed via social media, tend to overshadow his accomplishments as an actor, so Videodrome offers a welcoming reminder of his undoubted skills. Some may even argue he delivers a career-best performance here.
Woods plays Max Renn, president of a small Toronto TV station which attracts viewers by unashamedly broadcasting the most sensational material it can find. So Max is understandably excited when an associate shows him a programme, supposedly Malaysian in origin, which depicts the torture and eventual murder of its participants.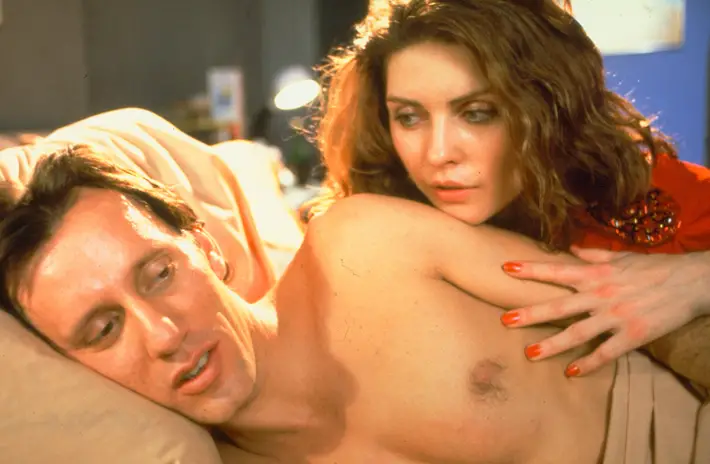 "Visually extraordinary"
Entitled Videodrome, Max decides to broadcast it, and it immediately attracts the interest of a radio host who auditions for the show – and is never seen again. He then asks a pornographer to help him learn the truth about the mysterious and disturbing show; she discovers it's actually produced in Pittsburgh, the footage isn't faked and that it's the public face of a radical political movement.
And if you're already stunned by the events that have taken place up to this point, you ain't seen nothing yet – this is one of the most visually extraordinary movies made during the past 40 years; its special effects were created in what probably seem a rather rudimentary fashion now, but they hold up well. The fact that they actually exist, rather than being computer generated, makes them more effective.
What's more, it could be said that Cronenberg foretells the coming of reality TV here, as did Nigel Kneale with his BBC play The Year of the Sex Olympics in 1968; they would, in fact, make an intriguing double-bill.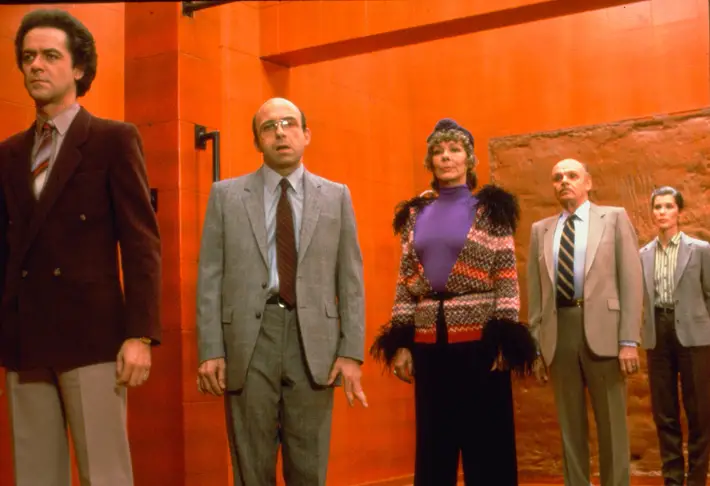 "Inspired"
As already mentioned, Woods is impressive in Videodrome, but also of note is the appearance of Debbie Harry, then at the peak of her powers with Blondie – you can imagine many an impressionable young fan heading to the cinema simply to see her and coming away having been disturbed in a way they never expected.
Owning the disc would be worthwhile for the film alone, but there are numerous documentaries featuring interviews with its makers to enjoy too, including a remarkable interview with Cronenberg and fellow directors John Carpenter and John Landis, around the time the latter pair were launching The Thing and An American Werewolf in London on an unsuspecting world.
Hopefully, after watching the entire package, those new to Cronenberg's work will be inspired to seek more of it out, perhaps delving into some of his more mainstream offerings, such as A History of Violence and Eastern Promises, before working their way backwards to Rabid and Shivers via Scanners and The Brood. Just remember not to be eating a meal while giving them a try.
4K ULTRA HD BLU-RAY LIMITED EDITION CONTENTS:
• Brand new 4K restorations from the original camera negative by Arrow Films of both the full-length director's cut and the US theatrical cut, approved by director David Cronenberg
• 4K (2160p) UHD Blu-ray presentation in Dolby Vision (HDR10 compatible)
• Original lossless mono soundtrack
• Optional English subtitles for the deaf and hard of hearing
• Audio commentary by Tim Lucas, the on-set correspondent for Cinefantastique Magazine and author of Videodrome: Studies in the Horror Film
• David Cronenberg and the Cinema of the Extreme, a documentary featuring interviews with Cronenberg, George A. Romero and Alex Cox on Cronenberg's cinema, censorship and the horror genre
• Forging the New Flesh, a documentary by filmmaker Michael Lennick on Videodrome's video and prosthetic make up effects
• Fear on Film, a round table discussion from 1982 with Cronenberg, John Carpenter, John Landis and Mick Garris
• The complete, uncensored Samurai Dreams footage with commentary by Michael Lennick
• Helmet-Cam Test and Why Betamax?, two featurettes by Michael Lennick on the film's effects
• The Making of David Cronenberg's Videodrome, a 1982 featurette by Mick Garris, with behind-the-scenes footage and interviews with Cronenberg, James Woods, Deborah Harry and Rick Baker
• Videoblivion, an interview with cinematographer Mark Irwin
• Pierre David on… Videodrome, an interview with executive producer Pierre David
• AKA Jack Martin, an interview with Dennis Etchison, author of novelisations of Videodrome and The Fog, discussing Videodrome and his observations of Cronenberg's script
• Camera, Cronenberg's short film starring Videodrome's Les Carlson
• Pirated Signals: The Lost Broadcast, deleted and alternate scenes from the TV version
• Original trailers
• Image gallery
• Limited edition packaging with reversible sleeve featuring original and newly commissioned artwork by Gilles Vranckx
• Illustrated 60-page collector's booklet featuring writing on the film by Justin Humphreys, Brad Stevens and Tim Lucas, extracts from Cronenberg on Cronenberg, and a brand new roundtable retrospective with critics Alexandra Heller-Nicholas, Cerise Howard, Josh Nelson and Emma Westwood
• Foldout double-sided poster featuring original and newly commissioned artwork by Gilles Vranckx
• Six double-sided, postcard-sized lobby card reproduction artcards
Videodrome is released on Limited Edition 4K UHD by Arrow, £34.99