Cat's Eye (1985) – Film Review
Director: Lewis Teague
Cast: James Woods, Drew Barrymore, Alan King
Certificate: 15
By Sarah Morgan
Dogs are man's best friend, while cats supposedly tolerate humans for as long as they're useful to them. They're also popular figures in the occult and supernatural circles due to their presence as a witch's familiar, and so it should come as no surprise to find that they play a central role in this enjoyable potboiler.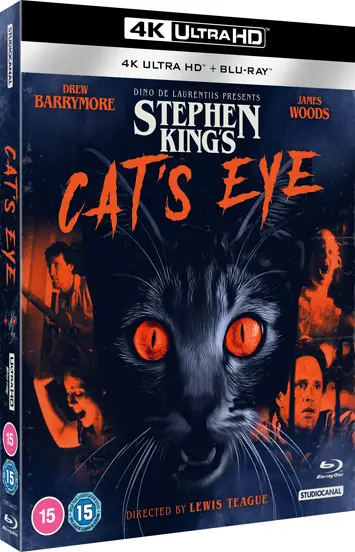 During the 1960s and 1970s, British-based Amicus Productions became a rival to Hammer Films thanks to its release of several horror anthologies, including Tales from the Crypt, From Beyond the Grave and Dr Terror's House of Horror.
"Tormented"
In 1977, one of the American film-makers behind the company, Milton Subotski, produced another movie using the portmanteau format. The Uncanny featured several stories involving feisty felines, and he returned to the idea eight years later as one of the producers of Cat's Eye.
However, the real creative driving force behind the project was Stephen King, who penned the screenplay. The first two tales (or should that be tails?) are based on short stories from his Night Shift collection, while the third is completely new.
Linking each of them is a handsome tabby. In the first section, he almost meets a nasty end due to some obsessive non-smokers who are trying to frighten James Woods' family man into giving up tobacco. If he doesn't, his wife and daughter will face torture, while he could end up paying the ultimate price – and we don't mean via lung cancer.
In the second, the cat proves to be a handy distraction when a former tennis player (Airplane's Robert Hays) initially fights for his life against the crime boss whose wife he's stolen before hitting back at the villain.
Finally, our feline friend has a more central role alongside Drew Barrymore. She plays a little girl tormented in her sleep by a goblin-like creature. Thankfully, her trusty four-legged friend is around to hit back.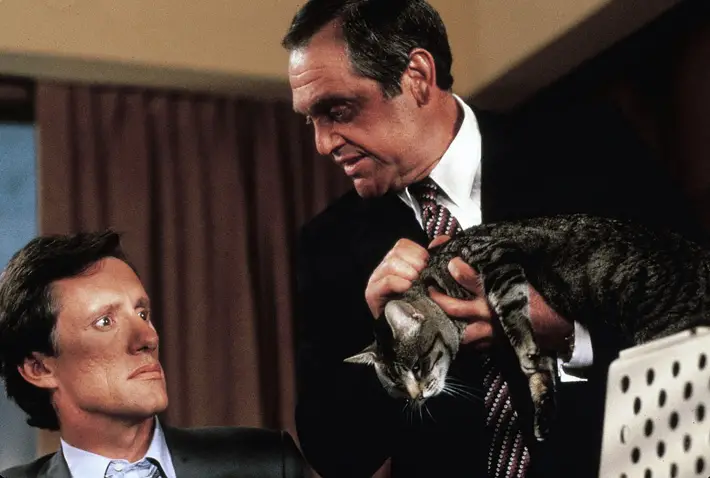 "Many in-jokes"
Cat's Eye is perhaps a little more tongue-in-cheek than many King adaptations (and let's face it, there have been many of varying quality over the years), so expect an amusing diversion rather than out-and-out chills.
King fans will also delight in the many in-jokes strewn throughout the film by director Lewis Teague, including an appearance by one of the dogs from Cujo, which he also directed, while cinema-lovers may like to note that the cinematographer was the legendary Oscar-winner Jack Cardiff.
There's a plethora of special features on the disc, including an interview with animal trainer Teresa Ann Miller, who reveals how she and her father managed to persuade cats – notoriously tricky creatures at the best of times – to 'act'.
Cat's Eye is available on Ultra HD, Blu-Ray, DVD and Digital by Studiocanal