Sherlock Holmes Deluxe Classics Series – Review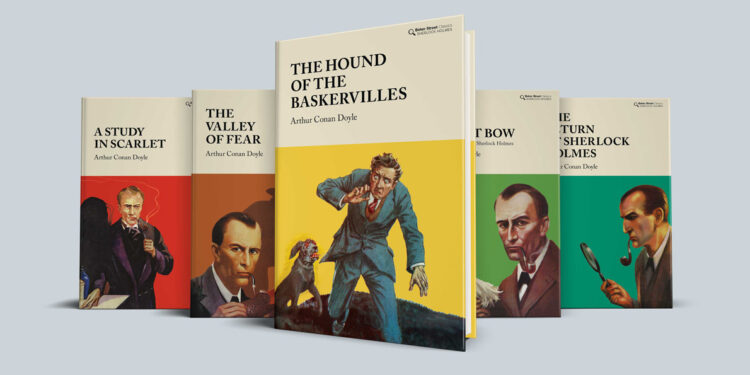 By Karl Hornsey
There are few characters from the Victorian era that can possibly have the same resonance today than a certain Sherlock Holmes who, along with his able assistant Dr Watson, and an assorted cast of inept policemen and nefarious villains still regularly seeps into modern life and parlance. The concept of any amateur detective these days being 'Sherlockian', the famous deerstalker, violin, pipe and casual drug use, and oft-misquoted lines and 'catchphrases' are among the many legacies that show how much Sir Arthur Conan Doyle's most famous creation will forever be ingrained in the psyche of the nation.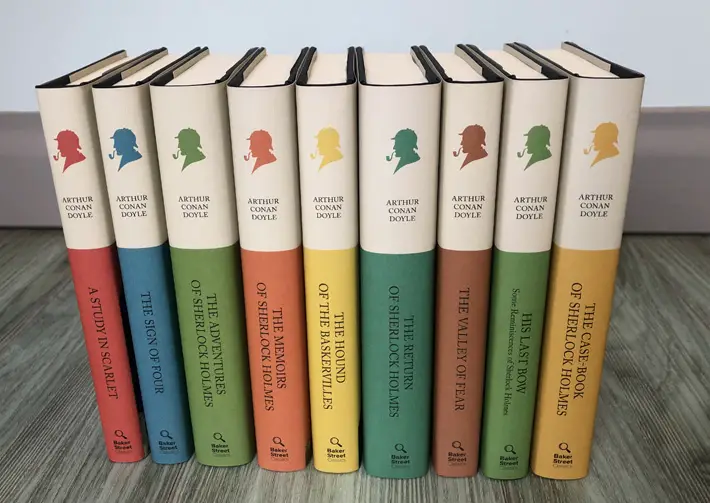 "The perfect retro antidote"
And so it was with huge interest that I heard about a new collection of the complete works, released by Baker Street Press. No matter how many times I've read the canon, it still fascinates me to this day and demonstrates what a truly remarkable character Conan Doyle created, despite his somewhat hit and miss results outside of the Holmes stories. This collection of nine hardback books is just utterly beautiful to behold. There's something special, perhaps even more so in this day and age, about holding a quality version of one of your favourite books and simply immersing yourself in it. And this new release delivers more than any that I've ever had my hands on. Each of the nine books features the original cover illustrations from the 1920s, which more than makes up for the fact that there are no illustrations inside.
Each of the four standalone novels and five collections of short stories are here, acting as the perfect retro antidote to the most recent recreation of the stories, the really quite awful series starring Benedict Cumberbatch, for which I appreciate I'm in a large minority for taking a serious dislike to. The collection begins with A Study in Scarlet, which I have to say isn't a favourite of mine, neither is The Sign of Four that followed, and for me it's when the short stories kick in that I find Holmes at his mercurial best, and his frustrating worst, as Conan Doyle struggled to satisfy the insatiable demand at the time for the monster that he had created.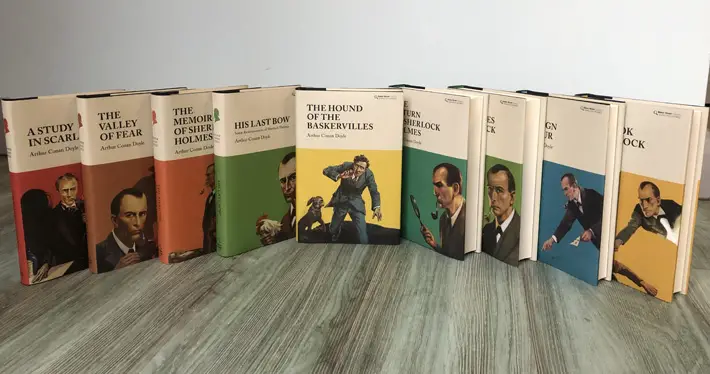 "Cannot recommend this new set highly enough"
Despite 'killing off' a character who had become the bane of his life, Conan Doyle thankfully brought Holmes back to life after his seeming demise at the Reichenbach Falls, and the stories have seldom been far from the public's mind, especially through the films of Basil Rathbone and the peerless depiction by Jeremy Brett in the 1980s and 1990s. I really cannot recommend this new set highly enough to those with even a passing interest in the original stories, through to those who already have several copies of the Sherlock Holmes stories on their bookshelves. If you think you have the definitive version of the books, then think again, as Baker Street Press have outdone themselves with this release.
The Sherlock Holmes Deluxe Classics Series is published by Baker Street Press