Making Your Choice Among Various Home Removals
What to look for when hiring a Home Removals Company
Be wary of the business transferring your furniture and priceless items; moving may be a traumatic experience as it is. Our home removals guide will help you locate the best firm for your needs.
Why do I need Home Removals?
The exhaustion of carrying boxes up and downstairs and into and out of moving vehicles can't be overstated. A piano, for example, can be difficult to move and may be better to be left to the experts if you have a lot to move. In addition, you'll have more time to focus on the other parts of relocating.
The best ways to discover reputable home removals services
There are a few things to keep in mind when you begin phoning for home removals quotes:
Do you know if the firm adheres to the British Association of Removers' code of customer service and the Ombudsman Services' code of conduct for resolving consumer complaints?
Use the Internet to get impartial evaluations of the home removals you're interested in.
You may learn more about the company's origins and longevity in its 'about us' section.
Please refer to the images to get an idea of the dimensions and condition of the trucks and storage areas.
Ask if any of your local friends have utilized home removals and what they thought of their good and poor experiences.
Obtain home removals pricing estimates
Choosing a removal service will be a major factor in determining how much it will cost. Get moving quotes at least 4-6 weeks in advance. You should start looking sooner rather than later, especially if you are relocating on a Friday or during school vacations.
We've put up a moving price guide to give you an idea of what to budget for your move. To acquire a quote, use the following:
Consider the cost, the service you'll receive, and the firm's availability around your expected move date when choosing a moving company.
If you're moving, you may consider hiring a moving company that provides additional packing services.
Only consider moving firms willing to do a visual assessment before providing a written quotation; otherwise, they will be unable to estimate and organize a move accurately.
Ask yourself whether they'll disassemble furniture that won't fit through doorways before arriving at the property. Is your attic overflowing with boxes? Make sure they include it in the price quotation.
The removals firm should be aware of the vehicular access to both the home you are leaving and the home you are moving into. You don't want a huge vehicle to arrive and be unable to reach within 500 meters of your home because of a lack of access.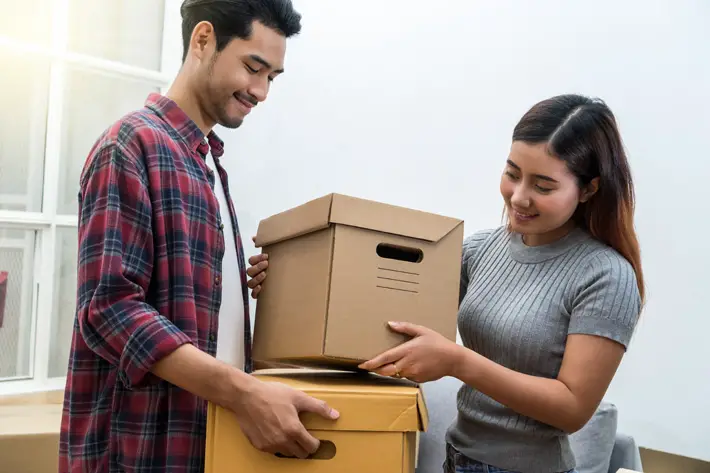 How much does it cost for home removals near me?
When searching for a home removal moving business, keep in mind that the cost of moving varies depending on the size and quantity of objects being transported, the distance to be travelled, the ease of access to the property, and the number of special care items required (e.g. antiques, artwork).
Moving from a three-bedroom property in Walthamstow, East London, to a new home ten miles away costs between £232 and £598 without packing and £652 to £1,023 with packing included.
And don't forget the boxes. It's possible that if you're moving with a local removals firm, they'll deliver your boxes for free, but if they're not, they'll charge you the cost of the boxes themselves. Compare house removal estimates to obtain an idea of prices.
Do home removals help you with the packing?
You may outsource the packing to a removals firm. Packing is becoming an increasingly popular choice; it will cost an additional £100-£500 to hire a packer and take them around a day to finish. for a typical three-bedroom family home.
Paying home removals for the unpacking service is also an option, although most customers do it themselves. Professional unpacking usually takes half a day and costs about £100 more for a typical three-bedroom house. The removals firm should evaluate your belongings in advance of packing and unpacking so that they can give you an exact estimate.
You may want to get rid of certain things before moving. Check out MyConstructor, for Waste Disposal and reuse, if you need to get rid of anything before or after your move. It locates the lowest-cost licensed trash collector or reuser in seconds. 98 percent of waste items are reused or recycled, and rates are up to 50% lower than if you contact collectors directly.
Check out our moving home checklist for helpful hints on packing and preparing for the big day.
Ensure you clarify these inquiries with your moving company before hiring them:
You'll want to speak to the removals business once you obtain your quote to understand their service.
Questions to ask potential home removals
The length of time that you and your firm have been in operation.
How soon can you send a representative to my house to do a survey and provide a more accurate estimate?
Can I make a tentative reservation now and pay for it after exchanging the contracts? (You should not pay for a removals firm until you have exchanged contracts and agreed on a completion date with all parties in your chain). Some may want a down payment up ahead.
What happens if I have to reschedule my move date due to unavoidable circumstances?
If my onward property is delayed, do you have storage facilities available? We need to know how much it'll cost.
Is insurance included in your price? Is there a limit to how many items may be lost? (Most moving firms offer insurance against the loss or damage of your belongings during transportation.)
Before making a reservation, confirm that this is the case and that the amount designated is adequate.
On the specified relocation dates, how many employees will be on-site?
When will I get my money back? You'll want to know if you'll be charged additional fees if the estimator underestimates the number of things.
How much time does it take to pack and unpack? (if necessary)
What about a complimentary cleaning service at the beginning and conclusion of the contract? (if necessary)
I'd like to know whether you can offer me a documented moving plan. For example, the time it takes to load, the time it takes to travel and arrive at the property, unload and unpack, etc.
Your move will go more smoothly if you have a solid working relationship with the removals firm. Book your House Removals through MyConstructor and get a quote today. Through our platform you can easily compare prices and reviews and choose the best company that suits your moving needs.