Cujo (1983) – Film Review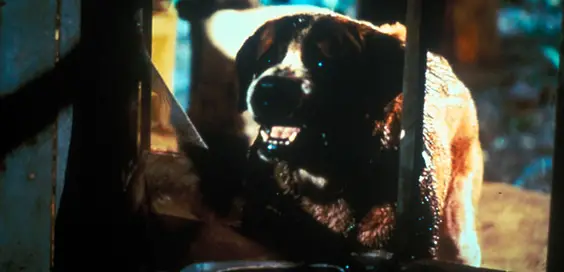 Director: Lewis Teague
Cast: Dee Wallace, Daniel Hugh-Kelly, Danny Pintauro
Certificate: 18
by Sarah Morgan
Being able to stick the name Stephen King on a project is the closest thing you can get to a licence to print money in the movie world. After his first novel Carrie was turned into a massive cinematic hit in 1976 by director Brian De Palma, other film-makers couldn't wait to adapt his subsequent works. Cujo was one of the first, after The Shining, Creepshow and a TV version of Salem's Lot.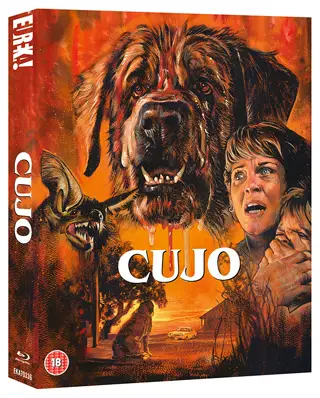 It's not in the same class as Carrie or The Shining, but it's effective all the same thanks to taut direction by Lewis Teague who, if this film is anything to go by, deserved better than to eke out a career directing low-budget direct-to-video or TV movie fare.
"Battle for survival"
The film is boosted no end by a strong central performance from Dee Wallace who regards Cujo as a demonstration of her best work – and it's easy to see why. She plays Donna, who has been having an affair with her advertising executive husband Vic's friend Steve. The marriage is a rocky one, and you get the impression the couple is only staying together for the sake of their young and slightly delicate son Tad.
When Vic discovers what's been going on behind his back, he leaves town, ostensibly on a business trip. Donna, who's having car trouble, takes Tad to see a local mechanic who lives on a remote farm, little realising that his family dog, a St Bernard called Cujo, has gone rabid thanks to a bite from a bat, killing the mechanic and his mate as a result.
The remainder of the film focuses on Donna and Tad's battle for survival while trapped in their stricken motor by the vicious Cujo.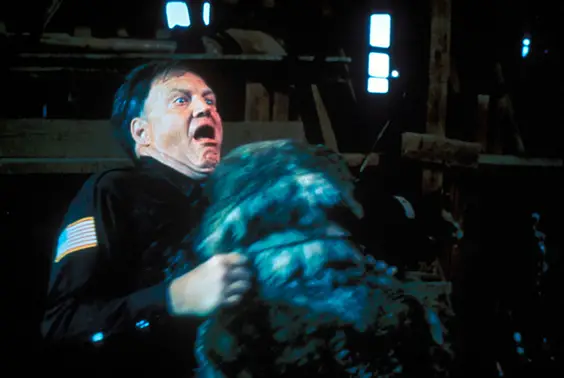 "Impressive"
Tense and claustrophobic, it's a hugely entertaining version of King's story, albeit with some crucial changes – I'll leave it to viewers to find out what they are.
Wallace is, as mentioned, superb, and was a hit property at the time, having come fresh from her success as another troubled mother, that of Elliot and Gertie in ET. She worked with the hugely talented Henry Thomas and Drew Barrymore then, and here she has another precocious child star to contend with – the impressive Danny Pintauro. Wallace's real-life husband Christopher Stone also makes an appearance; they had previously appeared together in The Howling, another horror film from the era.
As well as the film, there are more than seven hours of special features to enjoy, including a great interview with Stone and a video essay by Kim Newman.
7/10
'Cujo' is released on limited edition Blu-ray by Eureka, £29.99