World Music influenced Alt-RnB, from London…
What's the title of your latest release, and what does it mean to you?
'Passion'. I wrote this song with Tim Blok, who is a long time collaborator of mine. Having been influenced by the album Congo to Cuba by Putumayo, the music has afro-latin elements which heightens this passionate love affair that I sing about. When I listened back to the finished track in the studio, there was definitely something magical about it as I've always wanted to make music like this.
What was the hardest part about putting this release together, and why?
It wasn't really hard to put together as I love making music, but being an independent artist always has its difficulties. Everything is down to you and you have to make it happen. I think I thrive off of that though and like having creative control!
Who produced the release – what did they bring to it?
The song is produced by Tim Blok who I love working with. When you collaborate with someone, the main thing you need to establish first is trust. I had lots of references and he was able to bring my vision to life. Tim is not afraid to try out different styles and is super open-minded, it makes sessions with him really exciting.
What do you want the listener to take away from listening to your music?
To step into their truth and not be afraid. Being yourself is one of the most powerful things.
How does a track normally come together? Can you tell us something about the process?
I normally have a song title in mind beforehand, it really helps to shape a narrative. Or sometimes, if something is bothering me, I'm able to go into the studio and it just spills out.
What band/artists have influenced you the most since you started this project, and why?
I was listening to a lot of different vinyls whilst working on this project – Nigeria 70s, which is afro funk, Ethiopian Modern Instrumentals, Bossa Nova by Quincy Jones, Kokoroko by Baba Ayoola, Gumba Fire which is music from the 1980s in South Africa. There's so much amazing music out there that I wanted to delve into and bring elements into my music. I also love the work of artists Hope Tala and Priya Ragu who incorporate global sounds into their music too.
What countries would you like to tour? Are there any standout venues you'd like to play in?
As I'm from the UK, I've seen so many gigs at Hammersmith Apollo, O2 Academy Brixton and Kentish Town Forum so to be up on those stages myself would be incredible! I'd love to do some shows in the USA – I recently visited NYC and Radio City Music Hall is so iconic, that would be a special place to perform.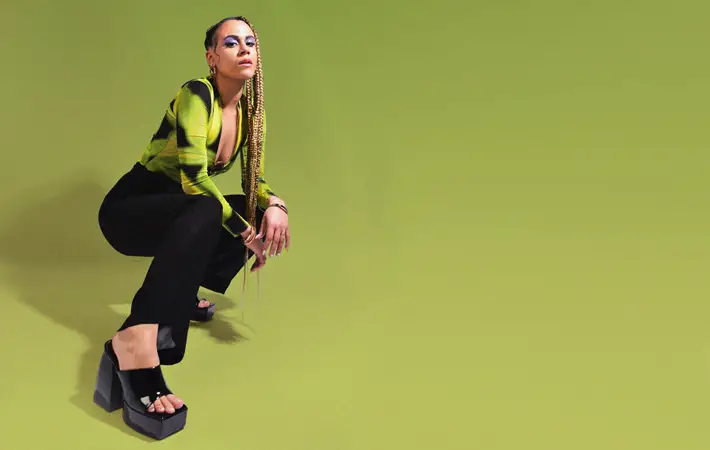 If you could pick one track for our readers to listen to in order to get a taste of your music, what would you pick, and why?
'Paper Roses' – this bossa nova-esque track was on my last EP 'Where the Wildflowers Grow' and was the first body of work that took a new sonic direction and I experimented with different sounds. I love the whole vibe of this song and lots of people have told me it's their favourite to date. It was also picked up by H&M global playlist which was cool!
What ambitions do you have for the band/your career?
I would love to have my own band and start doing lots of shows with them – nothing beats a live band! I've always wanted to go on Later…with Jools Holland too as he champions interesting and upcoming artists.
Finally, as you leave the stage, what are your parting words?
THIS IS JUST THE BEGINNING!
For more info visit: facebook.com/alicedmusicpage