Mazda CX-5 Sport – Review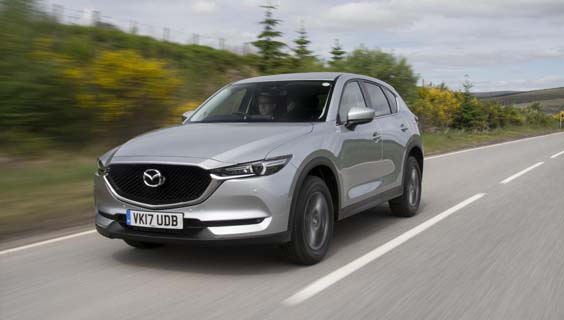 By Liam Bird
Just before I sit down to write this the weather forecast comes on. This weekend's going to be a scorcher apparently; the hottest one so far this year. Funny how things can change in a just a few days isn't? Last weekend I was The Cairngorms, driving Mazda's all-new CX-5 SUV, the rain up there was best described as biblical.
Mazda's far more instantly recognisable soft-top MX-5 might be the car we all want to drive in the summer – the dry ones at least – but their CX-5 is a car that's more than up to the task of dealing with all the other seasons you seem to get in all in the same day when north of the border too. It's more than capable of wading through some light flooding – we proved that on more than one occasion – and with the right tyres fitted, or if your budget allows it, with the optional intelligent all-wheel drive system it'll easily cope with what the our British weather-men call "deep snow".
Not only that, but it will seat five in comfort, the boot's a decent size, it's got what your mother calls a "proper roof", and best of all, it's pretty good to drive.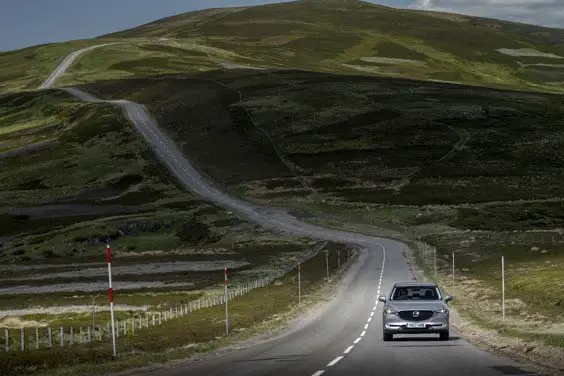 "Keeps road noise down"
In fact, with 148bhp and a 0-62 time of 9.4 seconds, the 2.2 litre SKYACTIV-D front-wheel drive Sport Nav, as piloted through The Highlands by yours truly, is more than capable of cutting it amongst the daily-grind traffic. 280 lbft of torque means there's little need to trouble the 6 speed gearbox unnecessarily, or the fuel-pump either for that matter. The combined cycle MPG figure for this car, thought to be the most popular CX-5 of the range, is a claimed 56.5.
It's quiet too. Mazda have paid particular attention to reducing interior noise and vibration levels with what now feels like a far more "premium" cabin. Usually when it comes to launching new models manufacturers brag about how much weight they've saved. Conversely Mazda have added some: 50kg to be exact. The windscreen is thicker, the door seals have been improved, and there's a host of other things, such as thicker sound-proofing and mounting the windscreen wipers below the edge of the bonnet rather than above it. That all adds up to keeping road noise down. Step out of an Audi, a VW or a BMW into the CX-5 and you'll no longer feel short-changed.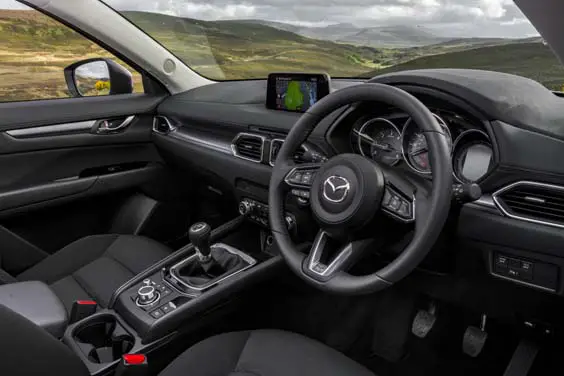 "Generous array of equipment"
The use of new plusher-feeling materials is instantly obvious and inside, the CX-5 Sport Nav gets not only what looks like the gear lever, beautifully clear dashboard dials and steering wheel from the MX-5, but also a very generous array of standard equipment. Leather trim, heated seats, cruise control, all- important Bluetooth, dual zone climate control and even (if you add the optional safety pack) lane departure warning system, automatic dipping LED headlamps, and reversing camera all put in an appearance. You've probably guessed from the name that there's a built in Tom-Tom sat-nav too.
What you probably weren't expecting was keyless entry, a 9 speaker Bose hi-fi with MP3 compatibility with a multitude of USB ports, 8 way powered seats, a powered tailgate, and that aforementioned hushed ride – even on the standard fit 19 inch alloys. Ahead of the driver sits all-new head-up display and there's radar cruise control as well.
There's no Apple CarPlay or similar such systems and if I'm brutally honest Mazda's sat-nav system is beginning to look its age. But where other manufacturers major on digital connectivity Mazda make you as a driver feel better connected to what's going on at road-level.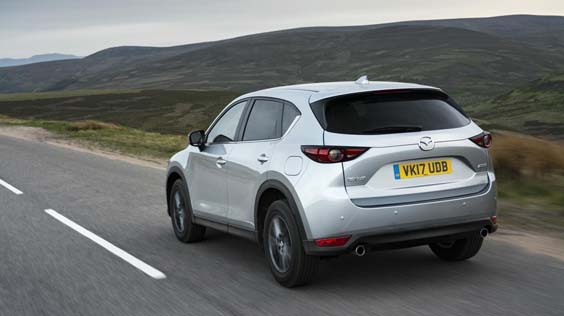 "Real feel to the steering"
A product of Mazda's "Jinba-Ittai" – that's car-and-driver as one to you and me – philosophy, the CX-5 incorporates 15% more torsional rigidity, and G-vectoring control (it helps with cornering) to help make the CX-5 more responsive than it's ever been. The steering is light but direct and there's real feel to it – at last in an SUV.
The gearbox is also a delight. In fact I'd go as far as saying that even on a wet road in the wilds of Scotland the new CX-5 is probably the most enjoyable and engaging – agile even – 5-seat family orientated SUV I've driven in a long time. Well, the diesel is at least. The 2.0 I also drive requires far more effort for what turns out to be little more, if any, further reward, whilst returning lesser MPG.
But like I said, it's the 2.2 turbo-diesel that's likely to be the biggest seller. And the price? The CX-5 range starts at £23,695. "My" Sport Nav diesel can be yours for £28,695.
All things considered I'd say the future's looking very bright for the new CX-5.
Mazda CX-5 2.2 Sport Nav
Engine: 2191cc 4Cyl 16V turbo-diesel
Transmission: 6 speed Manual, front-wheel drive.
Power: 148 bhp @ 4500pm
Torque: 280 lbft @ 2000rpm
0-62MPH: 9.4 Sec
Max Speed: 127mph
CO2: 132g/km
MPG: 56.5 combined
Price: £28,695