Lamborghini Urus – Review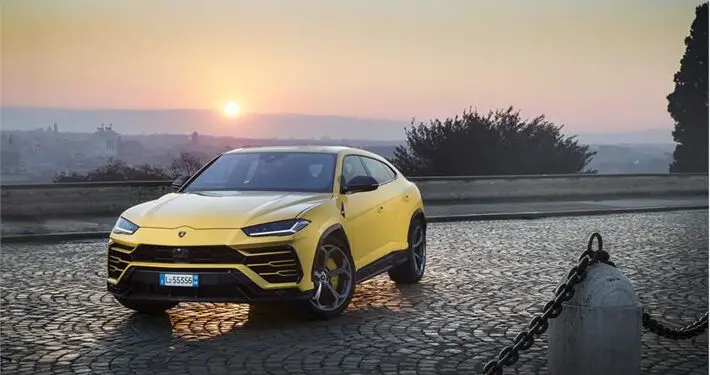 By Liam Bird
Alarm calls at 5:45am really aren't my thing. However, there are certain occasions on which such evils are a necessity. I've been trying to get my hands on a set of keys to a Lamborghini – any Lamborghini – for as nearly long as I can remember; certainly way before I could actually reach the pedals in one. As a teenager I read all the books, I plastered my bedroom walls in posters of the Countach, I even had the 25th anniversary calendar. In fact, I still have that 25th anniversary calendar. After what seemed like a lifetime of carefully written letters, polite emails, and other forms of gentle nagging – including a visit to the Lamborghini factory while on holiday in Bologna – those most elusive of keys were, at last, going to be pushed in my direction. As long as, that is, I could be in The Cotswolds before 9am.
Bleary-eyed, even more dishevelled-looking than usual, and fuelled only by a hastily grabbed breakfast of bottled watered and suspiciously chewy almond croissant at Strensham Services – that blasted alarm never went off! I grabbed whatever I could – I eventually arrived, in Lechlade, one hundred and ten miles, later. It was very nearly 9:20 am.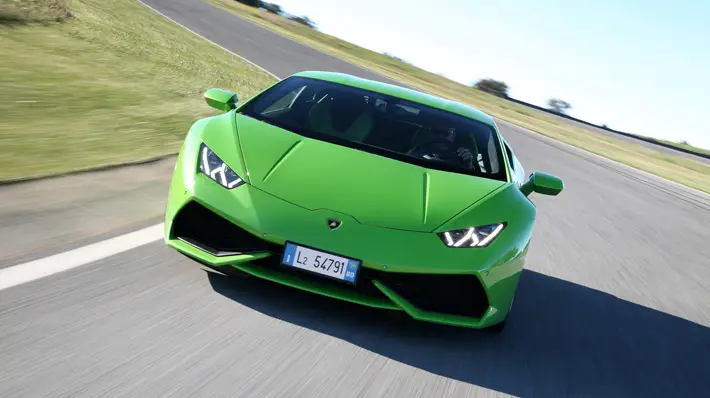 "Eye-opener"
"Ah, Liam," said Charlie, the immaculately dressed PR, "Glad you could make it. We've got you booked into the Urus from 10 o'clock, so if you'd like a coffee"… I could have killed for one. And then he said: "But if you'd like to try our Huracan first, it's free until then."
Hmm… Let's see now. A Huracan for half an hour, or an Americano, probably without biscuit accompaniment? That caffeine shot would have to wait. Besides, as wake-up calls go, the sound of Lamborghini's 5.2 litre, 630bhp, V10 engine on start-up takes some beating.
The lurid green paint-job was a bit of any eye-opener too. As introductions to the one of the most famous Italian supercar manufacturers go, a quick run up to the nearest roundabout and back in a bright green wedge capable of 202mph was inevitably going to prove memorable – alas, if only for its brevity. There simply wasn't enough time to really get a feel for the Huracan, or perhaps enough space either.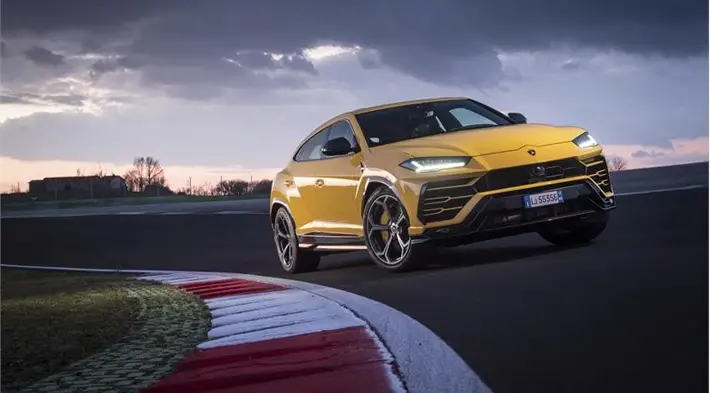 "Menacing rumble"
A 50 mph near blanket speed limit proves somewhat frustrating in something capable of 0-62 mph in just 2.9 seconds. I'm all too aware that the Huracan's talents run to far more the being just very fast and laughably (in Corsa Mode) loud. It's just shame there wasn't more time to discover them. As soon as I was back to where I started, a driver jumped into "my" Huracan and it was off on its way to another event. Still, I'll always be able to tell anyone who asks that the first Lamborghini I ever drove on the road was a bright green Huracan Evo.
So then, to the Urus, Lamborghini's equally wacky and very nearly as quick (believe it or not) five-seater, near 2.2 tonne, SUV.
Forget the Huracan, even a Kermit-coloured one, if anything is going to get you noticed in Gloucestershire on a sleepy Wednesday morning, it's an eye-wateringly bright orange, five door Lamborghini that sits on 22 inch wheels, makes deep, menacing rumble noises in traffic, and has probably the most divisive styling of anything that's ever dared come out of St Agata, Bolognese. That said, with a list price of £177, 297 before options, a Urus of any hue is probably not the kind of thing you see every day.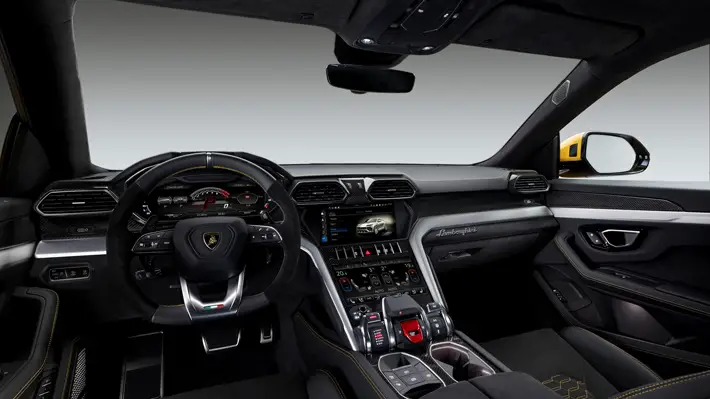 "Easy to see Audi's influence"
As someone who has always coveted Lamborghini – albeit from afar – I should, perhaps not like the Urus; it is in certain respects everything a Lamborghini shouldn't be. The Urus is, budget allowing and to all intents and purposes, a family car. It has a big boot, it seats five in comfort, the rear seats fold down… it's practical! It is a four-wheel drive SUV (should that read Super SUV?) – and one with more than a hint of parent company Audi's underpinnings. However, were it not for the Urus (and Audi/VW for that matter) Lamborghini as we now know it may not have existed at all.
Sat high in the Urus's alcantara clad, wrap-around driver's seat, it's easy to see Audi's influence. The indicator and wiper stalks, the infotainment and sat-nav system, the minor switchgear, even the steering wheel, they all owe more to Ingolsadt than they do to Italy. The Urus even gets the the now ubiquitous 4-litre twin-turbo V8 and an eight-speed auto 'box as per the Porsche's Cayenne, Bentley's Bentayga, and, you guessed it, the Audi Q7. What you don't get with any of the Urus's "sister cars" however, is the ability to blast your way from standstill to 62 mph in 3.6 seconds, a top speed (conditions permitting) of 190mph. and an ability to corner, thanks to four-wheel steering and adaptive air-suspension, that would embarrass many a so-called sports saloon.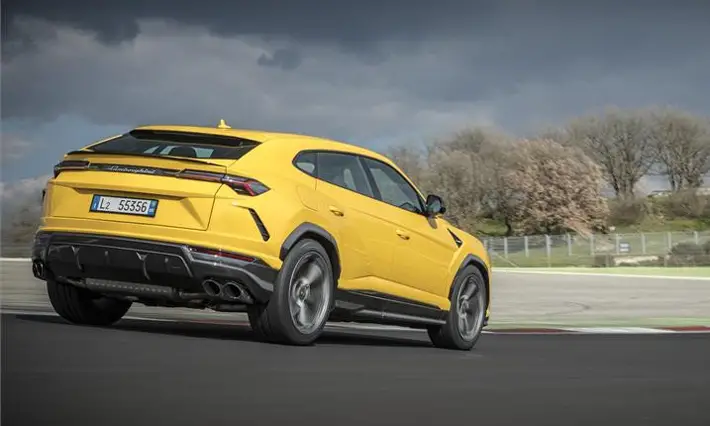 "Whacky styling"
Quite how fast your family like to travel is of course their prerogative, but don't go thinking that the Urus is just some kind of luxury blunder-bus; all break-neck speed, whacky styling, and no finesse. The ride is firm, yes, and in any other driving mode rather than Strada, the Urus might at first appear a little too fierce, on a typical British A-road, for its own good. Nevertheless, it'll happily pootle along in traffic, and do the day-to-day stuff as well as nearly every other (inevitably slower) Sports SUV you can think of. As long as you can afford to fuel it that is, 22 mpg is attainable, if you are careful.
There was never going be enough time for me to experience two so different cars from a brand I've wanted to sample for quite so long in just a few hours, but I did leave Gloucestershire a significantly more enlightened driver than I was when I entered it that particular day. Box ticked: I now know what a Lamborghini Huracan feels like to drive. I also know that given the choice between a Huracan and an Urus, it's the Urus I'd choose to drive back home.
Lamborghini Urus
Engine: 3,996 cc, 8-Cyl, 32V, twin-turbo, Petrol
Transmission: 8-speed, auto with paddle shift, all-wheel drive.
Power: 650 bhp @ 6,000 rpm
Torque: 627 lbft @ 1,800 rpm
0-62 MPH: 3.6 Sec
Max Speed: 190 mph
CO2: 325 g/km
MPG: 22.2 (combined)
Price: from £177,297 OTR