Dacia Duster Laureate – Review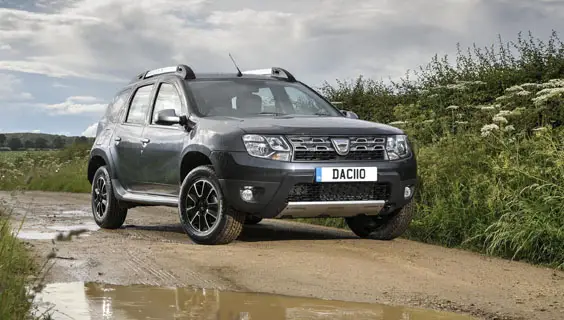 By Liam Bird
The last time one of Dacia's Dusters graced the driveway here at Castle Bird it seemed to go down well with nearly all who surveyed it. Most liked its compact dimensions, its no-nonsense and no frills styling, the fact that in certain guises you can get it with selectable 4-wheel-drive, its ability to seat five – albeit at a push – its cushy ride, and perhaps most of all its 'shockingly affordable" (Dacia's words, not mine) price tag. You can bag yourself a Duster for just £9495. All that is, except the badge-snobs. They didn't like it.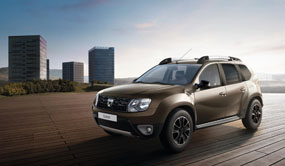 Whether or not those who praised it so much would've done so quite so freely had Dacia lent me the full sack-cloth-and-ashes spec Duster though, I'm really not so sure. If you're the type who likes to keep the purse strings really tight the base model version of this rugged little SUV can be had in washing-machine white with black bumpers, black door handles, steel wheels with no trims, wind-up windows all round, and no radio or air-con. Perish the thought said the badge-snobs: Exactly how affordable do you want affordable to be?
Needless to say Dacia's – it's pronounced Dat-Chee-Ahh incidentally – press office didn't send me the full nuclear–winter spec Duster back then. Neither did they this time either – thankfully. Now who's being the snob?
"The Duster is incredibly low geared"
In fact the whole Duster range has had a bit of makeover since that first acquaintance. For 2017 there's new grille, squarer headlights and further revisions to the Duster's front styling. Whilst inside standard equipment has also been upgraded. A DAB radio is now a very welcome standard feature from Ambience trim upwards, and there's new interior upholstery on all trim levels and a new satin chrome centre console with shiny steering wheel inserts to match.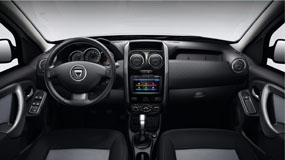 'My' new Duster turns up in Laureate spec, which in addition to the above adds more luxury in the form of manual air conditioning, electric front and rear windows, heated and electrically-adjustable door mirrors, trip computer, a leather steering wheel, 'graphite' cloth upholstery and 16-inch 'Tyrol' alloys. It also comes with optional, and also new for 2017, Pennine Green metallic paint, 4-wheel drive and best of all (in my opinion at least) a full-size spare wheel. And very nice it looks too. In total those little extras push the asking price up to £17,340.
Duster's are now available with Renault's (the French company own Dacia and much of the interior's switchgear is instantly recognisable) new turbocharged 1.2 TCe 125 engine which provides 125bhp, 151 lbft of torque at 4,000rpm and offers of 46.3mpg combined (4×2 version) with CO2 emissions of 138g/km. Or, as in our case, you can plump for the well-proven 1.5 dCi 109bhp engine.
Whatever you choice of power plant, performance is not exactly what you'd call earth-shattering, even if sometimes the engine note might have you thinking otherwise. The Duster is incredibly low geared. You can pull away easily in second, deal with roundabouts in fourth, and if you've any mechanical sympathy at all, you'll be in sixth before you hit 60mph. Refinement is a tad lacking.
"Charm lies not in the way it drives but rather in the way it makes you feel"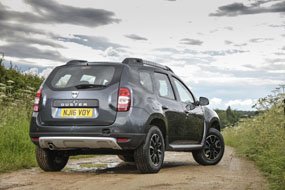 The 1461cc 4 cylinder turbo-diesel does deliver an admiral amount of mid-range shove and driven respectfully it will return its promised mpg. Well, nearly. But the Duster could never be described as swift. It'll keep up with the morning traffic, but stir the 6 speed gearbox up a little or push the Duster a little harder and it soon begins to sound like a multi-million mile mini-cab. You can sense the badge snob's horror as soon as you put your foot down.
You probably wouldn't pick the Duster for the way it handles either to be honest. It'll soak up road imperfections with aplomb and it's actually rather comfy, but it's not exactly sharp. The steering is hardly what you'd call communicative and there's pronounced body roll during cornering.
Better then to relax a little and let others deal with the rat race. You see the Duster's charm lies not in the way it drives but rather in the way it makes you feel, and of course in what it offers for such relatively (depending on spec that is) little outlay. It's honest, it's dependable, it's genuinely capable, and it's not trying to be something it's not or never will be. The badge-snobs will still hate it, and as a result it's all the better for it.
Dacia Duster Laureate dCi 110 4×4
Engine: 1461cc 4Cyl turbo-diesel
Transmission: 6 speed manual, with selectable four wheel drive.
Power: 109bhp @ 4000 rpm
Torque: 177 lbft @ 1750 rpm
0-62MPH: 12.4 Sec
Max Speed: 104 mph
CO2: 123 g/km
MPG: 60.1 combined
Price: From £15,995 (car driven £17,340)