Citroen C5 Aircross – Review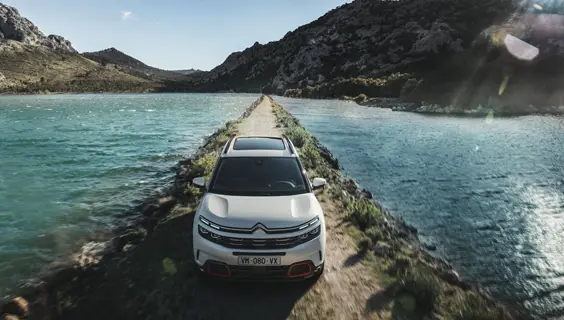 By Liam Bird
Perhaps this review should start with an apology. Sorry, this was going to be the space where I put my review of the new Peugeot Rifter. However, up until the day before Peugeot's new crew-van–cum-MPV-cum-sister-car-to-the-Citroen-Berlingo was due to arrive everything looked fine. Then the dreaded email: "Unfortunately during its time with another motor-noter, The Rifter we were due to send you received some damage". Inevitably my time with it would be delayed.
"Not to worry" said the always cheerful and extremely helpful Craig, PSA group's PR man, "We've got a Citroen C5 Aircross we can lend you instead. "Perfect". I instantly replied.
You see, the C5 Aircross is Citroen's flagship SUV – hence my enthusiasm to try it. And not only that, at the time of writing, it's also been shortlisted as one of the 7 finalists on this year's (2019) World Car of the Year list (So clearly, it's not only me that liked the look of it. Although it was Jaguar's I Pace that eventually got the gong).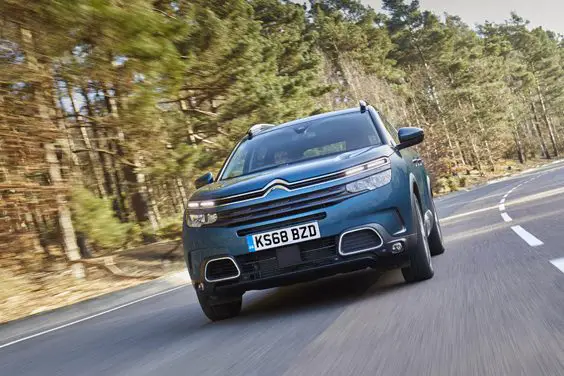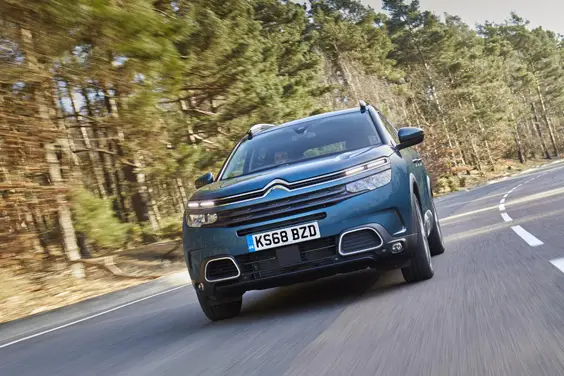 "One of the biggest boots in its class"
It's also Citroen's biggest SUV to date and has been brought to market in a bid to steal sales from the likes of Nissan's Qashqai, arch-rival Renault's mechanically very similar (to the Qashqai that is) Kadjar, Skoda's Kodiaq, Kia's Sportage, Mazda's CX-5… and that's to name but a few. But you probably don't need me to tell you that the so–called Sports Utility Vehicle is the current motoring must-have.
Now, where most manufacturers have embraced at least a proportion of the Sports element of the SUV (some more successfully perhaps), Citroen, ever the quirky one of the bunch, have concentrated on comfort – not to mention practicality – instead. Not only does the C5 Aircross pack one of the biggest boots in its class – which can be further enlarged by sliding each of the three individually adjustable rear seats forward – it is, say Citroen, "the most comfortable SUV in its class".
Well, it's certainly the only one to use the brand's rally-derived Progressive Hydraulic Cushion suspension, that's for sure. Citroen have fitted the rally-derived system in a bid to revive that old magic-carpet-like hydro-pneumatic ride quality they were once so famous for – but without also adding the complication that always seemed so associated with it.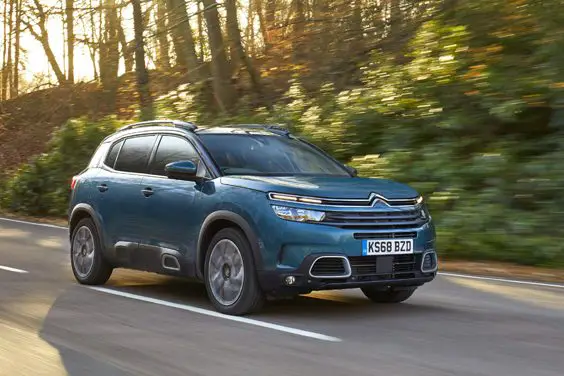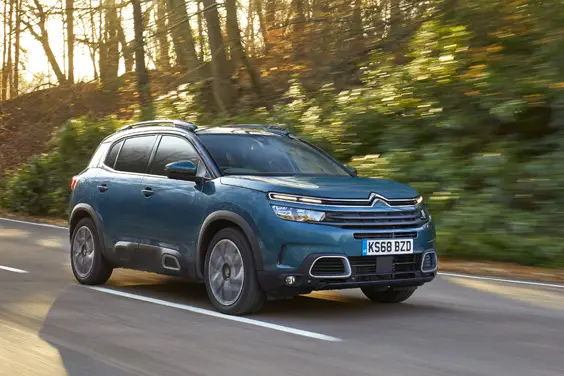 "Ruggedly handsome"
C5 Aircrosses also get Citroen's 'Advanced Comfort' programme – well, in Flair or Flair+ specs that is – which adds some very soft, yet very comfy, seats, acoustic glazing to reduce wind noise and increased under-bonnet sound-proofing. They also gets a smattering of Citroen's now trademark groovy-looking air-bumps along their flanks – but they're there presumably, like they were on the original C4 Cactus, not for comfort, but to prevent any, shall-we say, family orientated wear, tear, or unnecessary paint scuffing.
Talking of what's under the bonnet, your C5 Aircross can be had with either a 1.2 or 1.6 Puretech petrol, in 120 or 180 bhp form respectively, or with a either a 1.5litre 130bhp, or 2.0litre 180bhp, four-cylinder turbo-diesel called BlueHDi. Gearbox choice is either 6-speed manual or 8-speed auto, and all C5s, despite those ruggedly handsome looks, are front-wheel drive. You can add Citroen's Allgrip system too, should you be one of the few of the SUV drivers that actually intend to venture off-road.
In the Rifter's absence I took delivery of the former of the two-diesels, complete with the 6 speed manual, in Flair+ Spec. And very nice it was too.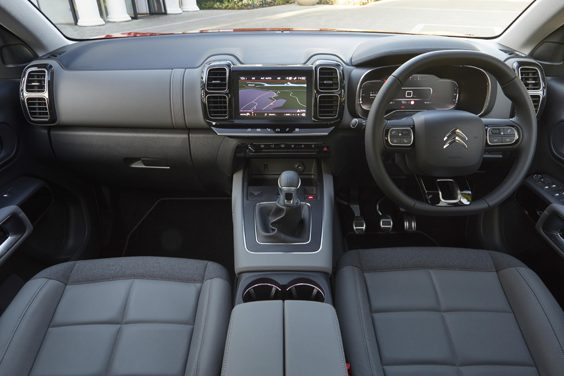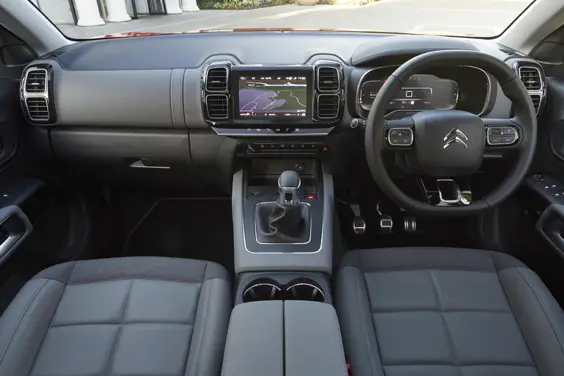 "Quiet and comfy"
As previously hinted at there's nothing remotely sporty about the way this car goes about its business; everything, if I'm honest, from the steering to gearshift, to the way it rides, feels somewhat elastic in its action. The Aircross rolls on to its outside front corner in the bends, and offers little in the way of any driver feel or feedback whilst doing so.
But that's not to say it feels lethargic: A 0-62 mph time of 10.2 seconds is perfectly respectable. And as long as you keep the revs above 1,500 or so performance is more than adequate for what is to all intents-and-purposes a family-car. It's quiet, and as expected, comfy; it makes for an ideal relaxed long-distance cruiser.
As a genuine five-seater (rather than a 4, plus someone small) it's spacious too, thanks to a flat rear floor. There's no seven seat option, but you do get three ISOFIX points – two in the back, and another on the front passenger seat, and there are some generously sized cubbies spread around the cabin to hide all of life's flotsam and jetsam.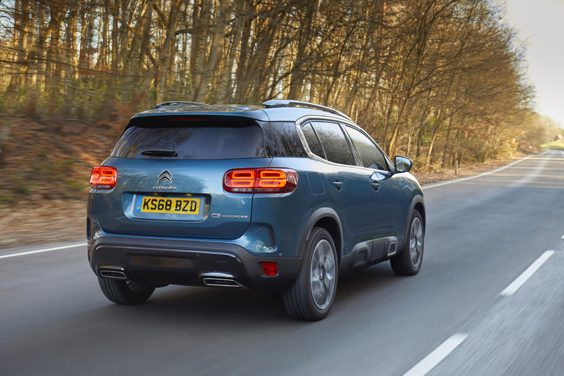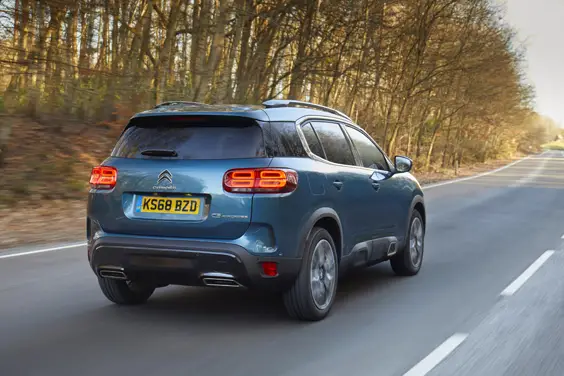 "Nicely equipped"
In fact the interior of the C5 Aircross isn't such a bad place to be. Sure, it does use some pretty hard plastics in places, and PSA's insistence that you no longer need anything resembling a proper switch to adjust the heating – it's in the touchscreen somewhere (but where?) – is down-right infuriating at times, but the driving position is well-judged, the digital dashboard is clear, and all round visibility is pretty good too.
And that about sums the C5 Aircross up. It's comfy, well-judged, and nicely equipped. It could be said that there's something a tad style-over-substance about it in places but underneath it all there lies a very good car.
The C5 Aircross was, and is, a nice surprise. And fear not Rifter fans, I've rebooked. Watch this space.
Citroen C5 Aircross BlueHdi 130
Engine: 1,499 cc 4Cyl 16V turbo-diesel
Transmission: 6 Speed, Manual, front wheel drive.
Power: 130 bhp @ 3,750 rpm
Torque: 221 lbft @ 1,750 rpm
0-62MPH: 10.4 Sec
Max Speed: 117 mph
CO2: 119 g/km
MPG: 53.1 (combined).
Price: £29,225 (Car driven £29,770)