Bentley Continental GT W12 (2019) – Review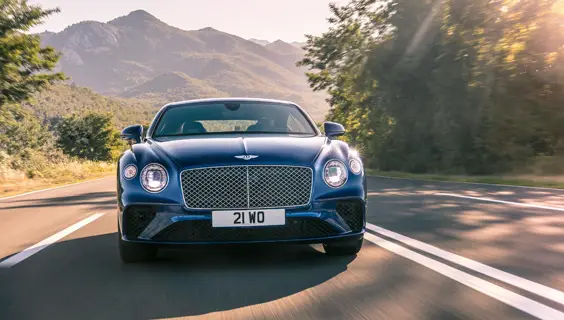 By Liam Bird
Does anyone ever buy a bog-standard Bentley? Imagine walking into the dealer and asking for a basic one; no special paint, no deep pile overmats, not a thread of contrast coloured stitching. What would you get – the inevitable looks of incredulity from the salesmen notwithstanding – if you were to tick absolutely none of options boxes at all?
The reason for such ponderings is because I've just handed back a brand new Bentley Continental GT W12. All £159,100 of it.
That's before options incidentally – Bentley had kindly loaded another not-so insignificant £42,145 worth of those on "my" car. You can very nearly buy a Porsche Cayman for that, or a Volkswagen Polo GTi, plus another matching one to go with it. Bentley, Porsche and Volkswagen, it's all the same company. However, to talk of buying a Bentley Continental in the same way as one would a Polo, be it GTi or not, is to somehow serve it a huge injustice. You buy a Bentley with your heart; your head definitely plays second fiddle in this kind of deal.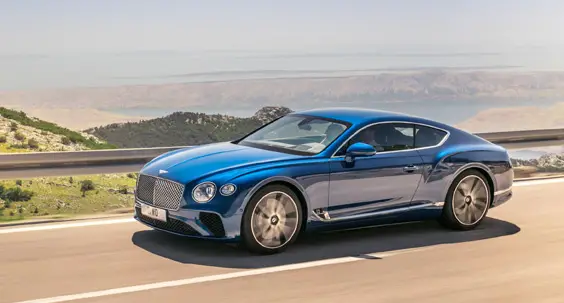 "Moves so quickly and yet so effortlessly"
So, what exactly do you get?
Now in its third generation, Bentley's Continental is still very much the archetypal gentleman's grand tourer; a sleek, luxury, long-bonneted 2+2 with the ability to cruise across continents at velocities best not mentioned whilst in the company of the local constabulary. It's bigger than it used to be – there's more rear legroom – as a result of it now sitting on the same MSG platform as Porsche's Panamera. It also benefits from its Stuttgart sister brand's three-chamber air suspension. The ride needless to say therefore, is sublime.
So too is the power delivery. Which, as in the case of the range-topping 6.0litre twin-turbo W12 such as the one Bentley kindly loaned me, means a whopping 626bhp, and a tidal wave-like 664lbft of it. Bury your brogue in the deep lambs-wool carpets and it's as if the far horizon is suddenly being sucked towards the Continental's chrome criss-cross grille by an immense and unexplainable force. The 8-speed dual-clutch gearbox sends drive to all four wheels and upshifts automatically at 6200rpm. There's no drama, and little in the way of noise. The Continental is simply far too refined for such things, it just accelerates, keeps accelerating, and then accelerates some more. How nearly 2.4 tonnes of car moves so quickly and yet so effortlessly I'll never truly know.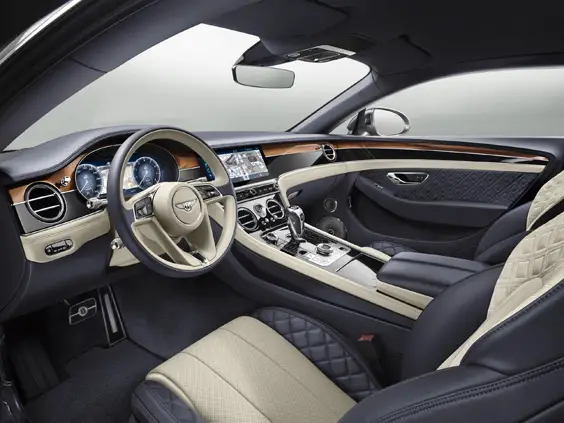 "Movie star gadgetry"
The engine, transmission, clever suspension with its 48V active anti-roll bars, and the double-glazing of course, all come as standard. It's in the cabin where as a Bentley buyer you can really indulge yourself.
Quite simply the craftsmen and women at Pyms Lane in Crewe have the ability to build interiors like no-one else. A Bentley Continental's interior makes that of its closest rival, Aston Martin's DB11, feel like a kit-car. And these day there's even a touch of movie star gadgetry.
Amongst the deepest of leathers, the perfectly polished stainless steel, and the painstakingly book-marked veneers, lies a discreet soft-touch piano-black button simply marked Screen. Press said lozenge-shaped control and the triangular rotating display mounted into Continental's dashboard flips like the number-plates of Sean Connery's Goldfinger Aston Martin to display either the largest of modern touchscreens, itself capable of showing three different functions at once, a trio of beautiful analogue dials; thermometer, compass, and chronometer, or simply a continuation of your carefully chosen dashboard woodwork. Honestly, it's lovely. As someone who dislikes modern digital displays with a passion I'd gladly pay Bentley's £4,700 asking price to have it.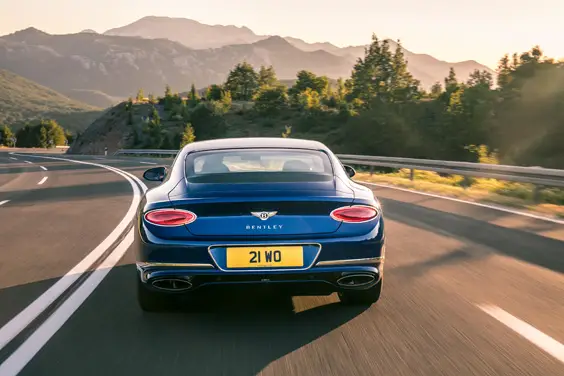 "Sounds magnificent"
But then, should money be no object, I'd spec the Naim for Bentley bespoke hi-fi too. A snip at £6,500, it sounds magnificent. Having tried them I'd need the Comfort Specification front seats for their extra adjustment, and the Touring Specification pack which adds night vision, cruise control and a head-up display. And then there's the City Specification pack which adds automatic dipping mirrors and a top view camera to aid parking and prevent any kerbing of the optional 21 inch alloy wheels I'd also so obviously need.
It's just so easy to get carried away. But isn't that the whole point of something such as this? I very much doubt that you'll being see a bog-standard Bentley any time soon.
Bentley Continental GT W12
Engine: 5,950cc twin-turbocharged W12 TSI
Induction: 2 x parallel turbo-chargers, direct intercooling
Power: 626 bhp @6,000 rpm
Torque: 664 lbft @ 1,350 – 4,500 rpm
Transmission: ZF 8-speed dual clutch auto with Manual Mode & active all-wheel drive
Performance: 0-62mph 3.6 sec
Max Speed: 207 mph
MPG: 20.8 (Combined). WLTP cycle
CO2: 308 g/km
Price: from £159,100 (as driven £201,245)