Volkswagen Polo SE 1.0 litre 65PS – Review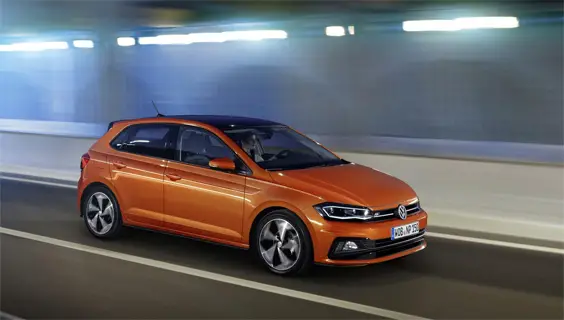 By Liam Bird
Not so long ago Volkswagen ran an advert that asked: "Why buy something like a Golf when you could buy a Golf? Well, with the new Polo, I think they may have unknowingly just answered their own question.
Originally unveiled in 1976, the Volkswagen Polo has been an incredibly important member of the VW line-up ever since. In its five previous incarnations (the car you see here being the sixth), worldwide the Polo has sold over 14 million units; 1.4 million of those being here, in the U.K. It's become one of the most popular cars VW has ever made.
Like all of us conceived in the 1970s the Polo is somewhat bigger than it once was; in fact it's now very nearly the same size as the Golf MK IV. And yet it remains instantly recognisable. There's been an evolution you might say. There's been a revolution too.
The Polo now sits on Volkswagen's MQB A1 platform, as per SEAT's Ibiza and Arona, the forthcoming new Skoda Fabia, VW's T-Roc and a whole host of other yet to be launched VAG products. It's because of that clever chassis that the Polo now boasts a new and larger interior, more technology, say Volkswagen, than anything yet seen in a supermini, and a boot that's bigger than that of the current Ford Focus.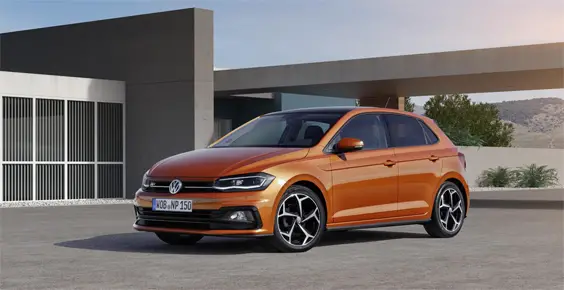 "Pick your engine wisely"
The Polo gains in both length, and thus wheelbase, and width, and thus track, and as a result now rides even more smoothly that it used to. Comfort-wise it's definitely up there with the best in its class. Perhaps our car's combination of 15" rims and taller tyres helped; bigger wheels and thinner sidewalls might look more fashionable but they rarely improve comfort, but what really impresses is the Polo's ability to iron out the worst of the B-road bumps without resorting to feeling too soft and rolly in the twist bits. It also feels stable whilst remaining remarkably quiet at motorway speeds.
It might however take you a little while to attain such velocities. My advice: Pick your engine wisely. Our Polo came fitted with VW's now ubiquitous 3-cylinder petrol engine, which I'll readily admit I like. It's an eager, thrummy, and free-revving little unit that regardless of how hard you drive it never resorts to excessive vibration – surely a 3-pot's bugbear – or excessive thirst. I never saw less than 49.5 mpg. Alas, though, "ours" had just 65bhp. That's nearly adequate around town, but once free of the suburbs it's positively pedestrian. 0-62mph takes a near calendar worthy 15.5 seconds.
Still, at least it gave us time enough to acquaint ourselves with the Polo's 5 speed gearbox (in this case, 6 speed and DSG autos are available). Overtaking too required familiarisation – as well as very careful planning.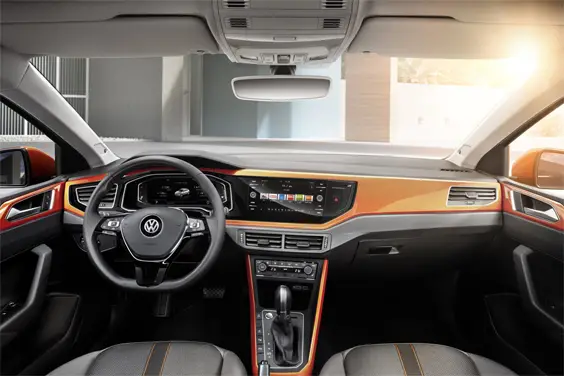 "Fully-loaded"
You can of course buy a 1.6 litre diesel, or the 113bhp 3-cylinder petrol, but it's predicted that most prospective Polo purchasers will opt for the mid-range triple, the 1.0-litre TSI turbo petrol. Not only does that engine's 94bhp knock a whopping five seconds off that aforementioned 0-62mph dash it significantly reduces the occurrences of sharp intake of passengers' breath when attempting to pass lumbering juggernauts.
Which brings us nicely on to standard safety equipment. Not only do all new Polos come with a low-speed autonomous emergency braking and an all-important 5 Star Euro NCAP safety rating, and Stop & Go function – a first for a car with a manual handbrake. Budget allowing they can also be specced with post-collision assist, blind-spot monitoring, rear cross traffic alert (which warns you of passing cars when you reverse), adaptive cruise control, and also park assist, a function that should you need a little help will automatically steer the car into parking spaces. Parking sensors are also optional for those who feel a tad braver but not perhaps fully competent when it comes to the multi-storey shuffle.
As for standard interior furnishings… all Polos come with an 8-inch touchscreen with DAB radio, air-conditioning and automatic headlights. SEs get 15-inch alloy wheels in place of the S's 14-inch steel rims, plus full smartphone connectivity including Android Auto and Apple Carplay (so you can use your phone for satnav and Google Maps), a leather steering wheel and an alarm.
Beats, the next spec up again, get 16-inch wheels, a 300W sound system, special decals and coloured dash inserts, followed by the SEL with built-in satnav, parking sensors and climate control. After-which comes R-Line with its sportier styling and then the fully-loaded and recently launched 2.0litre GTi. Should you so wish you can also opt for a fully digital dashboard a-la Audi's TT. Another first for a supermini.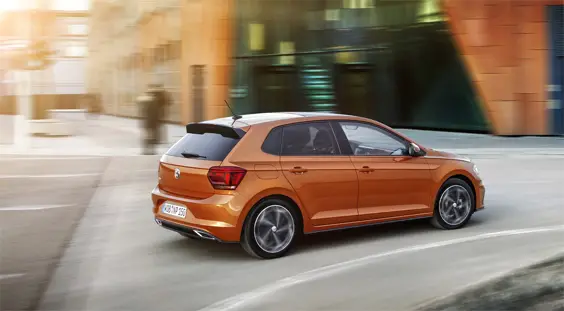 "Safe and predictable handling"
You could argue that some of the plastics used to house all of those goodies aren't quite as plush and tactile as you might expect (are VW saving money by using lesser grade materials in their new interiors?) and that the difference in quality between the new Polo's interior and that of a SEAT Ibiza isn't as big as it once was. Nevertheless all the bits you touch regularly still feel built to last.
The driving experience too isn't quite as "sparkling" as that of say Ford's Fiesta – surely the Polo's biggest and most long-standing rival – or indeed the Ibiza. But it does continue VW's reputation for safe and predictable handling. All the controls are light and all-in-all the Polo is incredibly easy to live with day-to-day.
So far then, so Polo. Safe, predictable, built to last, well–equipped, the right badge so good residuals, and overall, unless it's a GTi, a little bit sensible.
It's a bit like, no actually, it's a lot like… a Golf.
Volkswagen Polo SE 1.0 litre 65PS
Engine: 999cc, 3Cyl, 6V Petrol, with turbocharger module and electric boost pressure regulation.
Transmission: 5 speed Manual, Front wheel drive.
Power: 64 bhp @ 5,100 – 6,100 rpm
Torque: 70 lbft @ 3,000 – 4,300 rpm
0-62MPH: 15.5 Sec
Max Speed: 102 mph
CO2: 108 g/km
MPG: 60.1 (combined)
Price: from £14,630 (car driven £16,725)