City Calm Down – Live Review – Leeds Brudenell Social Club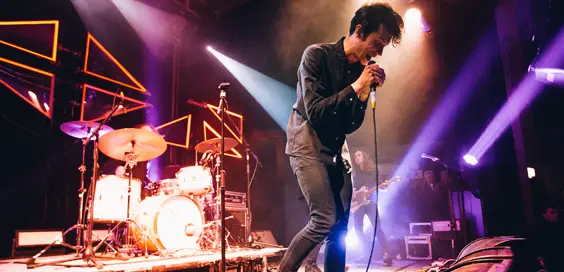 By Victoria Holdsworth, May 2018
Australian four piece City Calm Down performed at The Brudenell Social Club's all-day Gold Sounds festival, as part of their UK tour – and this would be the second time in as many weeks that I have been thoroughly impressed with a bunch of lads from down under, following DMA's.
It was hotter than hell this afternoo when the indie-rockers took to the stage to do a short set, opening with new track, 'Distraction/Losing Sleep', from the album Echoes In Blue.
These lads have done their homework, and they all look very suave and very distinctive, as vocalist Jack Bourke sings: "I've slipped through the cracks and out of view / In the dust all I've acquired is moments of truth." It's a very relatable tune and so well written, frantic in its performance from start to finish with a savage swagger.
'Blood' is a dark synth-infected tune which teased the crowd with its prolonged intro, building the atmosphere and tension in the room, preparing them for the wicked and driving middle section of the tune before a catchy chorus steps in and has you completely addicted.
"Exhilarating"
Bourke's vocals are raw and remorseless and suit the punk-infused track perfectly, and sounds so much better live than on the recorded version.
There is a lovely diversity about these guys, and whilst there are a few too many repetitive lyrics, the next song, 'Rabbit Run' completely changes the pace of the previous offerings. This has a much different feel to it, with a brooding bassline against a beguiling, new wave soundscape created by the evocative guitar work and synths from the rest of the band – it's exhilarating listening.
There is something strangely familiar about some of their sounds, and there are some definite hints of Lloyd Cole and the Commotions blended with some New Order strains, but City Calm Down has found a nice balance between the two, without going too retro.
The lyrically intimate, dance-themed 'Pride' tells tales of anger and love and hurting those close to you, but even though it was not my favourite tune of the night, it does have a cracking chorus and enforces some driving drum licks, which stand out from the layers of brooding vocals.
"Get under your skin"
The pop fused 'Your Fix' was the stand out tune for me tonight, one of their older tunes, released in 2015 on their debut album, In A Restless House. This is a song that will get under your skin, with its festival-worthy chorus, with a powerful '80s vibe.
Last in the set is a song which asks questions about where society is going. 'In This Modern Land' sounds a little like Joy Division with a horn section, and the rhythm is slightly more upbeat.
Sadly, there was no 'Joan, I'm Disappearing' – their best track to date – but I can live without it after witnessing a performance like that.
The crowd were certainly on–side tonight, and City Calm Down, with their dark, conceptual, brooding and electrifying performances know how to get people moving, physically and emotionally. They will leave you pleasantly haunted, until your next fix.