DMA's – Live Review – Leeds Beckett University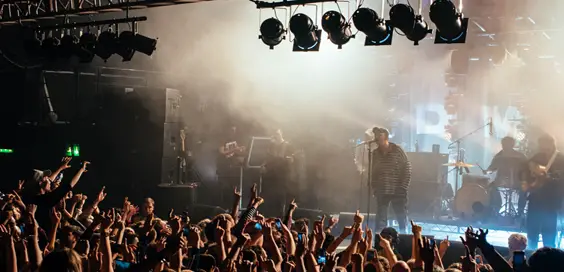 By Victoria Holdsworth, May 2018
The building was absolutely packed to the rafters as the Australian contenders to the indie rock throne took to the stage amidst a barrage of 'Yorkshire!' cheers and chaotic arcs of glittering thrown pints.
There was such an unusual mix of gig goers tonight, with the crowd consisting of either very young kids, or older Brighton Beach-era indie/modsters, with no in-betweens. From the offset, it is hard to believe that these lads are in fact Aussies, with their nostalgic Brit indie sound, which clearly resonates with many an age demographic.
Tommy O'Dell's distinct vocals are not dissimilar to Rob Harvey from Leeds band, The Music, as he launches into the opening song of the night, 'Feels Like 37' from their self-titled debut album. As soon as the first few bars open, it is the cue for the audience to create a mass of pogoing body bouncers. To say they were over excited would be an understatement.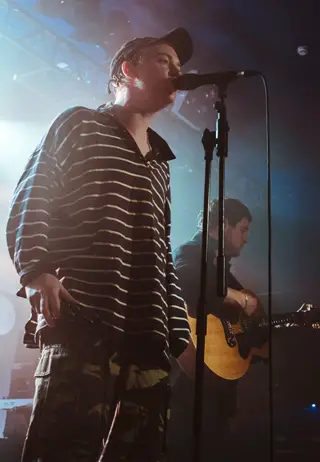 The following tracks are cracked straight on with, and 'For Now' and 'Melbourne' are met with equal enthusiasm from everyone in the room. While most of the material is drenched in guitar driven riffs, against some electronic twiddles, the balance of their acoustic and slower numbers with the heavier tracks works really well in controlling the entire set.
"Sweaty mass"
One track that really stood out in the first half of the set was 'Warsaw', from the new album For Now. It seemed different to the rest, mainly through its upbeat Del Amitri tinge. The lyrics, however, are anything but upbeat, more along the lines of something Mike Skinner would write. But it works because there are so many decade spanning influential layers to the band's music. Indeed, you would be forgiven for maybe thinking you may have heard some of these songs before.
There is no let up with the performance, and I do not recall any of the band members speaking with the crowd, apart from the odd thank you, or a mentioned song title.
The sweaty mass of audience remained defiant all night and kept the building shaking with their circle pits and crowd surfing, singing every word back to the lads on stage. With energy levels reaching dangerous proportions, it won't be long before the band start playing much larger venues and festivals, just to be able to deal with their fan base.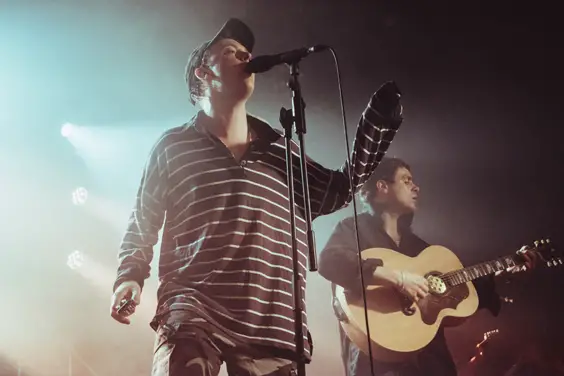 "Anthemic gems"
The flawless performance continues with 'Time and Money', 'Break Me' and 'Step The Morphine', which is an undeniably brilliant blast of retro shoegazing, whilst another crowd-pleaser, 'Delete', was followed by the Verve-sounding, 'Do I Need You Now', which smashed it out of the park and saw me become a firm fan of these lads.
The last song, 'Emily Whyte', although lyrically different, is basically a slowed down version of 'Tellin' Stories' by The Charlatans.
The band leaves the stage, and the crowd nearly riot until they return and give them the parting gifts of 'Play It Out' and 'Lay Down', which are anthemic gems, and show another shift of influences, this time towards Manic Street Preachers.
Tonight took me by surprise, as I did not think I would enjoy DMA's as much as I did. The band are well polished, talented musicians and, with the insightful writing skills of O'Dell, it is easy to forgive them for not having their own sound. Whilst they clearly wear their influences on their sleeve, I would like to see them develop their own sound, instead of borrowing so much from others.
However, they still surpass many others that have tried. Their passion for this genre of music is evident; I only hope it is for the love of the music and not to cash in on a scene which people are clearly missing. But right now, DMA's do not disappoint.
images: Amy Heycock