Rich Hall's Hoedown – Live Review – Barnsley Civic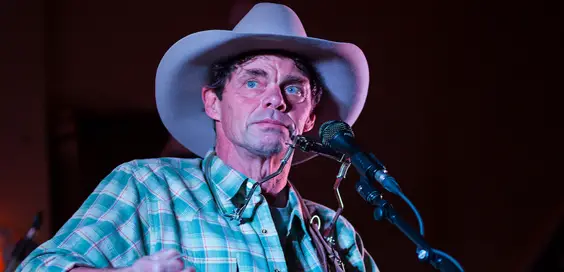 By Victoria Holdsworth, May 2018
A sold out show in Barnsley for one of America's best comedians, who has titillated many a British audience, not just with his dry sense of wit and humour, but also his musical and song writing skills.
I love how unassuming Rich Hall is. His authentic air of Americana just adds a certain something to his straight talking, no nonsense act, as he takes to the floor, with his trademark Stetson. The hat reminds us he's the real cowboy deal, unlike his guitarist Rob, whose is apparently too Hollywood for Rich. And after mercilessly taking the piss out of the venue for looking like a refurbished basketball court, the audience are already involved in the show without even knowing it.
Although Rich can sometimes come across as a little flaky at times, and seemingly just mutter through the random ramblings in his head, he does it in a way that someone counting cards would – it's not dissimilar to the talents of Ross Noble.
"Remember when Belgium used to have pictures of missing kittens on their coins?" he drawls as he delves into the murky depths of Brexit and the European ways. The first half of the show is mainly stand up and Rich ripping into the differences and similarities between the USA and old Blighty.
It is very clear that Rich loves the UK. He tells the audience that he even married a Scouser, and delights in causing arguments with his wife, just to hear the tone of her accent increase the more annoyed she gets. Rich seems keen to get to know all the little quirks and nuances of the places that he visits on tours, and ponders why Northampton is nowhere near Southampton.
"Brilliantly sharp"
Naturally, given the fact he is from the other side of the pond, there are Trump jibes aplenty, especially about his views on wiping out crime, by just wiping out Crimea instead.
Obviously he does keep up to date with everything that happens in the UK, and he is certainly more current than I expected, as he has worked in some new items that only landed this morning. Rich addressed the recent rise in knife crime in the UK and said that this sort of violence seems to have switched from guns to knives in an almost retro fashion, and how he would prefer it to be more like West Side Story if he got stabbed.
The health systems at either side of the pond also get a drubbing from Mr. Hall, when he revealed that he had a recent health scare which saw him unable to wink, and he thought he had Bell's palsy, which may have been caused by a Lego brick to the eye from his four year old son, and likened his CAT scan experience to being laid in an open casket with Norwegian death metal being pumped into his ears.
The first half was full of one liners, and some brilliantly sharp observational pickings, that fall effortlessly from his crumpled exterior. He chats to a few people in the audience, including my friend and I, about their lives, what they do. The purpose being that in the second half, he will be returning to the stage, as he says, with some sh*t picking country and western tunes, and taking those audience members' stories and turning them into song narratives.
After a brief interval, on what was one of the hottest days of the year, Rich returns to the stage with some trusted members of his band, Rob Childs on guitar, Mark Hewitt on drums, with Rich taking the acoustic parts.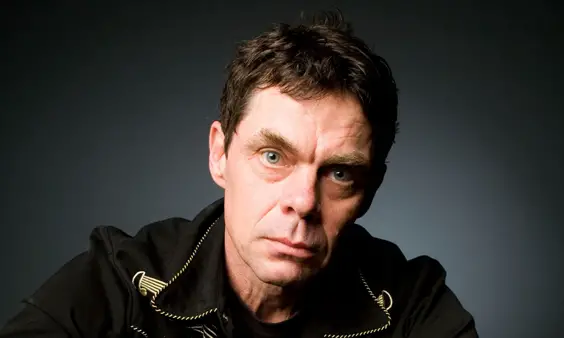 "Comedy gold"
Introductions over with, he eases everyone into a musical tale about the drummer from legendary indie popsters Belle & Sebastian being lost in Walmart and left behind in his pyjamas whilst they were on tour.
There was a song about jogging with Jesus, and then the audience songs kicked, which gave us some hilarious stories about a guy who printed prescription notepads, a dry stone waller, which Rich hilariously thought was the same as dry wall plaster board, and a civil servant, who 'really should have been a cowboy'. However he didn't manage to come up with one for myself, as a linguistics translation manager and sign language interpreter, I think it was maybe a stretch too far for him.
There was one remarkable segment when guitarist Rob Childs and Rich basically sang a Dulux colour chart, followed by some audience participation with a gentleman on the front row singing the chorus 'fur on a stick' about a greyhound who realises he's been duped into running after a fake rabbit all this time. It was comedy gold, and the gentleman's comedy timing was perfect.
A not walking off encore ensued with a remarkable Bob Dylan critique, including chaotic misplaying of his harmonica, which didn't leave a dry eye in the house/refurbished basketball court.
This Hoedown tour is covering the whole of the country, and has been done in previous years before, so if you haven't seen Rich Hall, it is my strong recommendation that you grab a ticket.
His gritty, crotchety, yet nonchalant comedy is infectious.