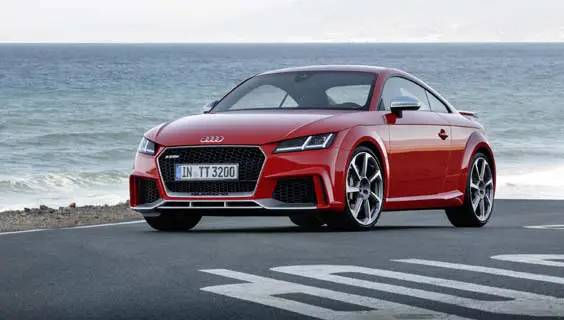 By Liam Bird
Maybe it's because I'm writing this in October, just two weeks before the Wales Rally GB begins again, or maybe it's because I was – still am, in fact – a huge fan of the bonkers be-winged Group B cars of the early 1980s. Maybe it's the TT RS's very less-than-subtle AudiSport puddle lights. Who knows? I'm still not quite sure. But every time I press the start button in Audi's TT RS it makes me smile a little. Oh, the memories…
In a world where more and more manufacturers are downsizing and cylinder counts keep dropping; Porsche's Cayman and Boxster are now 4-cylindered and Jaguar will follow suit with their F-Type, it's refreshing to hear something that remains somehow so familiar, so evocative.
Nothing sounds quite like a 5 cylinder Audi, and especially so when it's been coupled-up to a sports exhaust system, and it's working hard. Throw in a quattro badge or two and a Welsh B-road and well, that offbeat soundtrack, to those of old enough, it's special.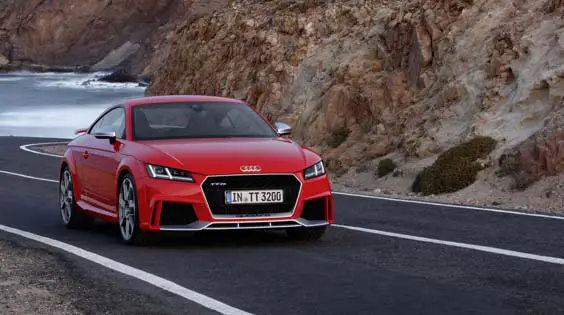 "Pace"
Perhaps that's enough of the rose-tinted spectacles talking. Let's get on with the job in hand shall we? The car you see before you is Audi's latest version of their TT RS, its launch coincides with 40 years of Audi five-cylinder engines.
As you may have figured out already it's fitted with a 5-cylinder, 2.5-litre turbocharged petrol engine that sits in the front – just like the original quattros. Power and torque, all 395 bhp and 355lbft of it, are transferred to all four wheels (that's the quattro bit) by a 7-speed dual-clutch automatic gearbox with a manual paddle-shift option (there isn't a manual TT RS) and, it's quick: 0-62 in 3.7 seconds and 174mph quick.
That's if you spec it with the Dynamic Plus Pack. If not, don't worry: it'll still do 155mph before the electronic limiter kicks in. Not so long ago that was the stuff of supercars, a sub 4-second 0-62 still is. Audi's very own R8 Spyder is just 0.1 seconds quicker, and that's at least twice the price of the TT RS.
Come to think of it the Audi's R8 Spyder is also harder to live with too – especially so if you happen to be tall. The TT RS on the other hand, despite its unquestionable pace could barely be easier.
OK, so you're hardly going to buy a sports coupe if you've got a burgeoning brood, the rear seats are all-but a token a gesture, a place to put jackets, bags and laptops, and that's about it. No-one will ever, ever thank you if you make them sit in the back of this car.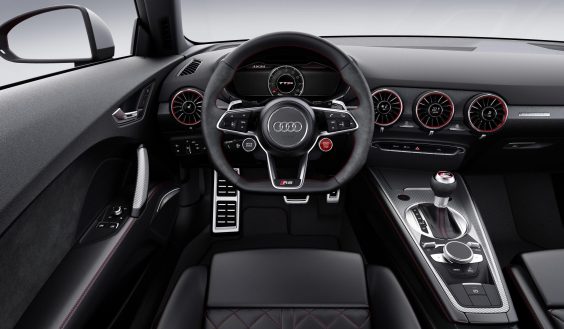 "Bullet-proof"
Nevertheless, the TT RS will swallow a weekend's luggage with ease; it will pootle around town like a Polo; it is easy to see out of and park (the reversing camera helps – a lot); and driven respectfully it will deliver its claimed 34.4 mpg. In fact I've actually seen higher – briefly that is.
It's also comfy. Despite being 10mm lower than a regular TT, being fitted with (optional) 20 inch diamond cut alloys that wear little more than a smear of rubber, and the fact that it's German and their roads are much smoother than ours, you really can cover big miles in this car without being pummelled.
And why can't more manufacturers build cockpits like this one? Everything you need is right where you want it, everything is clearly laid-out and intuitive to use, everything feels bullet-proof, and nothing looks as though it hastily applied or added after the designer had signed things off. The sat-nav for instance sits between the TFT dials rather than atop the dashboard, and the nappa leather seats are super supportive. I've said it before: The Audi TT's interior is one of the best on the market.
So too are its brakes: Ventilated, perforated steel discs with eight-piston calipers measuring 370 mm in diameter at the front, and monobloc 310mm discs at the rear. Carbon ceramic front discs are also available for those who really want to slow down very quickly indeed.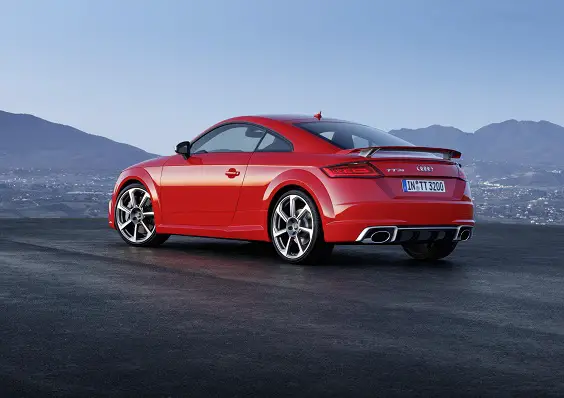 "Ruthlessly capable"
So then, for a couple with around £60,000 to spend – no doubt you'll want a few of Audi's pricey options – it's perfect?
Well, nearly…
You see the TT RS is so good at what's it's been built to do; so grippy, so fast, so stable, just so darn ruthlessly capable, that you as a driver sometimes feel a little left out. Virtually anyone can drive this car quickly; it will flatter, and make all the right noises whilst they do so. But, what it won't do is challenge them. If only there was little more involvement, a little more adjustability, a little more feel through the alcantara-covered steering wheel.
Porsche's now 4-cylinder Cayman may not match the TT RS for aural pleasures any more but if you like to feel everything it's still the best sports coupe on the market. That said, in my humble opinion at least, the Audi TT RS comes a very, very, close second.
Audi TT RS 2.5 TFSi quattro S tronic
Engine: 2.480cc Inline five-cylinder turbo-charged petrol
Transmission: 7 speed S-tronic dual clutch auto with sequential manual paddle-shift option. Four wheel drive.
Power: 395 bhp @ 5,850 rpm
Torque: 355 lbft @ 1,700 rpm
0-62MPH: 3.7 Sec
Max Speed: 174 mph (with optional Dynamic Package Plus. max speed without: 155mph)
CO2: 187 g/km
MPG: 34.4 (combined)
Price: From £52,100