8 Essential Accessories For Winter Wedding Guests
Winter weddings can be magical, particularly if they're lucky enough to get some snow. They can also be a challenge to dress and accessorise for. You will need to combine style with warmth and comfort to enjoy the day.
You should consider all elements of your outfit when deciding what to wear and how to accessorise. This article will explore some of the key pieces that everyone should have in their winter wedding wardrobe.
Hairband
A hairband can be the perfect way to complete an outfit. You could choose something classic like an Alice band or something with a bit of flair, like a glittery or sequinned hairband. Fascinators are a popular choice for weddings, so choosing a stylish hairband instead could be the perfect way to stand out among the crowd.
Knit Dress
Keeping warm is a crucial factor in ensuring your comfort at a winter wedding. You should ensure that whatever you wear is suitable for a winter wedding, and a knit dress can be the ideal choice to help you stay warm while looking great.
Clutch Bag
A clutch handbag is the epitome of class and elegance. You should ensure that you choose a clutch bag that will fit all of your essentials. It may help to select a bag on the larger side so that you can bring gloves and a scarf with you.
Shapewear
Shapewear can be a great way to make you feel more confident in your wedding outfit. Even A-list celebrities are known to wear shapewear under their designer outfits. It can help ensure that your clothes lie smoothly and fit correctly. Take a look at some of the shapewear from Heist for some inspiration.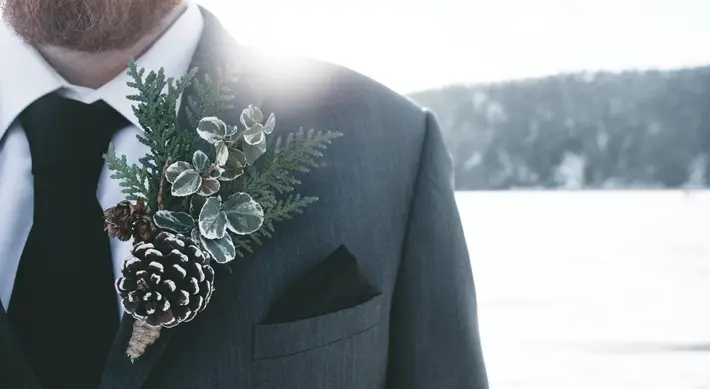 Blazer
A blazer is an ideal way to stay warm at your winter wedding. Pairing a blazer with a dress can create an effortless, stylish look that will be perfect for a wedding. You could consider investing in a blazer that is made of a warming material like wool. You could also consider more waterproof materials like vinyl.
Layered Necklace
Layered necklaces offer instant style to any outfit. It is a good idea to build a collection of high-quality layered necklaces that will be ideal for you to pair with a wedding outfit. Ensure that you choose quality pieces that will stand the test of time. Gold can be a good choice, as it is timeless and classic.
Earrings
Earrings are an essential finishing touch for any outfit. You could consider choosing some bold statement earrings, going for the classic studs or something daring like a threader piece. It is best to choose more modest earrings if your overall outfit is quite bold. You could also embrace the asymmetrical trend and wear different but complementary earrings in each ear.
Blanket Scarf
A blanket scarf can be the perfect way to accessorise your winter wedding outfit and stay warm in one. Blanket scarves are large, warm scarves that, as the name suggests, can double as a blanket. This can be particularly beneficial for any outdoor elements to the wedding.