Introducing: Wonders of the Yukon
West Yorkshire duo combining northern sentimentality with dark Americana…
YOUR NAME: Andy Campbell & Dave Langdale.
BAND NAME: Wonders of the Yukon.
WHAT DO YOU DO/PLAY? All and everything. Although Dave specialises in the thumb piano and Andy can really turn his hand to the spoons.
Andy – "I did a 3-minute spoon solo for this track, but Dave thought it was too self-indulgent".
Dave – "Yeah, he didn't even realise the spoons were tuned to A and the song is in C".
HOW LONG HAVE YOU BEEN TOGETHER AS A BAND/PLAYING MUSIC?
The simple answer is that we've both always done music and felt the need to do it. You could say it's a calling or maybe even a curse! Both of us have previously been in signed bands and released music before starting to work together. We sort of fell into making music as Wonders of the Yukon about 15 years ago as we met through our wives who are old school friends and recognised a shared passion for music. It started out as a bit of a laugh really – we'd sort of fallen out of love with the whole music scene and had spent a fair bit of time in the wilderness – so we began writing songs with a blueprint of them being as sad as possible but having a right laugh doing it. We both recognised a shared sense of black humour and an ability to laugh at the futility of our midlife angst. Slowly it dawned on us that there was something really good in what we were writing and over time, with the support of plenty of bottles of red wine, we honed our sound and direction. Suddenly, we were back in love with writing songs again.
GIVE US 3 REASONS WHY WE SHOULD TRACK DOWN, LISTEN AND DISCOVER YOUR MUSIC?
You'll get a warm feeling in your tummy.
You'll get a soothing sound inside your ears.
You'll get a sense of sheer terror about what the future holds for you.
WHERE DO YOU SOUND BEST – FESTIVAL, CLUB, BEDROOM – OR SOMEWHERE ELSE?
Headphones. Late at night. In the dark. Drink in hand.
WHAT WAS YOUR FIRST…
RECORD?
Dave – Vinyl was on its way out as I started buying music, but every physical piece of music I'm buying now is on vinyl. I think it was Daisies of the Galaxy by Eels.
Andy – It was either Parallel Lines by Blondie or Queen, Live Killers.
CD?
Dave – Choke by The Beautiful South. I know I could have made up something a bit cooler, but I lost any sense of being cool a long time ago. I guess that growing up in Hull within the context of the music of The Housemartins, my 13-year-old self would have been looking for more of the same.
Andy – I'm pretty sure it was Massive Attack's Blue Lines. And in an attempt to address the coolness balance of the band… not long after buying the album, a band I was in released a 12" white label. I responded to one of the DJs that we did a mail out to, and it turned out when I rang him it was Grant from Massive Attack. He thought our tune was 'cool as fu*k' so that'll do for me.
DOWNLOAD?
Dave – I remember waiting hours for a cover version of Bowie's 'Modern Love' by an American band called The Last Town Chorus to download via a dial-up modem. It could well have been that.
Andy – I can't download on my radiogram.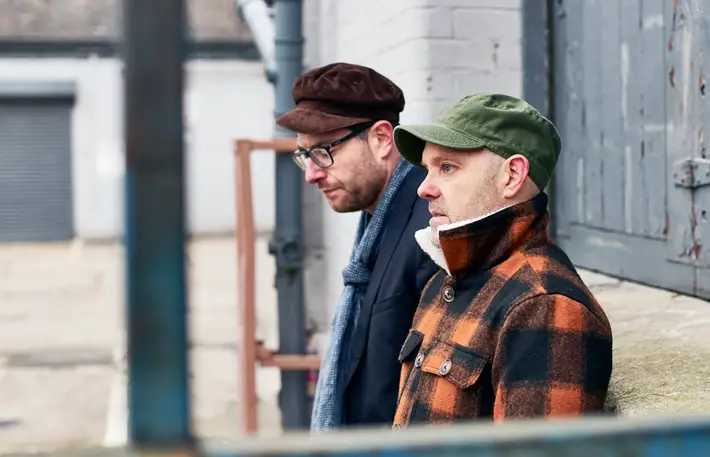 SO, WHEN IT ALL GOES RIGHT AND YOU'VE GOT A HUGE QUEUE OF HANGERS-ON AND A RIDICULOUS MANSION, WHAT WILL BE YOUR BIGGEST INDULGENCE, MUSICAL OR OTHERWISE?
Dave – VW Camper Vans, tasting every beer I can get my hands on and a lifetime supply of scotch eggs.
Andy – My biggest indulgence is obviously the ridiculous mansion you claim I'll already own which I would then sell and buy a new guitar every day.
SO, WHEN IT ALL GOES WRONG AND YOU'VE ACRIMONIOUSLY BROKEN UP CITING HUGE MUSICAL DIFFERENCES, WHAT DO YOU FALL BACK ON?
Why bring this up? We've not even got started yet! What do you know that we don't?! We guess that, given our respective ages, it's our old-age pensions.
CITE SOME INTER-BAND MUSICAL DIFFERENCES…
'Marching on Together' (Leeds United) v 'Can't Help Falling in Love with You' (Hull City).
The merits of the nose flute and panpipes as respectable instruments for our folk-noir sound.
Whether whales are actually singing or straining for a sh*t.
WHO ARE YORKSHIRE'S FINEST IN CULTURE, SPORT AND MUSIC?
Henry Moore, Barbara Hepworth & David Hockney.
Tony Currie and, whilst we're on the subject, Red Chilli II curry house in Wakefield.
Bill Nelson. Richard Hawley, Arctic Monkeys, Gang of Four. We'd like to claim David Bowie as a Yorkshireman because, as he said to Michael Parkinson, his father came from 'somewhere between Tadcaster, Doncaster and York', and of course his Spiders were from Hull.
As an honorary Yorkshireman, Billy Bremner as he played for both Leeds Utd & Hull City. Dickie Bird. Michael Parkinson. Michael Palin. Ken Loach. Kevin Sinfield for the amazing dedication and act of friendship he's shown towards Rob Burrow and his fight against Motor Neurone Disease. Titus Salt was born in the village where we live. Oh and of course, don't forget Jayne MacDonald & Black Lace… Wakefield's finest.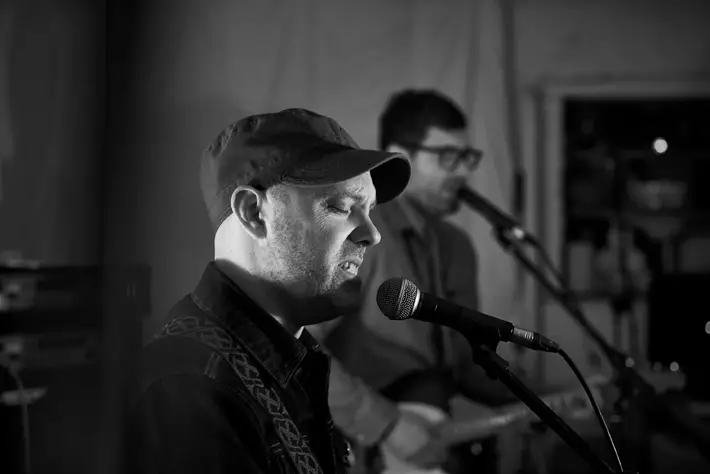 NAME YOUR SUPERGROUP – WHO'S PLAYING WHAT, WHO'S ON VOCALS AND WHO'S YOUR BEZ?
Levon Helm – drums .
Carol Kaye – bass.
Keith Richards – rhythm guitar.
Nels Cline – lead guitar.
Steven Drozd – keyboards and general left-field vibes.
First Aid Kit – backing vocals.
GO SEE THIS FILM:
Dave – Failsafe.
Andy – The Last Waltz. Directed by Scorsese it's the film of The Band's final concert with numerous guests.
GO READ THIS BOOK:
Dave – The Ministry of Truth: A Biography of George Orwell's 1984 by Dorian Lynsky.
Andy – Beastie Boys Book.
GREAT LOST BAND/ARTIST:
Dave – Bowie.
Andy – Gram Parsons.
WOULDN'T BE CAUGHT DEAD SUPPORTING:
Dave – The Killers.
Andy – Completely agree. It is just me or has anyone else noticed that Brandon Flowers sounds just like Chris de Burgh? In fact, has anyone ever seen them in the same room together?
LONDON, L.A OR LEEDS?:
Dave – Sorry Yorkshire – LA. But only because I have never been.
Andy – LA. Obviously.
AND FINALLY… AS YOU LEAVE THE STAGE, WHAT ARE YOUR PARTING WORDS?
Hello? Is there anybody there?
The new single from Wonders of the Yukon, 'Rachel (And All the Goofs and the Stars)' is out now
For more info visit: facebook.com/wondersoftheyukon