An Interview With Mick 'Woody' Woodmansey
By Sarah Morgan
There was a time when people thought that David Bowie came from another planet – his glam rock look certainly shocked a few people back in the early 1970s.
Supporting him was a group of East Yorkshire lads known collectively as the Spiders From Mars. Sadly, only one of them, drummer Mick 'Woody' Woodmansey (pictured above left, with Tony Visconti), is still with us, and he looks back on his time with Bowie with fond memories, although he acknowledges that on paper at least, they may have seemed an odd mix.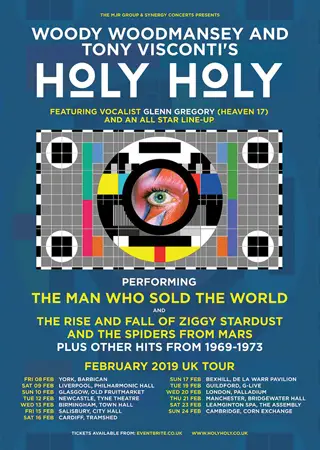 "It's a real dichotomy," says Woody when we meet to chat about his supergroup Holy Holy. "We were so down to earth, no nonsense lads. It was easy for us not to lose ourselves while rubbing shoulders with Andy Warhol and the like. We kept our feet on the ground. David spoke with a Yorkshire accent sometimes. He'd just slip into it. His dad was from Doncaster, so it was easy for him."
"We've had to learn all over again"
Driffield-born Mick is heading back on the road with his band Holy Holy, which plays music from his time with the Spiders from Mars, David Bowie's backing group, in the early 1970s. Now hugely respected as a drummer, he admits it was a twist of fate that led to his music career.
"I was playing football with my mates and had to fetch the ball," he recalls. "It had rolled near this door I'd never seen before that said 'The Cave' above it. I could hear loud music coming from inside and my mate said it was his brother's band. I asked if I could watch and that was the first time I'd heard live music.
"It's funny how your life can turn on one moment like that – if I hadn't kicked the ball too far, I might not have heard the music. And when I did, I knew straight away it was wanted I to do, and I hadn't had a clue what to do with my life until that point."
"I'd watched all the big bands"
What is perhaps most remarkable is that Woody is entirely self-taught: "I just sat at home listening to music, putting my finger on the vinyl to slow it down so I could hear the drums clearly and then practised like mad."
Shortly after that, he met Mick Ronson, who would also become a Spider from Mars. When Ronson went to London and teamed up with Bowie, Woody received a momentous phone call.
"I got this call from David (Bowie), saying Mick had told him I'd be a good fit for them and would I like to join, so I did. I'd watched all the big bands come through Bridlington – The Who, The Small Faces – and wondered how they got there and where they went to next, and suddenly I learnt it all. But the dreams you have… the reality is never as wild as you think."
These days, Woody and Holy Holy play to lots of different generations, including those who weren't even born when he was working with Bowie. "These kids turn up with albums tucked under their arms. I thought they wanted them signing for their mums or something, but they say, 'No, they're for us. These are our favourites – it's proper rock music!'"
There's another major change to the old days too: "There's a lot less liquid refreshment!" laughs Woody. The Glam look has vanished too, but don't worry – the excitement and fantastic songs remain in abundance.
"We've had to learn all over again"
Woody leads Holy Holy with Tony Visconti, who started working with Bowie as a bass player but is now best known for producing many of his most memorable albums, including Heroes, Scary Monsters (And Super Creeps) and his final work, Blackstar.
"Tony's a Brooklyn boy, but he's got a very Yorkshire sense of humour, which is rare in Americans," claims Woody. "He really gets us."
Together they play some of Bowie's classic songs from the early 1970s, with another Yorkshire lad – Heaven 17's Sheffield-born singer Glenn Gregory – on lead vocals.
"This time we're doing The Man Who Sold the World, which was the first album I did with David," reveals Woody. "We're playing that in its entirety as well as Ziggy Stardust and a few other treats in between that we've had to learn all over again."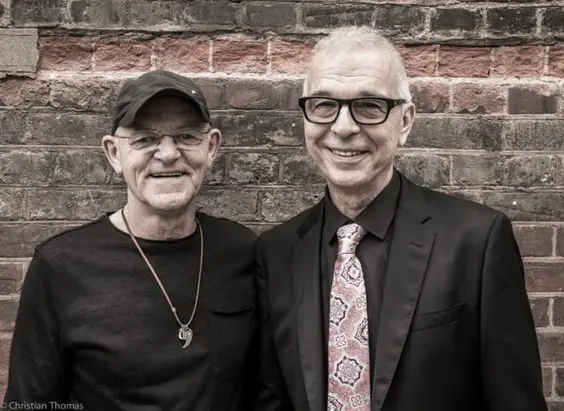 "I'm certainly not slowing down"
The tour kicks off at the Barbican in York on February 8, and Woody is thrilled to be heading back home, at least temporarily.
"There's a thing you miss when you're not in Yorkshire. I hadn't been back for a long time, but I was there a few weeks back and went out to dinner with some people. Listening to them talk about their lives… it was just wonderful. There's a humour unlike anything you get anywhere else."
And in case you're wondering, the 67-year-old is as busy as ever.
"I did two tracks on Rita Ora's album that's coming out soon, and I've been working with up-and-coming bands. That's fun, seeing them on their way up. I'm certainly not slowing down. I love it. Besides, drumming for two hours a night – it keeps you fit!"
For more info on Woody's band, Holy Holy visit holyholy.co.uk