Introducing: Sandra's Wedding
Working class guitar attack, from Goole…
YOUR NAME: Joe Hodgson.
BAND NAME: Sandra's Wedding.
WHAT DO YOU DO/PLAY? I play acoustic guitar and sing.
HOW LONG HAVE YOU BEEN TOGETHER AS A BAND/PLAYING MUSIC? We've been a band for about five years. We've all done things previously in another life, before the cholesterol levels started creeping up.
GIVE US 3 REASONS WHY WE SHOULD TRACK DOWN, LISTEN AND DISCOVER YOUR MUSIC?
You should track down and listen to our music because there's now quite a lot of it so it will keep you occupied for a good few hours, there are a lot of varying styles and vibes and according to our mothers it's really, really good.
WHERE DO YOU SOUND BEST – FESTIVAL, CLUB, BEDROOM – OR SOMEWHERE ELSE?
We sound best anywhere there's a crisp session pale on tap. A citrussy affair, around 3.8%. Nothing too hoppy; an afternoon guzzler.
WHAT WAS YOUR FIRST…
RECORD? First vinyl was a 7" of 'I Bet You Look Good on The Dancefloor'. That was before vinyl was cool again, too. Wish I still had that, no idea where it went.
CD? 'It Doesn't Matter' by Wycleff Jean feat. The Rock. CD single from Woolworths.
DOWNLOAD? First download was from Live Wire and it was a horrendous Beatles compilation thing that was packed with viruses.
SO, WHEN IT ALL GOES RIGHT AND YOU'VE GOT A HUGE QUEUE OF HANGERS-ON AND A RIDICULOUS MANSION, WHAT WILL BE YOUR BIGGEST INDULGENCE, MUSICAL OR OTHERWISE?
Biggest indulgence will be spare strings and a pedal tuner.
SO, WHEN IT ALL GOES WRONG AND YOU'VE ACRIMONIOUSLY BROKEN UP CITING HUGE MUSICAL DIFFERENCES, WHAT DO YOU FALL BACK ON?
A big mid 90s inflatable chair. And then I'll say, "Well that's that then" and crack a tin of crisp German pilsner. A lively affair, around 5.2%. Nothing too gassy; an all-week guzzler.
CITE SOME INTER-BAND MUSICAL DIFFERENCES…
I think the main sticking point, if ever there is one, is just volume. I'm not a huge fan of really loud noises to be honest. Motorbikes, pallets falling from a fork-lift etc. Can't be doing with noises like that.
WHO ARE YORKSHIRE'S FINEST IN CULTURE, SPORT AND MUSIC?
Culture: Simon Armitage.
Sport: Castleford Tigers.
Music: Cool answer; Gang of Four. Genuine answer; Black Lace.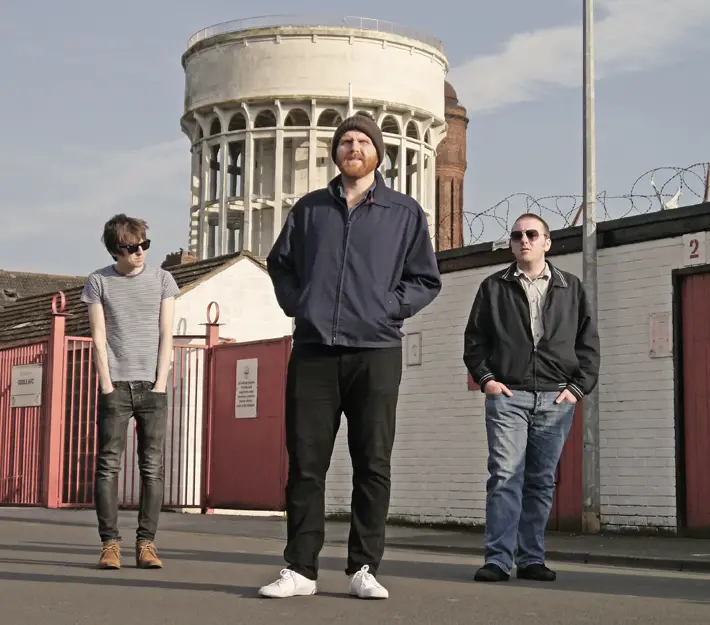 NAME YOUR SUPERGROUP – WHO'S PLAYING WHAT, WHO'S ON VOCALS AND WHO'S YOUR BEZ?
Drums: Karen Carpenter
Bass: Klaus Voorman
First trumpet: Miles Davis
Second trumpet: John Coltrane
First trombone: The Lurpak Man
Second trombone: Stephen Tomkinson's character in Brassed Off
Rhythm guitar: Joe Strummer
Lead guitar: Jonny Hughes
Backing vocals: Il Divo
Vocals: Joan Armatrading
Bez: Pat Nevin
The band would be called 'Fresh Bedding'.
GO SEE THIS FILM: Goodbye, Lenin!
GO READ THIS BOOK: This Sporting Life.
GREAT LOST BAND/ARTIST: Not lost but you should listen to all the Barenaked Ladies albums. Great songwriters and musicians – much more than "IT'S BEEN ONE WEEK…"
WOULDN'T BE CAUGHT DEAD SUPPORTING: The Conservative & Unionist Party.
LONDON, L.A OR LEEDS?: "Don't talk to me about sophistication, I've been to Leeds!"
AND FINALLY… AS YOU LEAVE THE STAGE, WHAT ARE YOUR PARTING WORDS?
Thanks for having us, we've been Sandra's Wedding.
For more info visit: facebook.com/sandraswedding