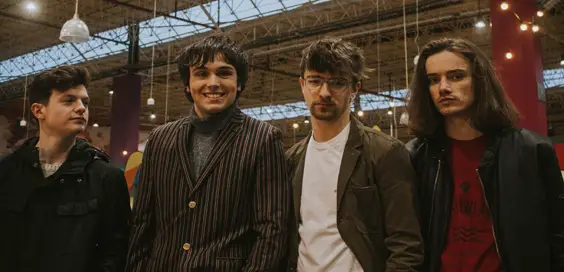 Cribs and Jake Bugg support slots behind them, indie rock superstardom ahead (possibly) for Brighouse four-piece…
YOUR NAME: George.
BAND NAME: Ego States
HOW LONG HAVE YOU BEEN TOGETHER AS A BAND/PLAYING MUSIC? Around 2 years
GIVE US 3 REASONS WHY WE SHOULD TRACK DOWN, LISTEN AND DISCOVER YOUR MUSIC?
1. We feel the songs come from our 4 different listening tastes, so it helps relate to a wide audience and fans of different genres.
2. Because it's a delightful melodic milkshake ready for consumption
3. It will brighten up your day (probably not literally if you're listening in Yorkshire)
WHERE DO YOU SOUND BEST – FESTIVAL, CLUB, BEDROOM – OR SOMEWHERE ELSE?
Probably the 2 x 3 metre basement we rehearse in.
WHAT WAS YOUR FIRST?
RECORD? The Beatles – Rubber Soul.
CD? Tinie Tempah – Discovery (banger after banger on that thing).
DOWNLOAD? Dookie by Green Day and also Jason Derulo – 'Ridin' Solo' (my mate sent it through Bluetooth at the local park when we were about 10).
SO, WHEN IT ALL GOES RIGHT AND YOU'VE GOT A MANSION AND A SUPERMODEL GIRL/BOYFRIEND, WHAT WILL BE YOUR BIGGEST MUSICAL INDULGENCE?
Buy a ridiculously expensive guitar and then probably just play Ziggy Stardust on loop for about 5 years.
CITE SOME INTER-BAND MUSICAL DIFFERENCES…
We all are very open to a variety of music no matter what the genre, I think it's important to have the most choice you can give yourself when cookin' up a new song. It's like if you're an artist painting a picture, it's good to be able to paint in vibrant 'Van Gogh-esqe' colours, however, it's just as impressive to create a moody, faded looking piece – both work for different moods or messages, but it's important to know what choice to make. However… Rhys and Ben can get a little 'heated' over their views on Red Hot Chili Peppers from time to time – but we all mostly get along musically.
WHO ARE YORKSHIRE'S FINEST IN CULTURE, SPORT AND MUSIC?
The founder of Yorkshire Tea, Jessica Ennis, Patrick Stewart, all four of Arctic Monkeys, John Cooper Clarke. Leeds United (Ben's Choice).
NAME YOUR SUPERGROUP – WHO'S PLAYING WHAT, WHO'S ON VOCALS AND WHO'S YOUR BEZ?
Keith Moon on Drums, Paul McCartney on Bass, Lennon on Rhythm, Jimi Hendrix on Lead Guitar, Billy Joel on Keys, Bowie on Vocals, Frank Sinatra as Bez.
GO SEE THIS FILM: Manhattan.
GO READ THIS BOOK: Animal Farm.
GREAT LOST BAND/ARTIST: Gleemer, Boyzone 86 (my Dad's Synth pop band).
WOULDN'T BE CAUGHT DEAD SUPPORTING: Smash Mouth (too much of a meme).
LONDON, L.A OR LEEDS?: Leeds or Halifornia (Halifax) or The Brig Apple (Brighouse).
AND FINALLY… AS YOU LEAVE THE STAGE, WHAT ARE YOUR PARTING WORDS?
"Can you erm.. follow us on erm.. Spotify n that like. Ta x"
Ego States' latest single 'That's Just Life' is out via Distrokid
For more info visit: facebook.com/egostates