Introducing: The Hazy Janes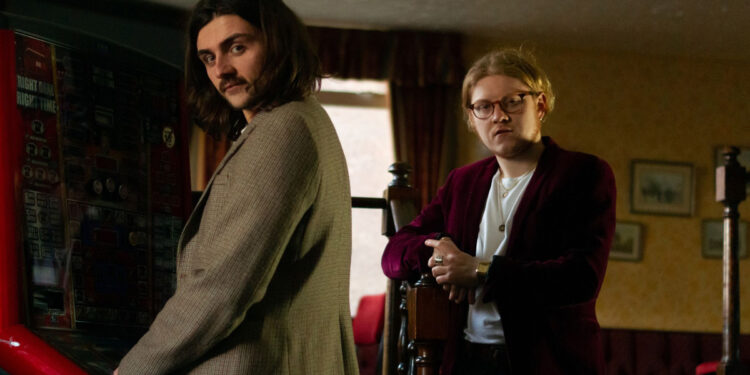 Halifax blues-rock duo showing how less is more…
YOUR NAME: Ellis Best & Bron Bury.
BAND NAME: The Hazy Janes.
WHAT DO YOU DO/PLAY? Ellis (Vocals/Guitar) + Bron (Drums).
HOW LONG HAVE YOU BEEN TOGETHER AS A BAND/PLAYING MUSIC? As a band, 3 months.
GIVE US 3 REASONS WHY WE SHOULD TRACK DOWN, LISTEN AND DISCOVER YOUR MUSIC
A) we're the new twist on blues-rock you've been searching for.
B) we'll smash your expectations of what a two-piece can sound like.
C) come hear what a band can achieve using only voice notes and facetimes for rehearsals.
WHERE DO YOU SOUND BEST – FESTIVAL, CLUB, BEDROOM – OR SOMEWHERE ELSE?
Club.
WHAT WAS YOUR FIRST…
RECORD? Ellis: Bon Iver – 22, A Million.
Bron: Avalanche Party – 24 Carat Diamond Trephine.
CD? Ellis: Green Day – American Idiot.
Bron: Queen – Greatest Hits.
DOWNLOAD? Ellis: Justin Timberlake – 'Like I Love You'.
Bron: Rocketsmith – 'The Missing'.
SO, WHEN IT ALL GOES RIGHT AND YOU'VE GOT A HUGE QUEUE OF HANGERS-ON AND A RIDICULOUS MANSION, WHAT WILL BE YOUR BIGGEST INDULGENCE, MUSICAL OR OTHERWISE?
Ellis: a table football table.
Bron: some sneakers – probably the Adidas Ultra Boost 1.0 SNS Tee Time.
SO, WHEN IT ALL GOES WRONG AND YOU'VE ACRIMONIOUSLY BROKEN UP CITING HUGE MUSICAL DIFFERENCES, WHAT DO YOU FALL BACK ON?
The floor, or preferably, a soft surface (Bron has quite a bad back from time to time).
CITE SOME INTER-BAND MUSICAL DIFFERENCES…
The only difference we can think of is differences in our favourite musicals (if you'll pardon the pun). Ellis' favourite is Grease; Bron's favourite is Hamilton.
WHO ARE YORKSHIRE'S FINEST IN CULTURE, SPORT AND MUSIC?
Sport: Dean Windass. Music: Joe Cocker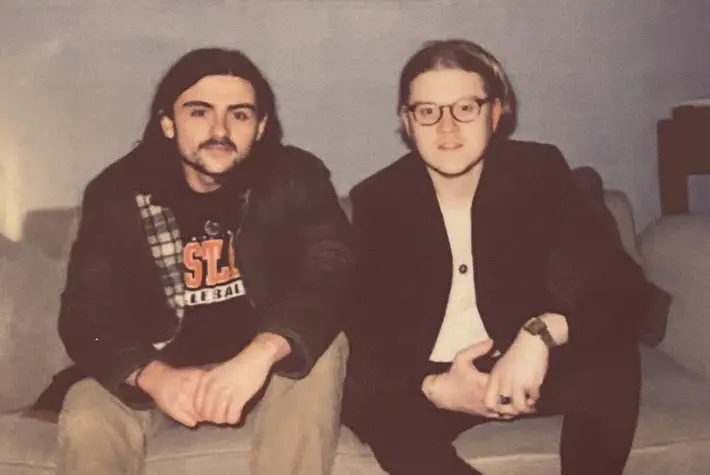 NAME YOUR SUPERGROUP – WHO'S PLAYING WHAT, WHO'S ON VOCALS AND WHO'S YOUR BEZ?
Vocals: Robert Plant.
Guitar: Jimmy Page.
Bass: John Paul Jones.
Drums: John Bonham.
GO SEE THIS FILM: The Shining.
GO READ THIS BOOK: 1984.
GREAT LOST BAND/ARTIST: The Cairos (Chuffing great band from Aus).
WOULDN'T BE CAUGHT DEAD SUPPORTING: Slipknot – Ellis once had an unfortunate fight with the Clown – don't ask.
LONDON, L.A OR LEEDS?: Leeds.
AND FINALLY… AS YOU LEAVE THE STAGE, WHAT ARE YOUR PARTING WORDS?
Stay hazy.
The debut single from The Hazy Janes, 'Yellow Belly Blues' is out now
For more info visit: facebook.com/thehazyjanes