Introducing: Casino Rockets
True alt-rock independents from Halifax…
YOUR NAME: Tiv.
BAND NAME: Casino Rockets.
WHAT DO YOU DO / PLAY? Singer / keyboard player.
HOW LONG HAVE YOU BEEN TOGETHER AS A BAND / PLAYING MUSIC?
Two of us started recording stuff in 2002 and continued to do so until 2009 when we started a covers band with the line-up we have now. We played many gigs as a covers band but alongside that we always had a passion for recording our own songs and pieces.
GIVE US 3 REASONS WHY WE SHOULD TRACK DOWN, LISTEN AND DISCOVER YOUR MUSIC?
1. We've been likened to a cross between the Red Hot Chili Peppers and Chemical Brothers, and Pink Floyd and British Sea Power. That's got to be intriguing, right?
2. Steve Lamacq said we were the most exciting thing to come out of Halifax for years.
3. Our tracks vary a lot in style ('The Maker' would be at home on Screamadelica, while 'Drive Me to The Dusk' is pretty much a punk song) but all our tracks unmistakably sound like us. I think that's the mark of a good band – when you have your own sound. It's a special thing too. We didn't know what our sound was when we started playing together, but it just emerges out of all your different influences. It's quite profound, like discovering your identity.
WHERE DO YOU SOUND BEST – FESTIVAL, CLUB, BEDROOM – OR SOMEWHERE ELSE?
Well, it's not in our rehearsal room I can tell you that, you can't hear a bloomin' thing! We've been told we'd sound amazing at a festival but have yet to play one, so… I'm going to say a small and intimate music venue. We've played plenty of those and gone down a storm.
WHAT WAS YOUR FIRST…
RECORD? Depeche Mode – 101.
CD? Depeche Mode – Violator.
DOWNLOAD? Secret Machines – Now Here is Nowhere.
SO, WHEN IT ALL GOES RIGHT AND YOU'VE GOT A MANSION AND A SUPERMODEL GIRL / BOYFRIEND, WHAT WILL BE YOUR BIGGEST MUSICAL INDULGENCE?
I've got my eye on a white Hohner Upright Piano. Or for gigs, a Nord Electro.
SO, WHEN IT ALL GOES WRONG AND YOU'VE ACRIMONIOUSLY BROKEN UP CITING HUGE MUSICAL DIFFERENCES, WHAT DO YOU FALL BACK ON?
I've been dabbling in electronica for years (since I was 17) so I would probably pursue that, now that I know how to finish tracks, and have them professionally mixed and mastered.
CITE SOME INTER-BAND MUSICAL DIFFERENCES…
We're pretty much all excited by all sorts of different types of music. Each of our favourite bands are really different but I guess the four of us are like a musical democracy. We step over boundaries every now and again where one person's ideas don't inspire the others, but I'd say that we've influenced each enough over the years, and the direction of where we are going is much clearer now than a couple of years ago.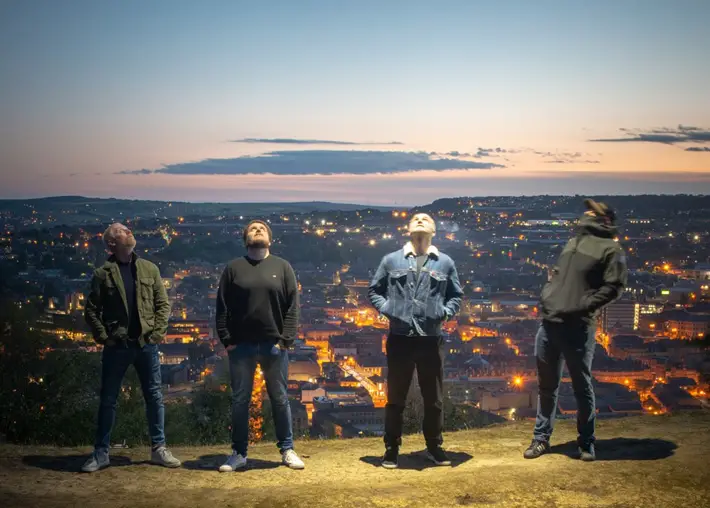 WHO ARE YORKSHIRE'S FINEST IN CULTURE, SPORT AND MUSIC?
The town where I live (Halifax) has really been hitting the cultural notes for me in the last few years with TV, craft beer, music and, of course, the hub that is The Piece Hall. I've got to take my hat off to Halifax Town, who are doing well at the moment, given their journey. And well done to Leeds United, who beat Man City recently and have stamped their mark on the Premiership once again. I'm really enjoying the successes of young bands from our area who are regularly played on BBC 6 Music – The Orielles and Working Men's Club. The Orielles are just great, very likeable guys and their music is fun, cheeky, swirly and very listenable. Working Men's Club are experimental in their approach and I see them changing their style all the time. 'Teeth' is a great track and 'Bad Blood' really struck me when I first heard it. I'd also like to mention Eevah, WaxTreeCast, Adam Russ and, of course, our very own Embrace.
NAME YOUR SUPERGROUP – WHO'S PLAYING WHAT, WHO'S ON VOCALS AND WHO'S YOUR BEZ?
Daft Punk – Rhythm section and synths
Anna Calvi – Guitar
Sam Fender – Vocals
John Cooper Clarke as Bez.
GO SEE THIS FILM: Once Upon a Time in Hollywood.
GO READ THIS BOOK: Sapiens by Yuval Noah Harari.
GREAT LOST BAND/ARTIST: Amy Winehouse.
WOULDN'T BE CAUGHT DEAD SUPPORTING: Aqua.
LONDON, L.A OR LEEDS? Leeds, Leeds, Leeds.
AND FINALLY, AS YOU LEAVE THE STAGE, WHAT ARE YOUR PARTING WORDS?
Which Tesco do you like the best, Halifax or Brighouse? Mine's Brighouse. Goodnight!
The debut album from Casino Rockets, 'Reality Distortion Field', is released on 21st May
For more info visit: facebook.com/casinorocketsuk