Point A Hotel, King's Cross – Review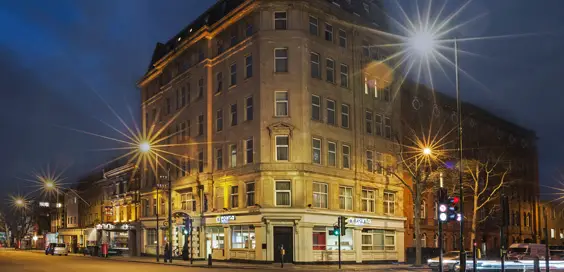 Point A Hotel, King's Cross
Review
by Rachel Howard
A budget hotel in the capital… what image does that conjure up for you? Miles away from anywhere? Old? In need of a refurb? Bad customer reviews?
We all know that an overnight stay in London can be seriously expensive, especially if you want to be in the middle of all the action. But what if I told you there was a new budget hotel brand on the block that not only offers you a choice of central location, but also views to die for, great customer service, amazing value for money and modern rooms that cover all eventualities? Too good to be true? Let me introduce you to Point A Hotels…
"Enviable location"
A family business founded by entrepreneurs, Point A launched in the UK a couple of years ago, and are now operating hotels in London, Glasgow and, from July 2019, Edinburgh. In London, they can be found in Shoreditch, Liverpool Street, Canary Wharf, Westminster, Paddington – and my personal choice, King's Cross St Pancras.
The portfolio will expand further in July with the opening of a branch in Kensington. Their mission is to "deliver the best experience possible to our guests". So, as I step into the foyer of the King's Cross hotel on an unseasonably cold and rainy Monday afternoon, I'm looking forward to testing out this claim and keep my fingers crossed that this will be a stay to remember for all the right reasons.
Firstly, I must mention the enviable location. Just 10 minutes walk from King's Cross and St Pancras stations, access to the rest of London (not to mention Paris!) is pretty much on your doorstep. This makes it the ideal location for not only tourists but business travellers alike.
Once inside the modern and welcoming reception area, we are greeted by warm and friendly staff who check us in quickly and efficiently. Our room is up on the fifth floor and, once the clouds clear, the most fantastic view of the city is revealed. I can't help but think that a view like this usually comes at a huge price, literally, but not in the case of Point A. This is a luxury view on a basic budget.
The rooms at point A are definitely basic – but by that I don't mean they are lacking. There is simply everything you need, and nothing you don't. The only slight quibble I have is the lack of in-room tea and coffee making facilities. But there is a coffee and snack bar in the lobby that is available all day and night, so this isn't the end of the world.
The design of the rooms has been thought out brilliantly, so although they are not huge, they include plenty of storage areas and plug sockets, an incredibly comfortable Hypnos bed, power shower, hairdryer, complimentary toiletries, safe, smart TV, air con and even mood lighting – including a disco-light setting, if you're feeling that way inclined!
"Top-class hospitality"
Granted, if you're staying for an extended amount of time, and spending a lot of time in your room, you may end up craving a little more space; but lets face it – the majority of people who are staying here are short-stay tourists and people stopping over for a night or two on business – all of which makes Point A the perfect choice.
One of the company's aims is to "deliver heartfelt hospitality to everyone, no matter their budget", and I can happily confirm this to be true. From the moment we checked in, to the moment we bid our farewells, we received top-class hospitality and customer service. Nothing was too much trouble. We booked two taxis through reception, both of which turned up promptly and were reasonably priced for the capital.
The aforementioned lobby bar was always tended by a friendly face and the breakfast service was superb. Speaking of which… The King's Cross branch is one of three of the London hotels to offer breakfast (the others being Shoreditch and Liverpool Street; it is priced at £9pp). It is a continental affair and includes everything from cereals, pastries, fruit, yogurts, muffins, fruit juices and tea and coffee. Just what we needed to set us up for a day of sightseeing and shopping.
I must admit, I was a little dubious about staying in a "budget hotel" in London. I expected the worst but what I actually experienced was fabulous. It is reassuring to know that Point A has found a gap in the market for a modern, contemporary hotel that delivers everything you need and nothing you don't, without scrimping on the basics like customer service and value for money.
In fact, it would make me think twice about forking out for a luxury stay in the capital– why bother?! With the money you save you could go for a fancy meal, take in a show or even splurge out in Harrods. All the while safe in the knowledge that you're returning to a Grade A Point A hotel. Happy days!
Point A London King's Cross St Pancras is an affordable boutique hotel just a short stroll from Kings Cross with many of the rooms have stunning views across the London skyline. The compact, yet thoughtfully designed guest bedrooms have all of the practical essentials a modern traveller needs, combined with homely styling for the perfect stay. From the free, superfast Wi-Fi to the luxury Hypnos mattress, everything has been carefully crafted for practicality but also comfort. Luggage storage is also available for free on day of arrival and £3 per piece after guests have checked out
Room rate: from £69 per night, room only Breakfast: £9