Leeds quintet's addictive take on New York art rock…
YOUR NAME: Harry and Tom.
BAND NAME: Eades.
WHAT DO YOU DO/PLAY? Harry: Rhythm Guitar and Lead Vocals
Tom: Lead Guitar and BVs
HOW LONG HAVE YOU BEEN TOGETHER AS A BAND/PLAYING MUSIC? Just under two years I think…
GIVE US 3 REASONS WHY WE SHOULD TRACK DOWN, LISTEN AND DISCOVER YOUR MUSIC?
You've got nothing better to do at the moment.
You might find your foot tapping.
We sound nothing like Yungblud.
WHERE DO YOU SOUND BEST – FESTIVAL, CLUB, BEDROOM – OR SOMEWHERE ELSE?
The sound in our dingy practice space is something to behold. Our PA is pretty ancient. Gives off a really nice sound when it starts screeching and crackling halfway through a song. And the fuse that we keep blowing as well has a certain je ne sais quoi to the performance.
WHAT WAS YOUR FIRST…
RECORD? I can't even remember… I was given the complete Velvet Underground collection recently which was amazing.
CD? The Young and The Hopeless by Good Charlotte and I'm not ashamed to say it.
DOWNLOAD? 'Dirty Harry' – Gorillaz.
SO, WHEN IT ALL GOES RIGHT AND YOU'VE GOT A HUGE QUEUE OF HANGERS-ON AND A RIDICULOUS MANSION, WHAT WILL BE YOUR BIGGEST INDULGENCE, MUSICAL OR OTHERWISE?
Harry: 100 percent without a doubt vintage recording gear. I'm obsessed. We just got a 1961 Ludwig Club Date kit with our first advance. That was a big moment! I also have an unhealthy obsession with shoes/trainers after working at Office.
Tom: I'll become of a majority shareholder of Lagavulin Whisky.
SO, WHEN IT ALL GOES WRONG AND YOU'VE ACRIMONIOUSLY BROKEN UP CITING HUGE MUSICAL DIFFERENCES, WHAT DO YOU FALL BACK ON?
Harry: Cheese. Lots of it.
Tom: Selling stories of each member to the press. No one is safe.
CITE SOME INTER-BAND MUSICAL DIFFERENCES…
Harry: Tom loves The Cribs – I don't…
Tom: I grew up going to Cribs gigs, and they are a heavily disrupted topic in the band. I will die before admitting they're anything other than the greatest band to come out of West Yorkshire.
Harry: Jesus Christ.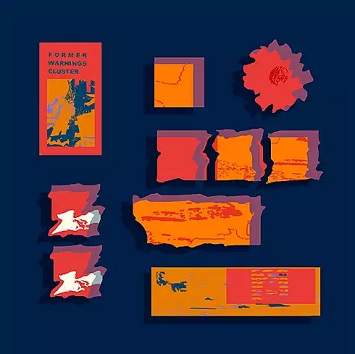 WHO ARE YORKSHIRE'S FINEST IN CULTURE, SPORT AND MUSIC?
Honey Guide, Vraell, Yard Act, Van Houten and English Teacher are currently my favourite Leeds exports.
NAME YOUR SUPERGROUP – WHO'S PLAYING WHAT, WHO'S ON VOCALS AND WHO'S YOUR BEZ?
Harry: Ginger Baker – Drums;
Kim Gordon – Bass and Vocals;
Lou Reed – Rhythm Guitar;
Iggy Pop – Vocals (Could definitely out-bez Bez);
Richard Wright – Keys;
Can I get Stevie Nicks on tambo and bus as well?
Tom: Hendrix on guitar, John Bonham on the tubs, Kim Gordon on bass, Leonard Cohen singing, and Marcel Marceau would be Bez. That would be on intense sounding band…
GO SEE THIS FILM: Tom: A Ghost Story.
GO READ THIS BOOK: Harry: The Magic Key.
GREAT LOST BAND/ARTIST: Harry: Spunky Onions. Tom: The Amazing Snakeheads.
WOULDN'T BE CAUGHT DEAD SUPPORTING: Tom: Yungblud.
LONDON, L.A OR LEEDS?: Leeds, Leeds, Leeds!
AND FINALLY… AS YOU LEAVE THE STAGE, WHAT ARE YOUR PARTING WORDS?
Should have joined a trap band.
The new single from Eades, 'Former Warning Cluster' is out now
For more info visit: facebook.com/eadesmusic