Introducing: Collapse the Arcade
Five-piece rock outfit from York causing a stir…
YOUR NAME: Daniel Michael.
BAND NAME: Collapse the Arcade.
WHAT DO YOU DO/PLAY? Singer.
HOW LONG HAVE YOU BEEN TOGETHER AS A BAND/PLAYING MUSIC? We have been together around two years now.
GIVE US 3 REASONS WHY WE SHOULD TRACK DOWN, LISTEN AND DISCOVER YOUR MUSIC?
Seeing us live, we promise that we always put on a show, make you feel part of the band when we sing covers and our originals.
WHERE DO YOU SOUND BEST – FESTIVAL, CLUB, BEDROOM – OR SOMEWHERE ELSE?
We always sound best at rock venues with great acoustics as our tracks are very catchy, so the guitar parts really ride.
WHAT WAS YOUR FIRST…
RECORD? Record I believe was Elvis, 'G.I. Blues' due to my dad influencing me.
CD? CD was Elliot Minor, who were a huge rock influence on me when I was 16 years old that got me into wanting to be in a band.
DOWNLOAD? Download, I can't remember as I've downloaded far too much music.
SO, WHEN IT ALL GOES RIGHT AND YOU'VE GOT A MANSION AND A SUPERMODEL GIRL/BOYFRIEND, WHAT WILL BE YOUR BIGGEST MUSICAL INDULGENCE?
100% our song 'Smoke Screens and Mirrors', it's really got us to where we are as a band right now.
SO, WHEN IT ALL GOES WRONG AND YOU'VE ACRIMONIOUSLY BROKEN UP CITING HUGE MUSICAL DIFFERENCES, WHAT DO YOU FALL BACK ON?
Our friendship – it's very rare to find a band where every single member get on so well, we are all like brothers.
CITE SOME INTER-BAND MUSICAL DIFFERENCES…
Dan is really into his country music, Jack is into his indie bands such as Catfish, Robbie the drummer really likes his rap music and Bryn and Josh both love metal.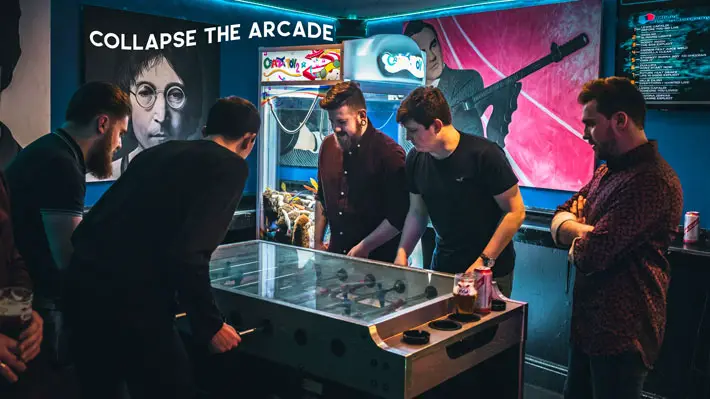 NAME YOUR SUPERGROUP – WHO'S PLAYING WHAT, WHO'S ON VOCALS AND WHO'S YOUR BEZ?
That's a tough one. There so many talented musicians out there I would be hard to narrow it down, been sat here for the last 20 minutes thinking.
GO SEE THIS FILM: 1917
GO READ THIS BOOK: Where's Wally.
GREAT LOST BAND/ARTIST: Prince.
WOULDN'T BE CAUGHT DEAD SUPPORTING: Spice Girls.
LONDON, L.A OR LEEDS?: LEEDS! (Love Yorkshire).
AND FINALLY… AS YOU LEAVE THE STAGE, WHAT ARE YOUR PARTING WORDS?
Usually "Dan why did you say that on the microphone?"
For more info on Collapse the Arcade visit facebook.com/collapsethearcade