Home Office Trends That You Can Easily Incorporate into Your Space
Working from home can bring challenges, but it also brings lots of great opportunities. Creating a space that is personalised and fun will help you feel more inspired, making it organised and functional, and it will also boost productivity. If you need some ideas about how to improve your home office, then this list should help you out.
1) Standing Desk
Height adjustable standing desks are really popular right now, and they are a great addition to any office space. There are some great options available at sites like friskadesk.com, a company who takes inspiration from Scandinavian design and promote wellness and health. Their desks are functional and stylish, and the height adjustability means that you can switch between seating and standing. Switching between seating and standing, and ensuring the height is perfect for both of these, will help to alleviate backache and neck strain problems. This clever idea is what has made them so popular, and full adjustability means you can get the height perfect for you.
2) Gallery Wall
Gallery walls are popular in any room, but they make an ideal visual backdrop for wandering eyes in your home office. If you get tired of staring at your computer screen, just glance up and see your favourite prints and photographs all in one place. You can make this wall as personal as you like, pick any style frame to fit your style, and play around with the layout of the images. A great way to plan for a gallery wall is to lay out your images on the floor first and take a picture of the arrangement, before you start hanging everything up. If you don't want to hang lots of pictures, but still want visual inspiration, you can create a pin-board display instead. Having a notice board is useful to write yourself memos, and the prints and visuals you add to the board can be easily swapped out for new images. You can also use string with pegs to have a hanging display of images and memos, which is an easy DIY option if you like to be creative.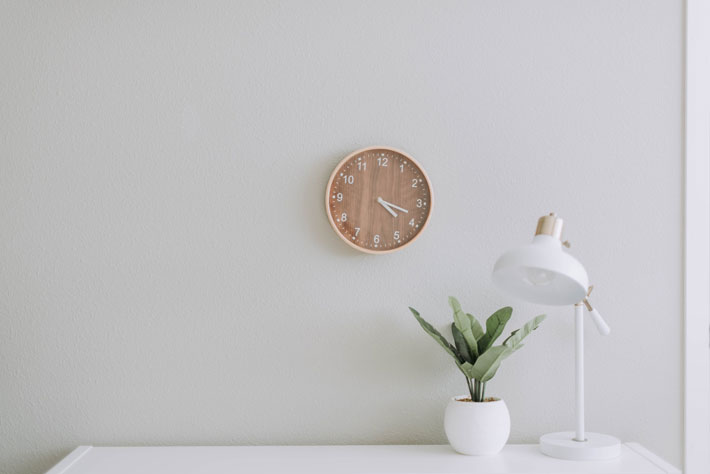 3) Minimalism
Minimalism is a great concept to make use of in your office. Clutter is bad for the mind and it can actually make you more stressed and anxious if your space is messy and unorganised. Sorting through your things and getting rid of unnecessary clutter is the first step to achieving your minimalist goals. Everything needs its own place in your office and any necessary clutter can be kept neatly stored in drawers and on shelves, so organisation is key here. Even if you don't want to go fully minimalist with the style of the room, you can still take inspiration from the concept and create a tidy and organised space. It is much nicer to work in a neat space with everything where it belongs, and you will notice your mood improves when working in an organised office. It's also a good habit to straighten up your desk at the end of each day so that you have a tidy space to come back to when you start work each morning.
4) Unique Colour Scheme
Creating a unique and exciting office space is a great trend that can spice up the room and add energy and liveliness to boost your productivity. Picking a colour scheme can be a fun way to add your personality into the room and explore lots of different styles. Think about what mood you want to set, what kind of aesthetic helps you to feel inspired and focused, or take inspiration from the things you will be using in the room – like the art prints you plan to hang on the wall. You want the colours to enhance the room and make the space comfortable to work in.
5) Space for Two
A great trend that is perfect for shared spaces is the use of one long desk or two duplicate desks. If you and your partner both work from home, setting up a combined office space can look great! You will need one long wall to set up your desks side by side or use one very long desk if you can. This works especially well if you are into the minimalist style, as it can be a really clean and sleek look. You can opt for a mirrored look or asymmetric depending on your taste, just make sure each of you adds your own touch to your side of the room. It is an effective idea if you have limited space and can work well together – just be sure to take it in turns making coffee and tea!
Hopefully these tips and ideas have given you lots to think about, so you can get to transforming your office into the perfect space that is both functional and stylish!