Distinctive Leeds rapper on the rise…
YOUR NAME: Connor Wood, aka C. Wood.
HOW LONG HAVE YOU BEEN PLAYING MUSIC? I have been writing for 9 years and was always into drumming as a youth, but I started recording and releasing music just over a year ago at the start of the pandemic.
ANY PAST BANDS OR COLLABORATIONS WE SHOULD KNOW ABOUT? Not as yet, plenty to come in the future though.
GIVE US 3 REASONS WHY WE SHOULD TRACK DOWN, LISTEN AND DISCOVER YOUR MUSIC?
Relatability. I make music about real life issues – predominantly mental health-related – that the listeners can relate to. I receive messages on a regular basis saying how I've helped a listener through certain situations and in some cases I've had people say that my music saved their life. Essentially, the listener can use my music in the same way I use it: as an escape and a way to feel understood.
Unpredictable. Due to my Bipolar, which I was diagnosed with a few years back, I make very up and down music. One release could be upbeat and happy, the next deep and dark… it all depends on how I'm feeling/my mood state when writing.
Flow and deliver. I make catchy, melodic choruses that compliment hard-hitting, lyrical verses.
WHERE DO YOU SOUND BEST – FESTIVAL, CLUB, BEDROOM – OR SOMEWHERE ELSE?
I would say a club as it allows the audience to feel and the raw passion and emotion I put into what I do. I love what I do and put it all out there.
WHAT WAS YOUR FIRST…
RECORD? Eminem – The Slim Shady LP.
CD? Akon – Trouble.
DOWNLOAD? Avenged Sevenfold – Avenged Sevenfold.
SO, WHEN IT ALL GOES RIGHT AND YOU'VE GOT A BOTTOMLESS PIT OF MONEY AND LONG QUEUE OF HANGERS-ON, WHAT WILL BE YOUR BIGGEST MUSICAL INDULGENCE?
I would look to work with some of the top producers, artists and labels today. I want to be in and around successful musicians of the highest calibre, with access to some of the most iconic studios like Abbey Road in London. I'd also set up my own movement, it would involve things such as a record label, a YouTube channel for upcoming talent to showcase what they are working with, as well as a support group for members of the public to come together to so they can have free access to group counselling sessions and art/music therapy sessions. I guess I would just really like to continue spreading the message that "it's okay not to be okay" and I would look to do this through music. I want to help people with what I do, so it wouldn't all be about me… I would indulge myself in things that can also benefit others.
SO, WHEN IT ALL GOES WRONG AND YOU'RE LEFT BITTER AND TWISTED AND CURSING THE MUSIC INDUSTRY, WHAT DO YOU FALL BACK ON?
I would keep writing music as I use it as therapy in a way; I'd be lost without and would struggle to possibly unbearable extents. Music saved my life in a way, so I'd say I'm going to make music until I die. Career-wise, I would look into being a mental health mentor for kids and adults who struggle to regulate emotion or just generally struggle to speak on how they feel. Ultimately I want to help as many people as possible as I know what it's like to feel alone, isolated and depressed.
WHAT ARE YOUR MUSICAL GUILTY PLEASURES…
Justin Bieber, The Neighbourhood, The Smiths.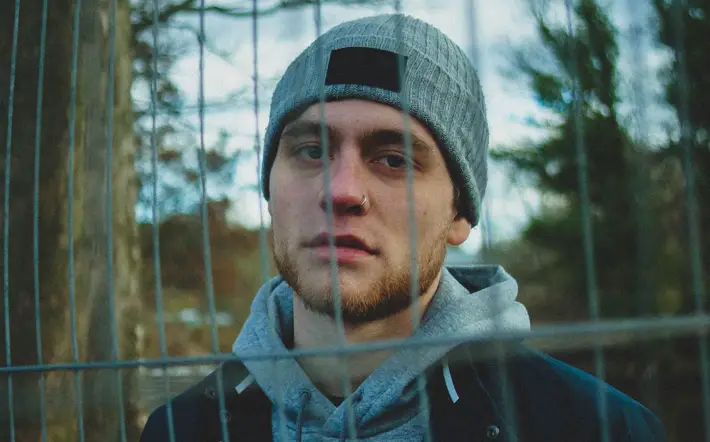 WHO ARE YORKSHIRE'S FINEST IN CULTURE, SPORT AND MUSIC?
• The Bad Boy Chiller Crew are a big name across Yorkshire due to them showing their surroundings and making the most of what they have, they are 100% themselves in everything they do and coming from a council estate in Bradford, they really outline what it's like to live in West Yorkshire.
• Josh Warrington, who is a boxer from Leeds, worked hard to where he is now and has won titles, he is a big role model to many in and around the Leeds area.
• I'd say Graft, who is a rapper from Leeds. He is the most known/successful rapper in Yorkshire from winning the rap game to hitting over 100K views on a GRM daily video, he is a massive inspiration to me, due to him being so successful in a place where there isn't much exposure within music.
NAME YOUR SUPERGROUP – WHO'S PLAYING WHAT, WHO'S ON VOCALS AND WHO'S YOUR BEZ?
Very good question, I'd have to say Slash on guitar, Chester Bennington (Linkin Park) on vocals, Rev (Avenged Sevenfold) on drums and Eminem as another vocalist.
GO SEE THIS FILM: Don't Look Up.
GO READ THIS BOOK: The Tipping Point – Malcolm Gladwell.
GREAT LOST BAND/ARTIST: Tough one, I'd say Linkin Park, Juice Wrld, Lil Peep, too hard to pick just one…
WOULDN'T BE CAUGHT DEAD SUPPORTING: 6ix9ine, Manchester United.
LONDON, L.A OR LEEDS?: I'm going to stick to my roots and say Leeds, I love my area.
AND FINALLY… AS YOU LEAVE THE STAGE, WHAT ARE YOUR PARTING WORDS?
Thank you for taking me in! My main reason for music is for my listeners to relate and feel the lyrics. I want to remind everybody it's okay not to be okay and it's important to keep talking, there's too many people suffering in silence and I once was, let's all try make a change!
For more info visit: facebook.com/c.wooddmusic