Bad Boy Chiller Crew – Review – Leeds Wardrobe
By Graham Clark, February 2022
Bad Boy Chiller Crew have come a long way from the days when they filmed prank videos of themselves to upload on YouTube. The Bradford act played to a packed audience at Leeds Festival last year and have sold out a homecoming concert at Bradford St George's Hall, with the majority of their spring UK tour now sold out too.
Ask anyone in Bradford what they think of the act and, depending on the age group, the answer you will get will range from them being brilliant to being a joke.
A novel way to get their mainly young audience into the habit of actually buying a copy of the new album Disrespectful, as opposed to streaming the album, is to give them an incentive.
Fans who pre-ordered the new album through Crash Records in Leeds were given access to an intimate gig at the Wardrobe – which is probably the last time the fans will be able to catch the boys in a small venue.
The album looks set to debut in the Top 5 of the album charts – not bad for a group who in some quarters were never taken seriously.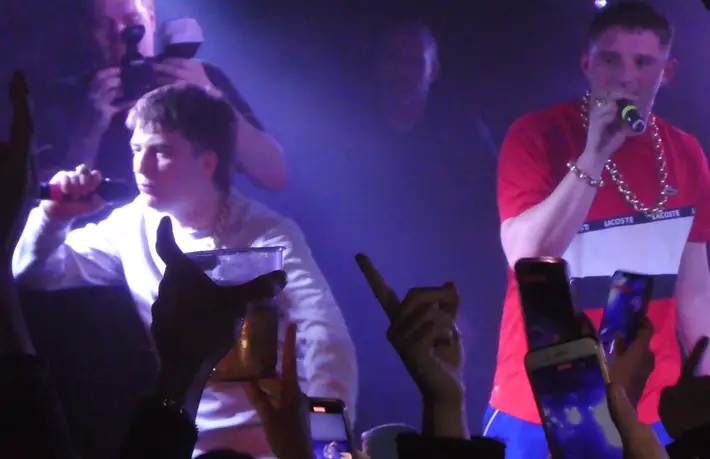 "Crest of a wave"
The masked DJ at the rear of the stage spins the dance-based tracks whilst the three other members of the group move around the stage as if they have drunk a case load full of Red Bull.
The idea of using old house music tracks and rapping over them – albeit sometimes in a Yorkshire accent – is a good idea and it works superbly, though at the Wardrobe gig it was noticeable that their fans were more receptive to the dance tracks that were more melodic and actually had a chorus which begged the question: is it the dance tracks the fans are enjoying more than the rapping over the top?
Everything from the recent Shane Codd track, 'Get Out Of My Head' to old school cuts such as Rozalla's 'Everybody's Free' are included in their set. Things really came together though on 'Always Be My Baby Boy' which features Becce J. sounding like an old Cascada track. It had the young audience totally under the command of Bad Boy Chiller Crew.
As cries of "Yorkshire, Yorkshire" resonate across the room in between songs the Bradford lads appear to be riding on the crest of a wave. How long that will last is open to debate.
As long as their fans do not outgrow them, Bad Boy Chiller Crew might yet have the last laugh yet.