The Christians – Live Review – Halifax Square Chapel Arts Centre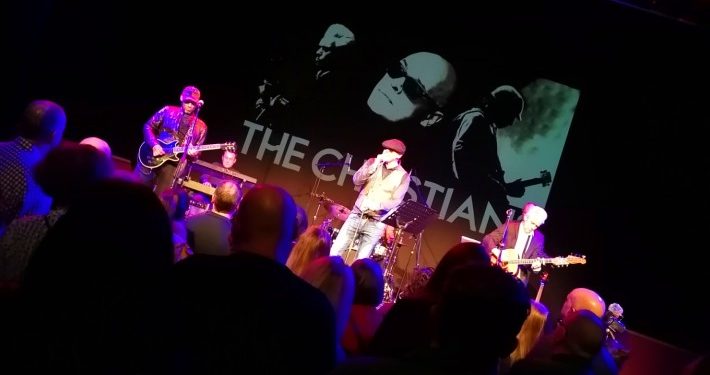 By @Steve Crabtree, March 2020
My hometown is continuing to grow and thrive. And in 2020, my favourite bands are coming here. Manics and Shed Seven are doing The Piece Hall and that'll be an enormous weekend. But as we we were hitting spring, and before Coronavirus arrived, 80s favourites The Christians played one of my favourite venues – the Square Chapel.
It was the first time that I'd been here to see a music event. I've been here for plays, films and talks and it's a wonderful venue. It's also got the best ceiling around. And with a couple of hundred of his packed into the Red Brick Auditorium here, we had a set up that looked the part for the soulful group from Liverpool. Imagine a shrine of blackness and darkness, pierced by cool blue and bright white lights firing at the stage. A Christians backdrop adorning the back of the stage, and instruments glistening, itching to be played.  It had already created the right ambience.
"Brilliant night"
A good crowd had filtered through the doors. It was a Saturday night, and the drinks were flowing. At 8:30pm, the band came on and said hello. Lead singer Garry Christian is always great with the crowd, and had a bit of a chat with us as the band got ready. And with that, he said "right… let's play some music". 
The set kicked of with 'Small Axe', and we were about to be treated to some good vibes for a good couple of hours. We were given a few hits early doors such as 'Ideal World', and 'Forgotten Town', and Halifax had no problem getting in to the mood.
The Christians cheeky Scouse humour was apparent throughout the show. The entire band were throwing the humorous convo around, and it was nice to see a group of people who were just they're having fun. The tunes were coming thick and semi-fast. 'The Bottle' added a bit of a funk to proceedings, and we all ended up taking part in 'Greenbank Drive' as Garry took us in to a rendition of 'Papa Was A Rolling Stone.' 
The sound and atmosphere at the Square Chapel was just right. And with a video screen showing old video footage and more, we were being treated to a really well put out production.

"Dancing and moving"
The Square Chapel was delivering for Halifax again. They're always bringing something to the town, and getting The Christians in was a top job. The biggest selling debut artist that Island Records ever had still performing as a tight and awesome sounding unit.
By the final third of the show everyone was dancing, and everyone was moving. 'Hooverville (And They Promised Us The World)' went down a storm, as did 'Born Again'. And I really enjoyed their rendition of 'When Fingers Point'. 
It's the fourth time that I've been lucky enough to see The Christians over the last couple of years and this was perhaps my favourite performance. Their two-song encore gave us 'Sad Songs', and their massive hit from 1987, 'Harvest for the World'. The latter ended the night on a high for everybody and we'd had a brilliant time courtesy of a superb, long-standing group.
It doesn't matter where you're stood in the Square Chapel for a gig. You're always near the front. And that added to the intimacy of this one with everything about the night being so good. My friend and I really enjoyed the night, and I'll be looking forward to seeing The Christians again soon. They're a band I could watch time and again.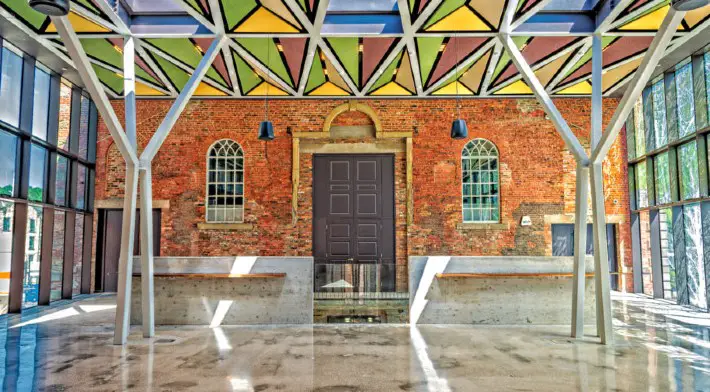 "Bounce back"
And I really hope I get to see many more live gigs at The Square Chapel Arts Centre too. Unfortunately, shortly after this gig the venue closed down and went in to administration – a victim of the coronavirus lockdown.  At the time of writing, it's not known whether the place can be saved, but anyone who's ever been here will be crossing their fingers and hoping for the best.
I, personally, have been wowed every time I've visited the Square Chapel. Whether I've been to review a play or a film, or having a leisurely bite to eat with friends. And any of them who've visited for the first time with me are equally as impressed with the space.  With Sofia, Dave, Alec and a host of others I've never met working so hard behind the scenes to give the town something of such high quality, it'll be a huge loss if the Square Chapel Arts Centre doesn't bounce back. After visits from John Challis, Eddie Edwards and Brian Blessed; and this final gig at The Square Chapel, it's just a reminder of what we'll all be missing out on.
With support from many famous faces from the arts and acting world, let's hope the closure is temporary – because the town has been so much better off for having this place here.