An Interview with Brian Blessed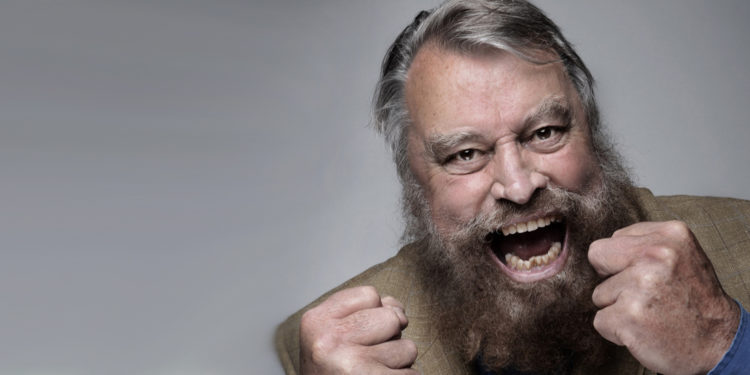 By Charles Hutchinson
Brian Blessed feels as strong and mentally adroit as he did at 20. "All this old age crap," says the 82-year-old South Yorkshire actor, presenter, writer and adventurer. "Death does not exist. Life is the last word," he insists.
"Gordon's alive," he once famously said in Flash Gordon, and Brian Blessed is very much alive too, soon to head out on the road with his chat show, 'An Evening With Brian Blessed'.
"I do two hours of weights and cycling each day," he says. "I train, not because of vanity, but because of the expeditions I still want to do, such as climbing the five great mountains of northern Russia."
On screen, he has starred in everything from 115 episodes as PC "Fancy" Smith in Z-Cars to Doctor Who, Flash Gordon to Kenneth Branagh's Shakespeare films. On stage, his credits range from Andrew Lloyd Webber's Cats to Chitty Chitty Bang Bang. His trademark stentorian voice has been put to myriad tasks, from voicing the Peppa Pig character Grampy Rabbit to being a voice download on TomTom's sat-nav system.
However, there is much more to the life of Brian, and so his anecdotes will take in not only his hearty, king-sized portrayals on film and television, but also his adventuring, "The best actors are vagabonds, beggars. It's a great art, but it's pretending," he says. "As Hamlet says, playing is holding up a mirror to nature, to life, but of course climbing Everest or going into space IS life."
His relish for exploring and mountaineering has led Brian to climb Everest three times without oxygen, undertake an expedition to the jungles of Venezuela and become the oldest man to go to the North Pole on foot.
"But my biggest love is space," he says. "I'm a fully trained cosmonaut. I trained with NASA and at Space City in Moscow, testing prototype suits with lots of mountaineers and microbiologists on Reunion Island. To help the space programme, about seven years ago, we filmed on this volcanic island, simulating climbing the highest mountain on Mars, Olympus Mons."
"My ancestor was a warrior"
Brian says with utter conviction: "I will go into space… because I truly believe we are children of stardust and we can't keep remaining in the cradle. We have to go out there. I meet thousands of children at the National Space Centre at Leicester and they all want to go into space. I don't see barriers. I have great belief that you must fulfil your dreams, you must go for it; don't let them grind you down. We all have special gifts guarded by a guardian angel, and we must each strive to fulfil our ambitions."
The best advice Brian took came from Sir John Hunt, leader of the successful 1953 British expedition to Mount Everest. "He said, 'the greatest danger in life is not taking the adventure'. All kinds of things in life can be your Everest, but take the adventure," he urges.
The son of a miner at Hickleton Main, brought up in the pit village of Goldthorpe, near Mexborough, Brian has always "taken the adventure", whether winning a scholarship to study at the Bristol Old Vic Theatre School or being president of the Council for National Parks for seven years up to 2007.
He feels his name has been a blessing. "My ancestor was a warrior, very badly wounded at the Battle of Hastings, where William the Conqueror gave him the name Blessé," he reveals. "I wouldn't want to have any other name than Blessed. I just think it's the most perfect name."
Likewise, Brian could not imagine shaving off his trademark bushy beard. "It must have been when I played Augustus Caesar in I, Claudius in 1976 that I last didn't have a beard. It's absolutely me; I'd be lost without it," he says, recalling his favourite role to boot, before playfully imagining one of the birds nesting by his home thinking 'I could imagine nesting in that beard!'."
"My biggest joy in life is quiet"
Brian lives very close to Cobham, in Surrey, where his garden extends to four or five acres. "I love gardening," he says. "I have a Buddhist garden and an African garden, with figures of a 20ft giraffe, elephants and gorillas. It's full of birds and bees, as I have beehives too."
As well as exercising, training his voice and gardening, Brian likes to designate periods of silence in his daily routine. This may surprise you, given how he is associated with having a booming voice, once further strengthened by six weeks of training as an operatic Wagnerian tenor.
"Apparently York University has a Brian Blessed Quiet Room: how delightful," he says.
It may have been an ironic gesture when the University of York students' union passed a mandate in January 2011 for a study space to be re-crowned the Brian Blessed Centre for Quiet Study, but Blessed's good friend Kenneth Branagh is on record as saying "he's the quietest man I've ever met".
"I've always said my biggest joy in life is quiet and meditation," says Brian.
Please note, An Evening With Brian Blessed "may not be suitable for people of a nervous disposition", or so the publicity says. "That's publicity nonsense," Brian retorts. "I'm not going to make anyone nervous. I'm going to make them happy!"