Last Place by Grandaddy – Album Review
by Matt Callard
Band reformation. Never a good thing, right? Unless it's 'Maria' by Blondie. Or The Pixies' 'What Goes Boom'. Or 'Nothing Lasts Forever'. Or Sleater-Kinney…
Ok, so, maybe sometimes it is a good thing. And although Grandaddy the band have been away, main-man Jason Lytle hasn't. There's been solo albums, collaborations, production jobs – even a short-lived 'new' band (Admiral Radley).
Last Place, Grandaddy's 5th album proper, despite appearing no-less than 11-years after Just Like the Fambly Cat (and a mind-shredding 17-years after their masterpiece, The Sophtware Slump) feels very much like business as usual.
And, for once, reformation makes perfect sense. Here, Jason Lytle's career-spanning lyrical (and visual) obsession with obsolete tech finding some sort of harmony with Mother Earth has become a self-fulfilling prophecy. Because now, Grandaddy are obsolete. Grandaddy don't matter anymore. Grandaddy are themselves relics, sat in some quiet wood with Mercury Rev and Flaming Lips and The Polyphonic Spree, and other former big-sound adventurers from the late 90s. Moss growing into their keyboards, wires slowly absorbing into the trees.
"Things are lighter, looser, even a little bit like fun"
Which, ironically (stay with me here), is what gives this album weight and relevance and humour. "A brush with the wild/ We were the best/ It's all I recall/ I forget the rest," Lytle sings on the sprightly second track.
Opener 'Way We Won't' is a deliberate facsimile of 'classic' Grandaddy, albeit with a slightly woozy undercurrent. It's like a former prime athlete who knows they can't quite echo past glories anymore, but is prepared to go close and show a few new tricks in the process (it echoes the sinister, fake-fun, 'after the party' feel of The Beach Boys' 'Do It Again' in musical spirit).
Then there's that jaunty second track, 'Brush With the Wild'. Let's not forget just how un-jaunty The Sophtware Slump is. Heck, it's a downer of an album, saved only by the brilliance of the songs. But here, things are lighter, looser – even a little bit like fun.
"Blueprint of widescreen alt-rock"
'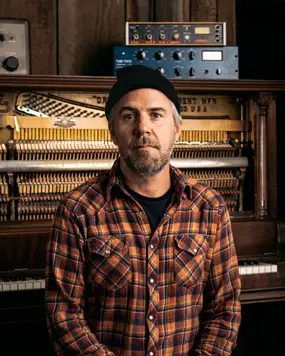 The Boat is in the Barn' should be trademarked by the band. Stomping verses (featuring lakes, mobile phones, delete buttons, natch) segueing into a downshift of pace and a glacial, skyscraping chorus. If a musical coach wants to show his students a blueprint of widescreen alt-rock, look no further.
'Chek Injin' is the obligatory rock-out with wonky time signatures, 'Oh She Deleter' the pointless piece of instrumental doodling, 'That's What You Get' shows Lytle was really listening when he produced Band of Horses back in 2016 and it closes with a haunting beauty, the acoustically-framed 'Songbird Son'. Oh, and Jed makes a comeback.
There's no 'Miner at the Dial-A-View', no 'Now It's On', no 'Summer Here Kids' on Last Place – but there are still plenty of moments, plenty to cherish, plenty of the real Grandaddy here. And, unlike band reformations, that's always a good thing.
8/10