Viy [Вий] (1967) – Film Review
Directors: Konstantin Yershov and Georgi Kropachyov
Cast: Leonid Kuravlyov, Natalya Varley, Aleksey Glazyrin
Certificate: 12
by Sarah Morgan
Having heard the nightmarish stories about Stalin, Lenin and their cronies, you might think that the horror genre would have found a home in Soviet Russia. But you'd be wrong.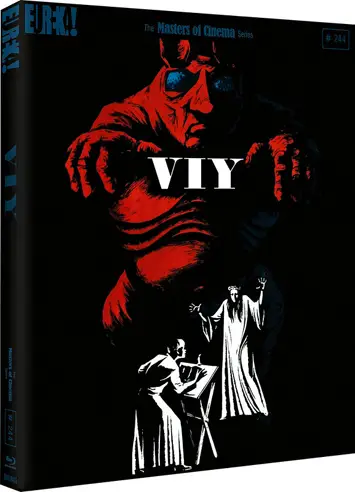 During that period the cinema industry was largely under the control of the authorities, who preferred homegrown movies to present certain ideals and propaganda, so while life under Communism may have seemed horrifying, events on the big screen tended to be light-hearted, optimistic and jingoistic.
"Nightmarish fable"
However, a small handful of examples did slip through the net, including Viy, which is receiving a rather smart Blu-ray release; it got around censorship due to its origins in Nikolai Gogol's 1835 novella of the same name – literary adaptations were, apparently, acceptable to the hierarchy.
Set in 19th century Russia, the story follows a seminary student whose fate becomes entwined with that of a beautiful young witch. With her dying breath, she summons him to sit with her corpse for three nights, as is traditional. But at each sunset, she rises from her coffin to torment and seduce him. He, meanwhile, knows that to succumb to temptation will unleash the terrors of hell…
Directors Konstantin Yershov and Georgi Kropachyov created a nightmarish fable whose stylish approach remains influential today; it wouldn't surprise me if visionary film-maker Alejandro Jodorowsky saw it before making his masterpieces El Topo and The Holy Mountain.
While some have scoffed at the special effects (what they expect from a film made under difficult circumstances more than half a century ago is anybody's guess), I felt they were effective and helped create a sense of eeriness and dread. They're also just as good (or bad, depending on how you want to look at it) as some featured in low-budget British films made around the same time.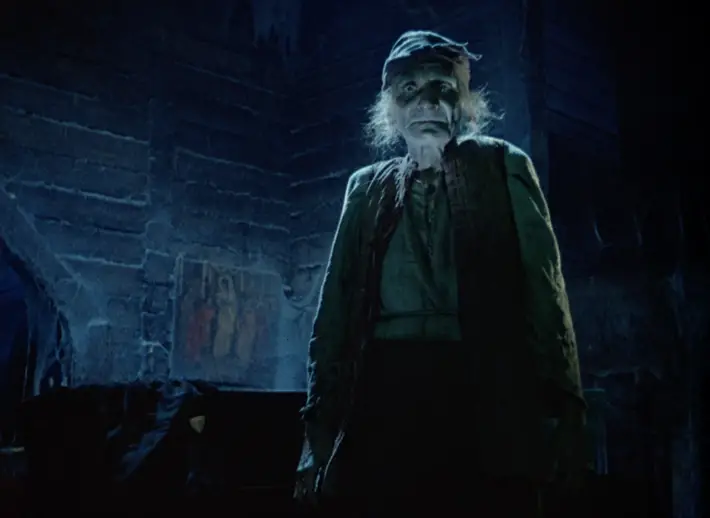 "Looks wonderful"
Incidentally, the stop-motion models were created by Aleksandr Ptushko, a legend in the field widely regarded as the Soviet Ray Harryhausen.
The movie itself looks wonderful too, perhaps even better than it did on its release in 1967, having undergone a restoration process.
The release also includes a bonus disc featuring Sveto Mesto (aka A Holy Place), a 1990 Serbian version of the same Gogol story receiving its debut in the UK and which is well worth a look in its own right.
SPECIAL LIMITED TWO-DISC BLU-RAY EDITION CONTAINs:
Exclusive O-Card Slipcase
1080p presentation on Blu-ray
Original Russian mono audio
Optional English mono audio
Optional English subtitles and English SDH
Brand new audio commentary with film historian and eastern European cinema expert Michael Brooke
Brand new video essay on Russian novelist and VIY author Nikolai Gogol
Archival documentary on Nikolai Gogol
Three Russian silent film fragments, The Portrait [1915, 8 mins], The Queen of Spades [1916, 16 mins], and Satan Exultant [1917, 20 mins]
Newly commissioned sleeve artwork by Peter Savieri
Original 1967 Trailer
A Collector's Booklet featuring a new essay on Aleksandr Ptushko by Tim Lucas, and a new essay by Serbian writer and film critic Dejan Ognjanovic
EXCLUSIVE BONUS DISC: A HOLY PLACE [Sveto mesto] (1990, dir. Djordje Kadijevic) An adaptation of Nikolai Gogol's short story and a stunning example of Serbian Gothic cinema from director Djordje Kadijevic. Described by critic Dejan Ognjanovic as "an unparalleled excess of perversity and terror"
New Interview with A HOLY PLACE director Djordje Kadijevic (Limited Edition Exclusive Only)
VIY is released on Blu-ray by Eureka, £25.99