The Holy Mountain (1973) – Film Review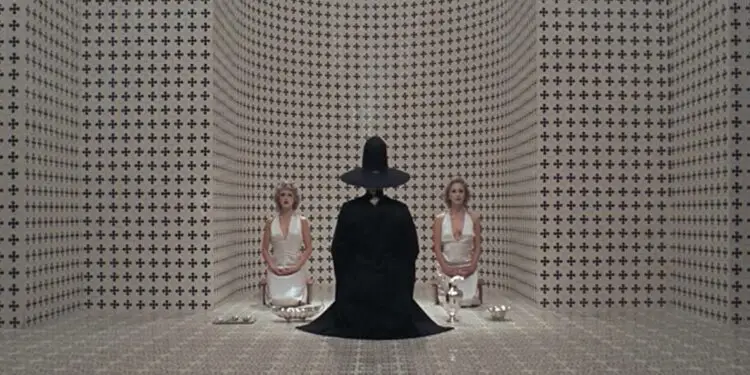 Director: Alejandro Jodorowsky
Cast: Alejandro Jodorowsky, Horacio Salinas, Zamira Saunders
Certificate: 18
By @Roger Crow
I've thankfully never gone insane, but I'm guessing it's pretty close to watching The Holy Mountain.
Alejandro Jodorowsky has been one of those characters who doesn't make traditional movies. His epics are more like platforms for his bizarre visions, and like drinking a dozen espressos in one sitting, it's pretty strong stuff.
My first experience of his work was 32 years ago when he made Santa Sangre, a phenomenal, surreal, inspiring and disturbing study of a killer which reminded me that cinema can be so much more than generic blockbusters.
In 1997, the BBC screened his breakthrough masterpiece, El Topo. It was a premiere and I think it's only been screened on the Beeb once more since.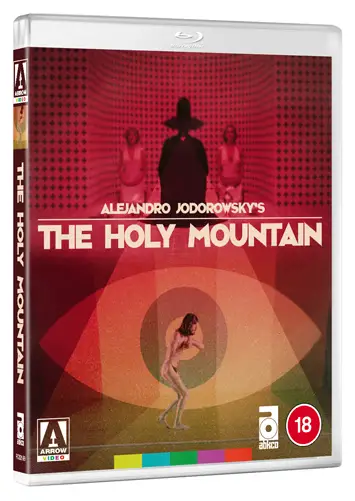 That movie made in 1970 really put Jodorowsky on the map, and won over countless high profile fans, including John Lennon. When he came to make The Holy Mountain, it was a case of, 'Do what you like', which is never a great basis for any movie. Not that it ever stopped some of the Pirates of the Caribbean or Transformers movies, flicks which generated pots of cash despite their stories often making no sense.
"Pushing the envelope"
As we know, great art comes from pressure, whether from the studio backing the movie or the folks behind the camera.
So in the first few minutes of this disturbing, strange, visually stunning and frankly unnerving epic, a man lies in the desert with flies covering his face.
He is soon befriended by a handless dwarf, and the duo travel into the city where they make cash entertaining tourists. As the guy looks like depictions of Christ, a nun and three warriors cast an impression of his body and sell the resulting crucifixes. It's at this point the lead character starts screaming, and I know how he felt.
It's obvious that Jodorowsky was pushing the envelope of what a lack of sleep and too many drugs can do to a film-maker, while the various teachings of folks like Gurdjieff (as referenced in Kate Bush classic 'Them Heavy People') no doubt gives the movie hidden depths.
Jonathan Ross memorably described it as "The ultimate acid trip on film," in his superb series The Incredibly Strange Film Show.
Perhaps more interesting in Jodorowsky's career is the movie that would have come next. His take on Dune would have been one of the most elaborate and awe-inspiring sci-fi films ever made. And while that project fell apart, some tantalising glimpses of what could have been can be seen in the documentary 'Alejandro Jodorowsky's Dune'.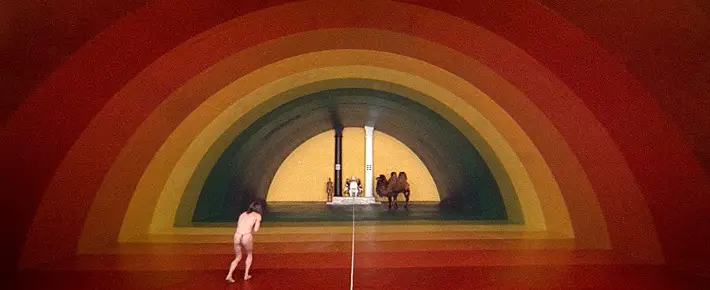 "Overwhelming experience"
At one point in The Holy Mountain, in a scene which lasts far longer than it needed to, the rake-thin hero (Horacio Salinas) has his excrement turned into gold by an alchemist (Jodorowsky).
Some might see that as a metaphor for the movie, and while there are several shining moments here and there, you have to wade through a lot of the other stuff to appreciate them.
If you're a fan of graphic novels, it's worth checking out Jodorowsky's work on The Incal, an epic comic book crafted after the collapse of that 1970s version of Dune, with elements from The Holy Mountain repeated there.
Like all art, you get out of a piece what you put in. So the fact there is so much going on here means repeat visits are recommended, even if that first viewing is an overwhelming experience.
Some movies are far too dense to take in during a first screening, so if cult movies with a capital C are your thing, then this is one mountain worth scaling.
Just be warned that you might need oxygen and it's definitely not for the easily shocked.
SPECIAL EDITION CONTENTS:
• New 4K restoration from the original 35mm camera negative approved by Alejandro Jodorowsky
• High Definition Blu-ray (1080p) presentation
• Uncompressed mono 1.0 LPCM audio and 5.1 DTS-HD Master Audio
• Newly translated English, Spanish and French subtitles
• Audio commentary by Alejandro Jodorowsky
• Jodorowsky Remembers The Holy Mountain, a new interview filmed in Paris
• Newly filmed introduction with Richard Peña, Professor of Film Studies at Columbia University
• Pablo Leder: Jodorowsky's Right Hand Man, Jodorowsky's personal assistant remembers acting in El Topo and The Holy Mountain and his time spent with the director
• The A to Z of The Holy Mountain, a new video essay by writer Ben Cobb
• Deleted scenes with director's commentary
• The Tarot, a short film in which Jodorowsky explains the secrets of the cards
• Original trailer
• Image galleries
The Holy Mountain is released on Blu-ray by Arrow, £24.99