Undercover (1943) – Film Review
Director: Sergei Nolbandov
Cast: Tom Walls, Rachel Thomas, Stanley Baker
Certificate: 12
by Sarah Morgan
Ealing Studios are best known for making a string of inventive comedies that have stood the test of time, but they also ventured into other genres. Dead of Night is now regarded as one of the greatest horror films ever made, while Went the Day Well is a brilliant war film that still packs a punch today.
Undercover isn't as impressive as the latter, but it has more in common with it than it does with the likes of Kind Hearts and Coronets or The Ladykillers.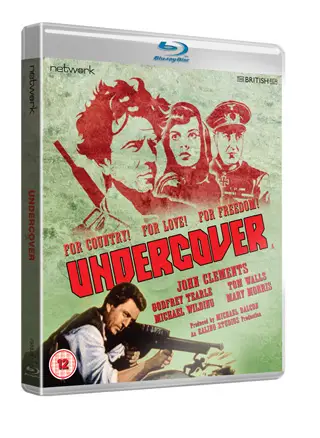 It was released in 1943 as the Second World War continued to rage; I imagine the film was designed to drum up support for the Resistance fighters whose activities it depicts.
"Tragic sacrifices"
The Welsh countryside has doubled for various other nations on celluloid, including India in Carry On Up the Khyber, but here stood in for Yugoslavia.
The country has been occupied by the Nazis, but a band of guerrilla fighters are hiding out in the mountains, striking back whenever and wherever possible. Leading them is former army captain Milos, whose surgeon brother Stephan helps by passing on information about the Germans he treats and acting as a go-between for Milos and other units.
The Resistance is largely successful, a thorn in the side of the Nazis who adopt increasingly brutal methods to get their own way including, in one particularly chilling scene, murdering six rebellious schoolboys via firing squad.
Milos' family makes tragic sacrifices to the cause before a final showdown in which the guerrillas' local knowledge should come in very useful indeed.
"Coherent and entertaining"
The leading cast members will be largely unknown to most viewers, although there are some familiar faces among them, including in a supporting role Michael Wilding, before he became a matinee idol and Elizabeth Taylor's second husband. Perhaps most remarkable is the sight of Stanley Baker, aged 15, in his big screen debut. He already has great presence, something that many subsequent directors would use to great effect throughout the rest of his career.
Propaganda films can often be worthy but dull affairs, interested only in getting their message across rather than producing a coherent and entertaining tale. Thankfully Undercover manages to keep viewers intrigued throughout while providing an insight into a terrifying moment in history.
Although special features are scarce (only an image gallery appears on the disc), the film looks superb, having been restored and released in high definition for the first time.
7/10
'Undercover' is released on Blu-ray by Network, £11.50