The VVitch (2015) – Film Review
Director: Robert Eggers
Cast: Anya Taylor-Joy, Ralph Ineson, Kate Dickie
Certificate: 15
By Sarah Morgan
You can run but you can't hide from Anya Taylor-Joy these days, but even the biggest stars have to start somewhere – and for her, the beginning of her rise to fame was 2015's The VVitch.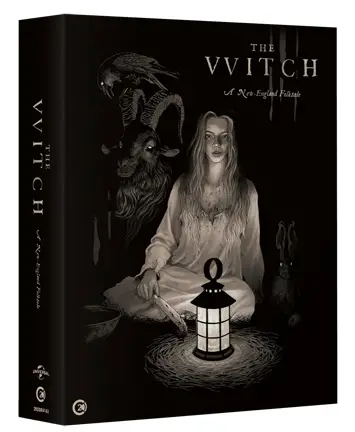 The term 'folk horror' is used to describe films that use folklore and a rural setting to unsettle the audience. Classics such as Blood on Satan's Claw and The Wicker Man fall into this sub-genre of horror, as do the more modern offerings Midsommar and this year's Men, released only a few months ago.
"Sacrificed"
The VVitch is another example – it takes place in and around a desolate farm in New England during the 1630s, and features a family terrorised by a mysterious force in the nearby woods.
Taylor-Joy plays Thomasin, the eldest child of English Puritan settlers William and Katherine who, at the start of the film, have four other children. But after being banished from an established community, their world begins to implode.
Youngest son Samuel suddenly vanishes; it transpires a witch has stolen the unbaptised baby, and sacrificed him to make an ointment that allows her to fly.
Samuel's teenage brother Caleb is next to disappear during a mysterious adventure with Thomas. He eventually returns home, but is completely changed and eventually dies a painful and horrifying death.
Young twins Mercy and Jonas accuse Thomasin of witchcraft, and their father begins to wonder if they might be right. But before anything can be proved, more horror and violence befalls the family.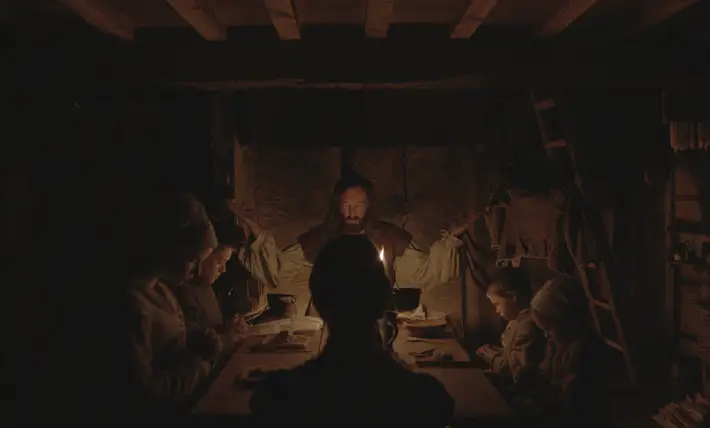 "Sense of foreboding"
Writer-director Robert Eggers worked as a theatre production designer before entering the world of film, which is perhaps why his debut movie looks so stunning; it is often the depiction of the landscape itself, so bleak and uncompromising, that provide the chills via a sense of foreboding, rather than the characters or plot.
Taylor-Joy delivers a mature performance, despite her limited experience at the time; there's no wonder she was subsequently snapped up to appear in Peaky Blinders, Emma, The Queen's Gambit and Last Night In Soho. She receives strong support from Leeds-born Ralph Ineson and Kate Dickie, who play Thomasin's beleaguered parents.
Eggers has since gone on to make the acclaimed The Lighthouse and The Northman (reuniting him with Taylor-Joy), which also utilise folklore. A remake of Nosferatu is rumoured to be among his future projects – with his eye for detail and lighting, it will be intriguing to see what he does with it.
Special Features:
• Features 4K UHD and Blu-ray with bonus features on both formats
• 4K UHD presented with new Dolby Vision HDR grade
• Archive audio commentary by Director Robert Eggers
• New audio commentary by film writer and broadcaster Anna Bogutskaya
• A Puritan Nightmare: a new interview with Robert Eggers
• Embracing Darkness: a new interview with Anya Taylor-Joy
• Love Thy Father: a new interview Ralph Ineson
• A Pious Wife: a new interview with Actor Kate Dickie
• Caleb's Lament: a new interview with Actor Harvey Scrimshaw
• A Primal Folktale: features interviews with Robert Eggers and cast
• BFI London Film Festival Q&A with Robert Eggers, Anya Taylor-Joy, Ralph Ineson and Producer Jay Van Hoy
• Brothers: a short film by Robert Eggers
• Optional English subtitles for the hearing impaired
Limited Edition Contents:
• Rigid slipcase with new artwork by Peter Diamond
• 150-page hardback book with new essays by Emerson W Baker, Daniel Bird, Anton Bitel, Charles Bramesco, Lillian Crawford, Shelagh Rowan-Legg and Anya Stanley plus stills, costume and production design gallery
• 6 collectors' art cards
The VVitch is released on Limited Edition 4K UHD/Blu-ray by Second Sight, £39.99