The Boys Next Door (1985) – Film Review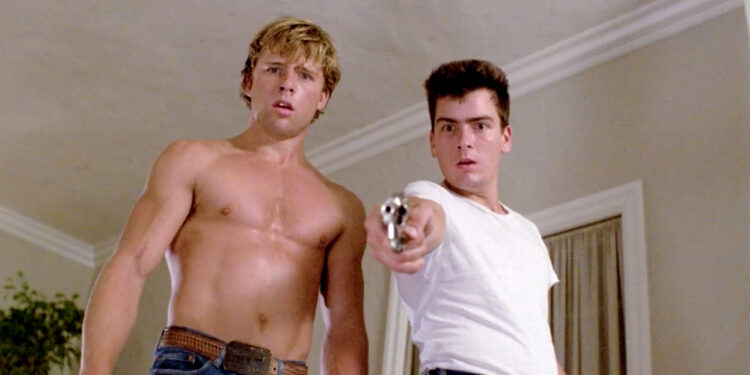 Director: Penelope Spheeris
Cast: Maxwell Caulfield, Charlie Sheen, Patti D'Arbanville
Certificate: 15
By Sarah Morgan
What do you do if the film you expected to launch you to superstardom tanks at the box office, resulting in the loss of the three-picture deal you had lined up?
In the case of Maxwell Caulfield, appear in a low-budget production in an effort to prove you're a serious actor.
"Impressive"
At the time The Boys Next Door was being planned, he was suffering a backlash from being involved in the disastrous Grease 2, while Paramount Pictures cancelled his contract, leaving him full of rage (his own words) and with lots of free time on his hands. Director Penelope Spheeris, later to find fame via Wayne's World, decided to cast him alongside a pre-fame Charlie Sheen.
Both actors were too old for the roles of recent high school graduates; Sheen was 20 while Caulfield was 26. Nevertheless, they're impressive as the titular characters who plan a weekend of wild activities before settling down to the world of work.
What transpires is about as far removed from some some merry japes and sowing of wild oats. Instead, Bo and Roy become spree killers, bumping off those who make the mistake of getting on their nerves; they throw in a little assault and battery for good measure too.
However, it soon becomes clear that Bo isn't quite as keen on the bloodletting as his friend, which could cause a devastating rift between the pair.
Although Sheen is now the more famous of the duo – even if his outrageous private life had never hit the headlines, his career has included such gems as Platoon and Wall Street – it's Caulfield who really impresses.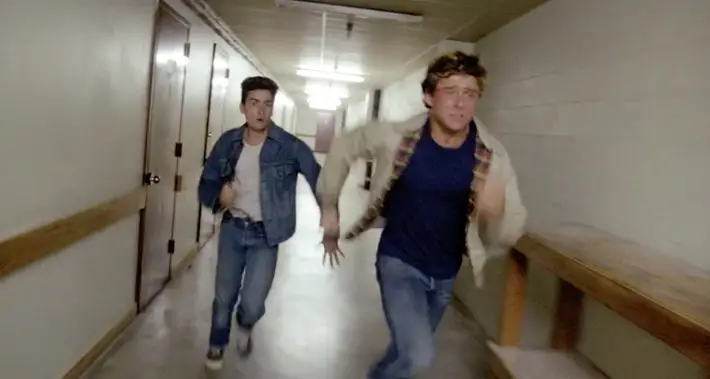 "Unresolved feelings"
He claims to have used the rage he felt at the collapse of his career to portray Roy's anger at the world. It's clear while watching the film that although Bo is a typical red-blooded teen, much of Roy's frustration is due to his unresolved feelings for his best friend.
Interestingly, Caulfield says he was unaware of that at the time. It's also his appearance and the sympathetic depiction of homosexual characters elsewhere in the film that have given it a cult gay following.
The Boys Next Door, written by future X-Files collaborators Glen Morgan and James Wong, was not a mainstream success on its release, but as an entry in the low-budget exploitation genre, it works rather well. If you're a fan of such movies, you'll love it.
Special Features:
• Limited edition booklet: Includes Living with the Boys Next Door by John Towlson and AssassiNation: Coldblooded Rebels and the Death of the American Dream by Rich Johnson
• Audio commentary with director Penelope Spheeris and actor Maxwell Caulfield
• Blind Rage: Interview with Stephen Thrower, author of Nightmare USA
• Both Sides of the Law: Interview with actors Maxwell Caulfield and Christopher McDonald
• Give Us Your Money: Interviews with street band performers Texacala Jones and Tequila Mockingbird
• Caveman Day: Cinemaniacs interview with director Penelope Spheeris and actor Maxwell Caulfield
• Tales from the End Zone: Interview with actor Kenneth Cortland
• The Psychotronic Tourist – The Boys Next Door
• Alternate Opening Title Sequence & Extended Scenes (Silent)
• Trailer
The Boys Next Door is released on Blu-ray by 101 Films, £16.99