Addictive indie pop from Rotherham…
YOUR NAME:
Georgi.
HOW LONG HAVE YOU BEEN PLAYING MUSIC?
Ive been playing guitar in my bedroom since the age of 13 writing songs and messing around with covers. I only recently formed a band to perform my songs with and we have been gigging around tge local area.
GIVE US 3 REASONS WHY WE SHOULD TRACK DOWN, LISTEN AND DISCOVER YOUR MUSIC?
1. My songs are always like collages of work from the coolest people around Leeds, any art work, videos or producing is done by local creatives so if you love Leeds you'll love my music!
2. We have been compared to the likes of Arctic Monkeys and Lily Allen (I know).
3. We have 6 singles on the way! All written by myself and performed by my band with sick guitar and keyboard solos that shouldn't be missed.
WHERE DO YOU SOUND BEST – FESTIVAL, CLUB, BEDROOM – OR SOMEWHERE ELSE?
My music sounds best being played live at a festival or bar! me and my band are performing at Barnsley live festival and are very excited to be out and perfoming again now that places are opening up.
WHAT WAS YOUR FIRST CD & RECORD?
I think the first CD I had was one that my dad had burned songs on to! It had everything from Lily Allen to Black Sabbath to Paulo Nutini. I think it was one of the first CDs I based my music taste around.
My first record was The Story of The Who. Through that I got really into The Who and fell in love with the film Quadrophenia.
SO, WHEN IT ALL GOES RIGHT AND YOU'VE GOT A BOTTOMLESS PIT OF MONEY AND LONG QUEUE OF HANGERS-ON, WHAT WILL BE YOUR BIGGEST MUSICAL INDULGENCE?
If I had all the money in the world the one thing I would want is my own grand piano. I think that would be so cool, definitely a conversation starter! I would also want to own any of Pete Doherty's guitars.
SO, WHEN IT ALL GOES WRONG AND YOU'RE LEFT BITTER AND TWISTED AND CURSING THE MUSIC INDUSTRY, WHAT DO YOU FALL BACK ON?
I very handily can pour a mean pint so if all else fails I'll continue to work as a bar tender, but I don't think I could ever fully give up! Even if all I do is play open mics I could happily do that forever! I don't think I would ever stop writing.
WHAT ARE YOUR MUSICAL GUILTY PLEASURES…
I can't help but love a bit of ABBA, it doesn't fit in with my usual music taste but I can't think of a single person who could listen to ABBA and not have a bit of a boogie. I also have recently been into 00's girl bands/artists. Again I don't feel guilty about that though as I am indeed fergalicious.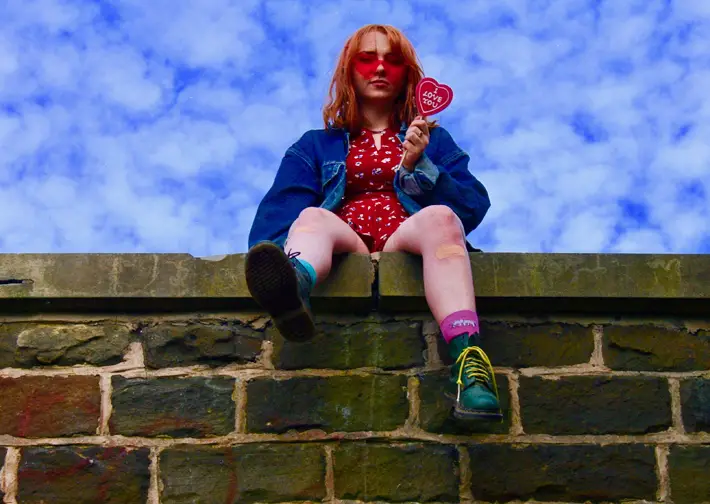 WHO ARE YORKSHIRE'S FINEST IN CULTURE, SPORT AND MUSIC?
Jarvis Cocker deserves the award of finest musician from Yorkshire, especially since he's from Sheffield.
NAME YOUR SUPERGROUP – WHO'S PLAYING WHAT, WHO'S ON VOCALS AND WHO'S YOUR BEZ?
Jarvis Cocker – vocals
Phill Collen (Def Leppard) – guitar
Alex Turner (Arctic Monkeys) – songwriter
Rick Allen (Def Leppard) – drums
Matt King- bassist (superhans)
I would very much like to be the Bez for this odd combination of people.
GO SEE THIS FILM: Snatch – classic.
GO READ THIS BOOK: The Handsmaid's Tale.
GREAT LOST BAND/ARTIST: David Bowie.
WOULDN'T BE CAUGHT DEAD SUPPORTING: Yungblud.
LONDON, L.A OR LEEDS?: Leeds, Leeds, Leeds.
AND FINALLY… AS YOU LEAVE THE STAGE, WHAT ARE YOUR PARTING WORDS?
"THANKYOU FOR HAVING US! I'VE BEEN GEORGI. Always tip your barmaids it could be funding her music career!"
For more info visit: facebook.com/Georgixox0