Suburbia (1983) – Film Review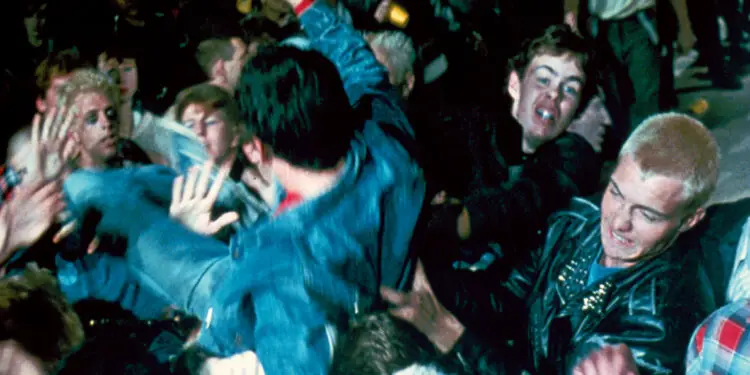 Director: Penelope Spheeris
Cast: Chris Pedersen, Bill Coyne, Jennifer Clay
Certificate: 18
By Sarah Morgan
Ever wondered where the Pet Shop Boys got the inspiration for their 1986 hit 'Suburbia'? Then wonder no more – it's this low-budget drama directed by Penelope 'Wayne's World' Spheeris.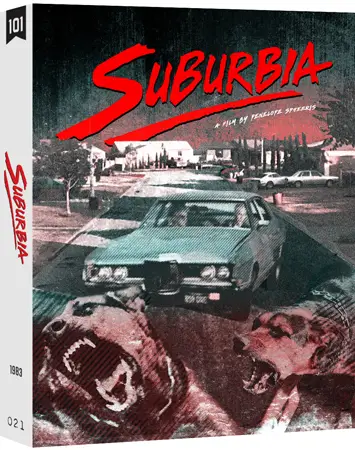 As in the song, there are indeed people running with the dogs – a pack of once domesticated beasts that have gone rogue since being abandoned by their owners after they were forced out of their homes.
"Code of honour"
The dogs are rather like the children and teenagers at the heart of the film. They too once had families, but due to problems within their respective units, have left, finding a surrogate home in a once suburban LA street which, like its neighbours, is almost derelict.
The youngsters have formed their own extended family, but are almost feral; begging, stealing and vandalism are the order of the day. Cleanliness has been forgotten, replaced by a code of honour that keeps them bound to each other, but not to society.
One good cop, the stepfather of one of the boys, realises that at their heart, these are good kids let down by the system. He tries to protect them, but after they push their luck once too often, two local rednecks decide to take the law into their own hands.
It seems preposterous that the authorities would not be interested in rounding up the youngsters and putting them into care, but everyone turns a blind eye until their behaviour begins disturbing a handful of taxpayers. Nevertheless, Spheeris has created a compelling tale of urban isolation and teenage dysfunction – and all on a meagre budget.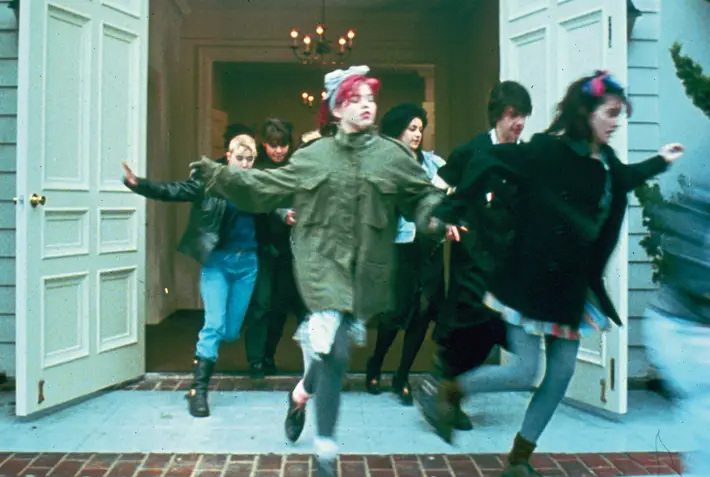 "Authentic"
Before the film's release, she was best known for directing pop videos and the documentary 'The Decline of Western Civilisation', about LA's punk rock scene. Clearly Roger Corman – who helped put Martin Scorsese, Francis Ford Coppola, Ron Howard and Peter Bogdanovich, among others, on the directorial map – saw something in her, because he agreed to produce the project, which became her feature debut.
Rather than casting Hollywood-schooled actors in the lead roles, Spheeris opted to use non-professional teens, which perhaps explains the varying degrees of skill they have in front of the camera. On the plus side, they appear more authentic; you believe they could be fending for themselves.
Among them is future Red Hot Chilli Peppers bass player Flea, while punk rock bands DI, TSOL and The Vandals all make cameo appearances as themselves.
Special Features:
• Brand new, 30-minute interview with director Penelope Spheeris
• Limited edition booklet: Includes Punks in Suburbia by John Towlson and Before Suburbia: Gangs on Film by Barry Forshaw
• Commentary with director Penelope Spheeris
• Commentary with director Penelope Spheeris, producer Bert Dragin and actor Jennifer Clay
• Still Gallery
• TV Spots
• Trailer
Suburbia is released on Blu-ray by 101 Films, £16.99