Suite Française (2014) – Film Review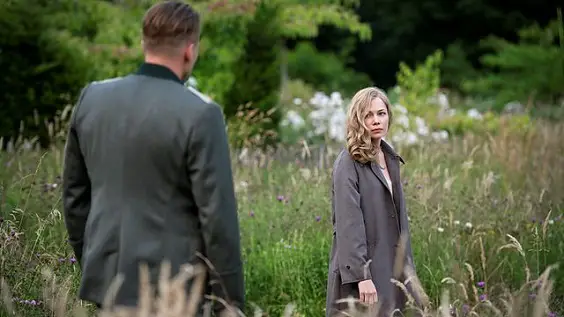 Director: Saul Dibb
Cast: Michelle Williams, Kristen Scott Thomas, Matthias Schoenaerts
Certificate: 15
by Jen Grimble
Denise Epstein waits half a century before opening the notebook left by her mother, novelist Irène Némirovsky. She dies at Auschwitz in 1942. Epstein is certain the journal is too emotional to read. But when she finally succumbs in 1998, she discovers not a memoir, but an unfinished novel. The story inside is that of lust and bravery in Nazi-occupied France. By 2004 Epstein had turned 'Suite Française' into a bestseller.
Now, director Saul Dibb (The Duchess) transports this remarkable book to the big screen. He embraces its complex questions on dishonour and social divides, with a tasteful adaptation. Our main focus is Lucile Angellier (Michelle Williams). She is a young woman whose own surroundings subdue her. With her husband a prisoner of war, Lucile's controlling mother-in-law, Madame Angellier (Kristin Scott Thomas), dominates every aspect of her existence. She forces Lucile to become a victim of her own decisions. This is where Suite Française takes flight.
The film opens with archive footage from June 3, 1940. This significant day in War World II is when the German army bombs Paris. This slowly dissolves into narrative scenes, as the story picks up one week later. A civilian train is attacked as it travels through the countryside. Hundreds of fleeing refugees are at the scene in the remote town of Bussey, where Lucile and Madame Angellier live. The pair escape unharmed. On returning home, they discover the German military have followed the evacuees to the town square. Each solider is assigned a local household for accommodation. Bruno von Falk (Matthias Schoenaerts), a dominant but polite Lieutenant, settles into the Angellier's home.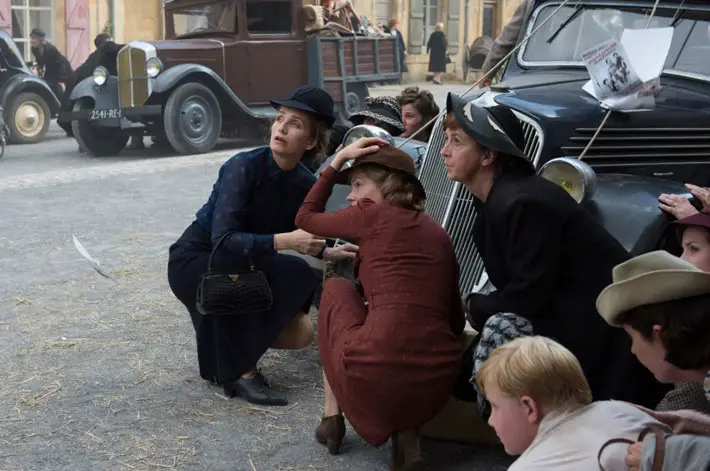 "Faultless ensemble cast"
Lucile is forbidden from speaking to Bruno and she initially obeys. But loneliness and a shared passion for music leads the pair to whispered conversations. In more than one way, Bruno breaks the silence in Lucile's life. Music and excitement awakens something within her. Her marriage remains the only thing stopping Lucile from acting on her desires. So when a secret concerning her husband is unearthed, she succumbs. The pair's passionate affair halts when neighbour Madeleine (Ruth Wilson) asks Lucile for help in hiding her fugitive husband, Benoit (Sam Riley). Lucile is forced to choose between saving an innocent man's life and loyalty to her lover. Bravery and the perils of war itself, look set to rip the couple away from one another.
A faultless ensemble cast lead Suite Française to victory. Williams stuns as stifled Lucile, playing her with a perfect balance of blandness, innocence and intensity. Schoenaerts is a powerhouse of fear and intrigue. His softness makes him strangely likeable. Riley excels as Benoit, an injured civilian who must fight for his freedom.
Suite Française is a beautiful and observant exploration of passionate, hopeless love. The exquisiteness of Matt Charman's screenplay helps make this movie forcefully spellbinding. Through sombre yet beautiful imagery, Dibb captures the essence of war, as well as the consequences of desire. Though it is not be the best war film you will ever see, Suite Française is a sturdy addition to the genre.
6/10