Pirates of the Caribbean: Salazar's Revenge (2017) – Film Review
Director: Joachim Rønning and Espen Sandberg
Cast: Johnny Depp, Javier Bardem, Geoffrey Rush
Certificate: 12A
by Roger Crow
We didn't need another Pirates of the Caribbean movie. The first one in 2003 was a breath of fresh air and a lot of fun, but the sequels were overblown, epic messes with incoherent plots. Some scenes looked like cinematic jazz in which Johnny Depp was allowed to just muck about. Which is fine if it works, but the first three sequels really didn't.
Not that cinema-goers cared a jot. The movies made billions at the box office and the power of Depp's drunken pirate Jack Sparrow was a license to print money. Now we have Salazar's Revenge, or Dead Men Tell No Tales depending on which part of the world you're watching in. Not sure why the UK needed a different moniker, but the fact one character actually says the title just before it appears might be one reason.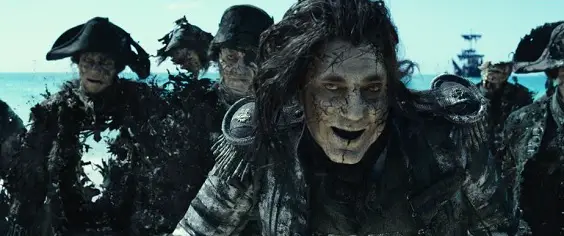 "There's some semblance of a story here"
Essentially a remake of the first movie, we have all the old ingredients: enemy British forces; beautiful heroine on a mission; hunky poster boy hero; Depp hamming it up for all he's worth; possessed villain; magical McGuffin: Geoffrey Rush's lovable salty sea dog; ship-to-ship battles; cursed crew; seemingly endless scenes in digital darkness; stupid comic relief lackeys, and a pop star cameo. Heat and serve.
An early scene alone, in which a whole bank is robbed probably, cost $20million. It doesn't make it a funnier gag, but it certainly kicks things off a treat, and a scene in which Captain Jack and the beautiful heroine escape death by the skin of their teeth is beautifully executed; a gag with a guillotine is outstanding.
Through some necessary exposition we discover the heroine is a brilliant astronomer. She seeks a map of some description, but because she is smart in an age when women are supposed to be stupid, every other person tries to kill her for being a witch. There is some semblance of a story here, and for the most part it's as much fun as the original.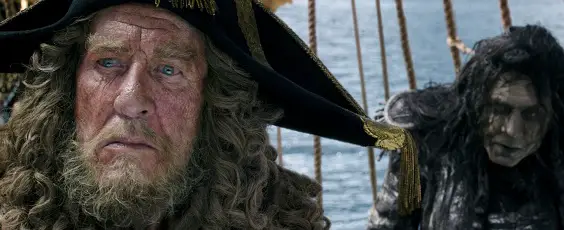 "Solid support"
Brenton Thwaites is good looking but as wooden as Sparrow's vessel, and shares no chemistry with the excellent Kaya Scodelario, who proves the best newcomer to the series. Javier Bardem's cursed Captain Salazar is terrific, despite the annoying effects, and some of his crew are so badly realised, they look like the effects artists created a single Photoshop layer of semi-transparent villain and thought "That'll do".
They look awful, and not in a good way.
So for a couple of hours we have exposition, set piece and repeat until the epic finale on the ocean bed where our heroes attempt to escape a watery grave.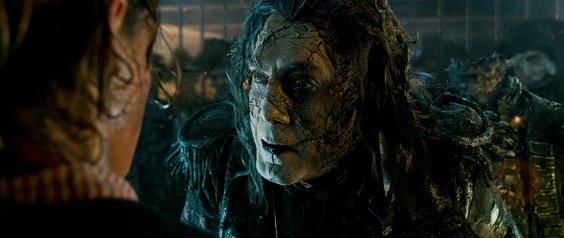 It's great to see Bruce Spence from the Mad Max movies in a glorified cameo, while David Wenham, Stephen Graham and Kevin McNally add solid support and keep the thing grounded or afloat where necessary.
It's the first POTC film I've seen on the big screen since the original and it makes me a Jolly Roger for at least 90 minutes of the two hour running time. But we don't need any more thanks Johnny, unless you want to hand the franchise over to Kaya, in which case count me in.
7/10