Dirt Music (2019) – Film Review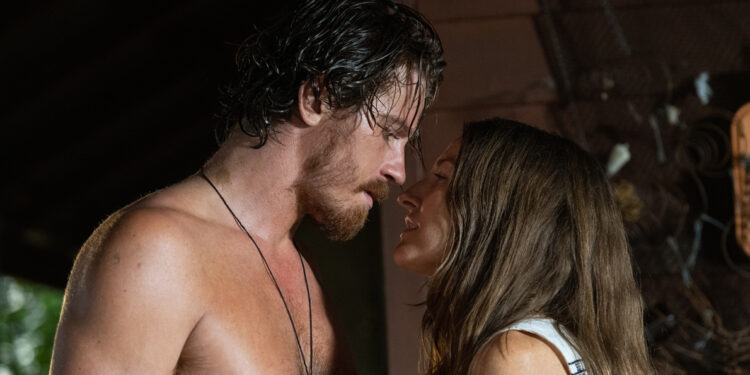 Director: Gregor Jordan
Cast: Kelly Macdonald, Garrett Hedlund, David Wenham
Certificate: 15
By @Roger Crow
When Kelly Macdonald made her debut in Trainspotting back in 1996, I spent far too long reciting her post-nightclub speech to Ewan McGregor. (Well, not to him, but to mates).
It was brilliantly written, but when delivered in those glorious Scots tones, it was like poetry. Little wonder she was snapped up for no end of films and commercials in the years since.
Recently of course she stole the show in the most exciting British drama of the year, Line of Duty. Her turn as a morally ambiguous copper had millions of us hooked, and she managed to enunciate every word, every syllable. In a genre dominated by misheard or mumbled dialogue, her lines had the clarity of an ABBA song.
But dramas with a washed-out colour scheme can be tiring after a while. What Kelly needed was sunshine, and the golden hues of Australia. So thank heavens she signed up for Dirt Music, the cinematic equivalent of a romantic novel bought at airports, when we're allowed to fly anywhere. Yes, Dirt Music might be in the running for worst title of any year, but thankfully the film is a great way to pass the time.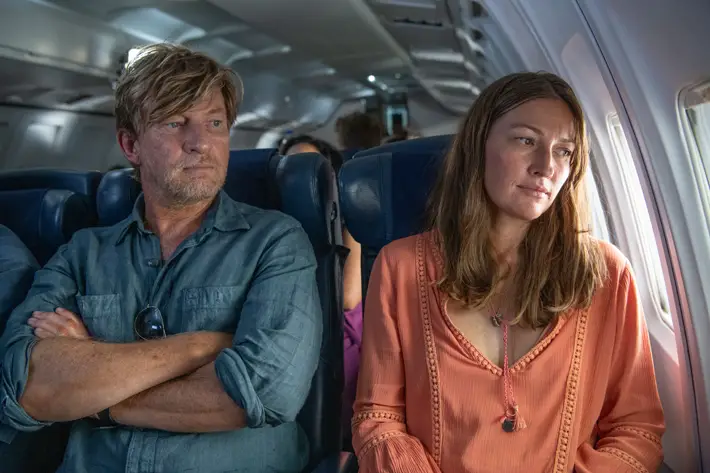 "Give into their passion"
She plays Georgie, an alcoholic Aussie nurse locked in a frustrating relationship with emotionally cold crayfish baron Jim Buckridge (David Wenham).
She may have a home to die for, but the atmosphere is colder than the ice for his day's haul. In a series of 'meet cutes', she crosses paths with hunky poacher Lu, played by Tron Legacy's Garrett Hedlund. He did a good job in that fantasy epic, but all eyes were on the dazzling visuals, CG Jeff Bridges, and Olivia Wilde, so don't worry. They're soon creating MUCH sexual tension, especially after her car breaks down and he just happens to be passing (what are the chances?).
How can she resist? After all, he's mean, moody, has an adorable dog and walks around with his shirt open to reveal a torso like Barry Gibb, circa 1977. Nurse Georgie may as well be blinking cartoon love hearts. And before long they give into their passion, but trying to keep a lid on her desire while surviving the frostbite of her icy home life is key to her survival. She's an outsider. The locals talk, and she knows the affair will wreck her life. But hey, it's hunky Lu, and which red-blooded woman could resist?
I feel for David Wenham, who had a hard time playing Sean Bean's emo brother warrior in Lord of the Rings, and now portrays the wronged partner. Admittedly the roles wouldn't have worked if Hedlund and he played each other's roles, but even so.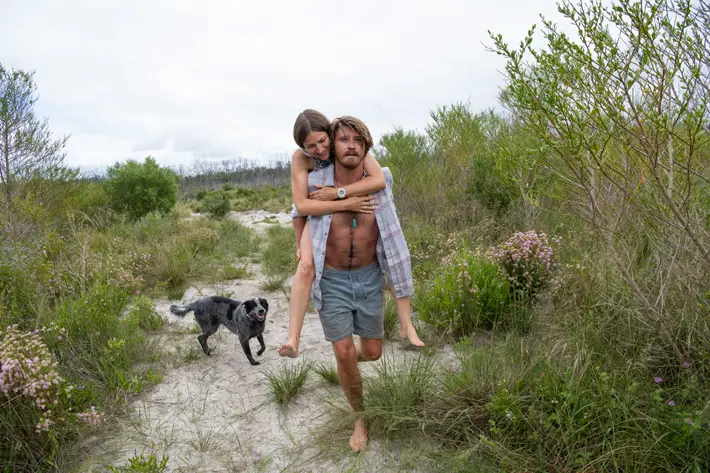 "Forbidden romance"
Anyway, we eventually discover why Jim is such a cold fish, and both David and Kelly give the sort of heart-wrenching performances that will have some reaching for a box of tissues. The third act involves an act of 127 Hours-style survival, thankfully without that gory scene.
Will the adorable, troubled heroine find her burly lover? Well, that would be telling, but safe to say this ticks so many boxes for those who love a good old fashioned tale of forbidden romance set against some stunning Australian backdrops that it should go down a storm on home entertainment, and in a year or more when it pops up on Film4.
I've not read Tim Winton's critically acclaimed novel of the same name, here adapted by piping hot screenwriter Jack (His Dark Materials) Thorne, but I do know this is great entertainment with a fine cast and glorious landscapes. Settle back and enjoy.
Dirt Music is on Digital Download now