Elvis (2022) – Film Review
Director: Baz Luhrmann
Cast: Austin Butler, Tom Hanks, David Wenham
Certificate: 12
By Roger Crow
You'll have to excuse my upset demeanour. I've just spent a few hours at the Heartbreak Hotel watching an in-your-face biopic of a Guitar Man, and as much as it pains me to say it, Elvis, the 2022 movie, is a mess
Baz Luhrmann's biopic of the King of Rock and Roll boasts a mostly terrific performance by Austin Butler as the eponymous music legend. There are times he looks just like Presley and others when he looks like either Shakin' Stevens or 1991 era Vic Reeves.
Then there's Tom Hanks as Colonel Tom Parker, a performance so annoying it's hard to believe this is the same Tom Hanks who brought us decades of wonderful, affecting performances.
With his unusual Dutch (?) accent and bad prosthetics reminiscent of Austin Powers' nemesis Goldmember, he ruins just about every scene he's in, like some party crasher who wants to tell you nuggets of information every time there's a danger of the film really getting going.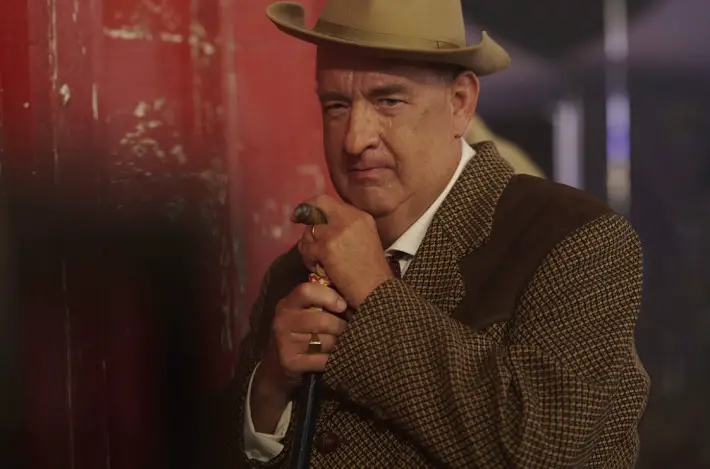 "Whirling visuals"
Now as we all know, Baz is a genius. Another rewatching of breakout smash Strictly Ballroom confirmed that recently, as did the phenomenal take on Romeo and Juliet. But here it seems he wants to turn everything up to 111. The first half hour does not disappoint as we go along for the ride with whirling visuals, snappy graphics, comic book art and every visual trick in the book.
But as impressive as the production design is, and the ADHD editing, and Butler's hip-gyrating sending fans into emotional meltdown, there are times this feels like Elvis the Video Game. Can you get Elvis from point A to Z in his biopic while Col Tom Parker offers clues?
Unlike my Xbox controller, Luhrmann's batteries never run low. The whole thing bounces from one historic set piece to the next, from Elvis mixing with music legends like BB King to his iconic '68 Comeback TV Special when Parker was apparently obsessed with turning it into a twee Christmas spectacular and had no idea Presley went against just about every suggestion to craft his own rebellious slice of TV gold.
Naturally there's the building of the Presley empire, the romance with Priscilla, and the heartbreaking birth of daughter Lisa Marie, who died recently aged 54.
But with so much of the drama taking place in Vegas, which looks like a CG recreation of the Nevada sin bin, that whole third act almost screams for something other than just neon lights, and hotel rooms.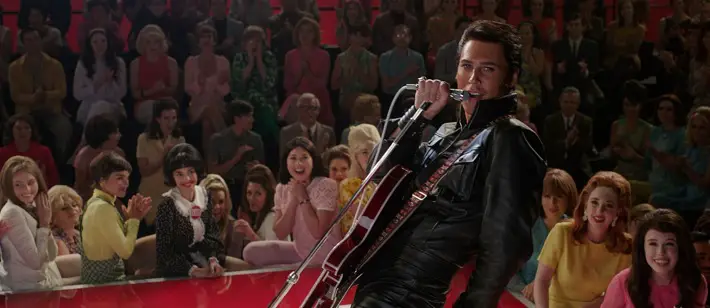 "Immortal tracks"
The film was shot in Australia, and is notable for Hanks being one of the first celebrity Covid cases a few years ago. Thankfully he made a full recovery, but the movie didn't so much flatline as feel like one of those machines that go ping rigged up to the large Hadron Collider. And while those immortal tracks should have been the greatest asset, even they are not safe from awful interpretations.
I'm not surprised it's attracted Bafta and Oscar noms for Best Film, but it always amazes me when a movie can get such a nod without a Best Screenplay mention. Probably because the writing in this case is far less important than the visuals or the editing.
I'm guessing the underlying manifesto was: a little less conversation a little more action please.
I've always liked Elvis – the music, the look, the humour and the gigs, but while there's only so much you can cram into 2 hours and 39 minutes, the film would have been so much more affecting with half of the visual flourishes, Hanks with no prosthetic assistance, and just a hint of an accent. Like Chris Tucker in The Fifth Element, some actors just wreck a movie, and in this case it's a case of thanks, but no Hanks would have been so much better.
Sorry Tom.
So, worth a look, and not without some stunning touches, but might be best to keep your expectations low and don't believe the hype.