Les Demoiselles de Rochefort (1967) – Film Review
Director: Jacques Demy
Cast: Catherine Deneuve, Françoise Dorléac, Gene Kelly
Certificate: PG
by Sarah Morgan
Musicals. We probably think of them as a Hollywood confection, certainly when it comes to big-screen offerings in the genre.
Great names such as Fred Astaire, Ginger Rogers, Gene Kelly, Judy Garland, Doris Day and Julie Andrews wouldn't be regarded as legends today if they hadn't been able to sing and dance on screen.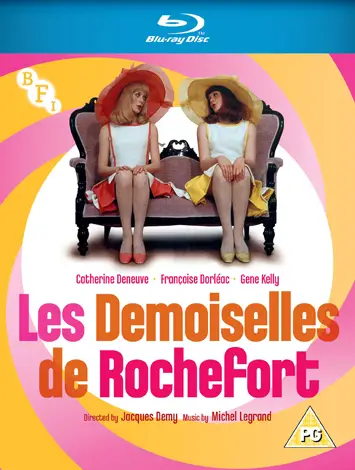 Britain has produced a few classics over the years too, while in the 1960s, French director Jacques Demy created a couple of smash-hit musicals – The Umbrellas of Cherbourg and Les Demoiselles de Rochefort.
"Expansive project"
Demy was working at the same time as New Wave film-makers such as Francois Truffaut, Jean-Luc Godard and Alain Resnais, and although his musicals didn't adopt the same realistic approach to a storyline as their dramas did, they do contain other trademarks from the genre, including tracking shots and rapid changes of shot.
They are also very much the work of an auteur – Demy wrote and directed them, penned the lyrics and had total control over their production.
After the global success of The Umbrellas of Cherbourg, he made Les Demoiselles de Rochefort, a bigger, more expansive project with a larger cast.
Catherine Deneuve, who also had a leading role in Umbrellas, appears here alongside her tragic sister Francoise Dorleac (who was killed the year the film came out in a car accident). They play twins; one is a dancer, the other is a piano teacher, but both have ambitions of leaving Rochefort and making it big in Paris.
Their paths cross with a couple of travelling motorcycle experts who are in town to take part in a festival, as well as a visiting American composer, a music shop owner, a sailor about to be demobbed and a killer.
"Bright and breezy"
The story is rather convoluted. Love is never far away, with everyone searching for their 'ideal', who always seems just around the corner but seemingly always out of reach.
George Chakiris, who was hot stuff at the time following the success of West Side Story, pops up, but the biggest surprise is the sight of an ageing Gene Kelly falling for Dorleac's character. He dances wonderfully, of course, but disappointingly, his voice is dubbed, which seems a waste.
The film itself is bright and breezy, in contrast to Umbrellas. Its colour and jazz score was also an obvious influence on La La Land – you can imagine its director, Damien Chazelle, telling his cast and crew to watch it before filming began.
Special features include a documentary about the film by Demy's wife Agnes Varda, as well as archive interviews with Deneuve, Demy, composer Michel Legrand and Kelly.
Special features Newly commissioned feature commentary by David Jenkins
A Melody Composed by Chance… (2019, 19 mins): audiovisual essay by Geoff Andrew
Les Demoiselles ont eu 25 ans (1993, 67 mins): Agnès Varda's documentary celebration of Demy and his film
The Guardian Interview: Catherine Deneuve (2005, 7 mins): excerpts of the actress in conversation at the NFT
The Guardian Interview: Jacques Demy (1982, audio, 76 mins): the director interviewed on stage following a screening of Une Chambre en ville
The Guardian Interview: Michel Legrand (1991, audio, 71 mins): the great composer discusses his career, recorded at the NFT
The Guardian Lecture: Gene Kelly (1980, audio, 76 mins): the song-and-dance legend recorded on stage at the NFT discussing his career
Illustrated booklet (***first pressing only***) containing essays by Jonathan Rosenbaum, Selina Robertson and Dr Nicolas Pillai, a biography of Jacques Demy by Jason Wood, film credits and notes on the extras.
Les Demoiselles de Rochefort is released on Blu-ray by BFI, £19.99