Byron, York – Restaurant Review
By @Roger Crow
It's a rainy Monday lunchtime in York; the sky is the colour of charcoal and the autumn blues have definitely set in. What's needed is a pick me up. Something to chase away said blues.
I have the day off, which is always a bonus during one of the toughest parts of the week, and when offered the chance to review some of the new menu at Byron Burger, it's just the ray of light I need.
The last time I was on these premises was circa 1996. Aeons ago when life was about to have one of those Sliding Doors-style moments; destiny could have gone one way or another.
More than 20 years later, and it's such a different place I'm glad to be back. It's got a more stripped down feel these days, and from the minute I walk in, I feel at home. Part of the reason is Emma, one of those waitresses that does a fantastic job from the word go. Amiable, efficient and knows the menu inside out. The same goes for Phil, who ensures I and my fellow diners have everything we need.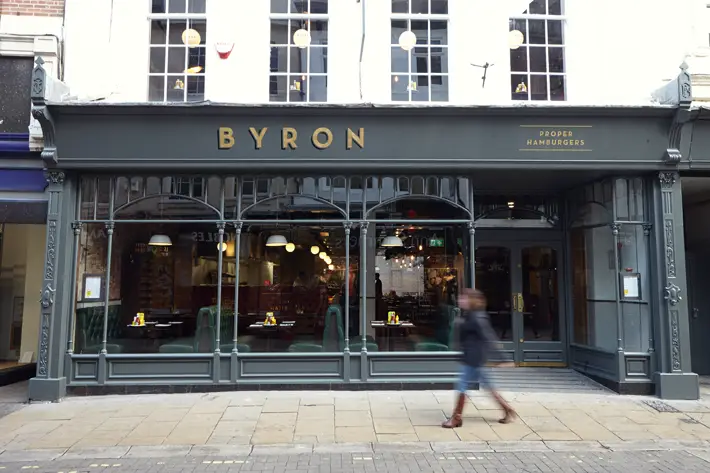 "Impressive"
I'm seated in no time in a window booth, with elegant Chesterfield-style banquettes. I'm half surveying the menu and half watching the world go by.
Any restaurant with halloumi fries is okay by me, though I remember the days not so long ago when they were a rarity and I had to make my own to satisfy that craving.
The drinks menu is impressive, and my raspberry and peach cooler is just the job for brightening a dull day. A light fruity and refreshing cocktail with vodka in case you're wondering, and well worth trying out.
"Our chefs are amazing!" screams part of the menu's mission statement, rather proudly, while waxing lyrical about using the best ingredients. One mouthful of the halloumi fries and the barbecue dipping sauce, and it's hard to disagree.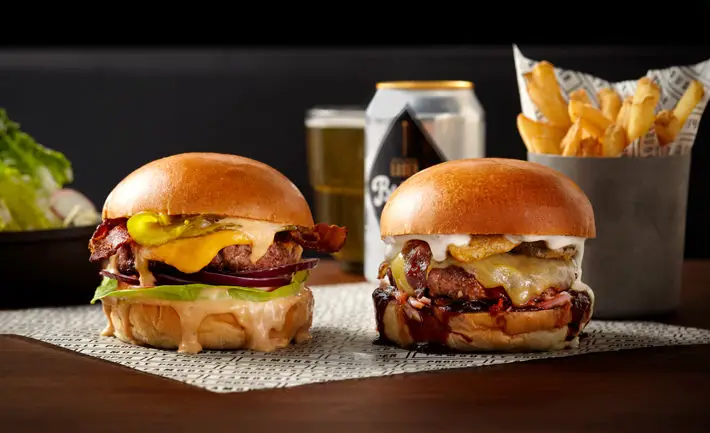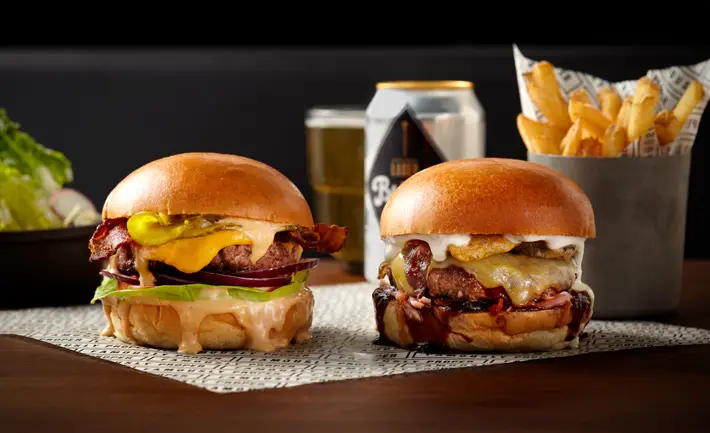 "A proper burger"
The Bulleit Bourbon Smokey burger catches my eye and is also as good as the menu suggests. Inspired by the tastes of Kentucky, it combines smokey Bourbon depth with creamy ranch sauce, crunchy slaw and fried jalapenos. Together with crispy bacon, delicious cheese, and an outstanding burger, it's just the Monday lunchtime blues buster I was looking for.
It's part of a new menu at Byron which the grand fromages are happy to shout about. I'll have to save other additions, such as The New Byron (a redesign of the signature burger, with cheese slices and house-made bread and butter pickles) for another time.
Some fast food burgers are so pointless, after three mouthfuls I've been unable to taste anything. And don't get me started on processed cheese which is a crime against humanity. This is the complete opposite. A proper burger, with excellent ingredients beautifully prepared by a chef who takes his time. Not that I have to wait too long. I also enjoy a side salad to counter the fact I devoured the halloumi fries so fast, it's a shame somebody from the Guinness Book of Records wasn't hanging around with a stopwatch.
"Amazing staff"
Once my cocktail is exhausted, I opt for a Coke and eye up desserts. The Oreo cheesecake sounds good, but in the past I've had similar versions at other restaurants which have just been okay. Thankfully this is superb. A beautifully crafted vanilla and cookie creation with chocolate sauce. It rounds off the meal nicely.
I take a veggie burger, fries and the rest of my giant onion rings (complete with delicious seasoning) home for my better half, and after a spot of reheating, they also go down rather well.
"Who loves, raves," wrote Lord Byron once. With that in mind, I'm happy to "rave" about my lunch. Great food, amazing staff and a lovely ambience. The next time I'm pottering around York looking for a decent meal to beat those blues, I know where to come.
Byron, 11 High Ousegate, York, YO1 8RZ
Opening Times:
Sun-Thu 11am-10pm
Fri-Sat 11am-11pm
01904 634488
byron.co