Breakheart Pass (1975) – Film Review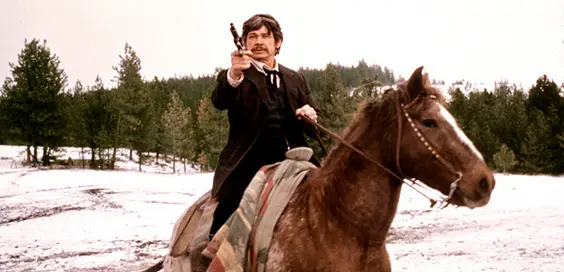 Director: Tom Gries
Cast: Charles Bronson, Ben Johnson, Jill Ireland
Certificate: PG
by Sarah Morgan
Let me make one thing clear before we get down to the nitty-gritty – I'm not, by any means, a Charles Bronson fan.
I've never seen Death Wish or any of its apparently appalling sequels. He's just not an actor who floats my boat for some reason. He's fine as a supporting star in the likes of The Great Escape and House of Wax, but beyond that, I just think "meh" whenever he's mentioned.
So I was a tad unsure about watching Breakheart Pass. In fact, I approached it with some trepidation as Bronson, although surrounded by a fine cast of character actors in supporting roles, is very much the star of the show. Could I warm enough to him to care whether he made it to the end credits?
I'm somewhat surprised to find myself answering "yes" to that question.
"A cool, quiet man of action"
Breakheart Pass itself feels like something of an anomaly. At the time of its release it was probably already looking rather out of date – by 1975, the work of its screenwriter, the great Alistair MacLean, had lost some of its sparkle as the movie brats of Spielberg, Coppola, Scorsese et al began to get their foothold in Hollywood.
In fact, it looks as if it could have been made 10 years earlier, while Bronson's role – that of a cool, quiet man of action – appears to have been written with Clint Eastwood in mind (himself a star of MacLean's Where Eagles Dare in 1968), but budget constraints meant the producers had to do with Bronson instead.
He plays John Deakin, a strong, silent type who is supposedly a wanted man when we first meet him. Holed up in a frontier town, he is arrested by a US marshal who, while travelling with a motley group of soldiers and politicians, stops off for a little light refreshment.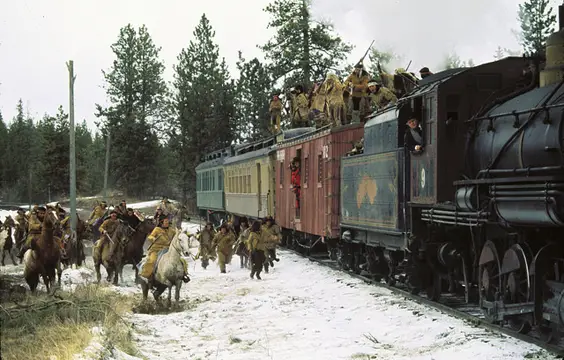 "Enthralling tale"
Once back on board the train taking them to a fort beset by illness, all hell breaks loose. Deakin is not quite what he appears to be and neither are the authorities, setting in motion an enthralling tale with more twist and turns than the railroad track they characters are travelling on.
Richard Crenna, Ben Johnson, Ed Lauter and Bronson's real-life wife, Jill Ireland, are among the supporting cast.
The special features include a talk by film historian Kim Newman, who seems to be going through the motions somewhat – he makes some very obvious observations. Indeed, Newman pops up repeatedly in this capacity; perhaps it's time somebody with something interesting and fresh to say took over for a while.
But whatever the flaws of the extras, Breakheart Pass the film is well worth a watch.
6/10
'Breakheart Pass' (1975) is released on Blu-ray by Eureka, £17.99